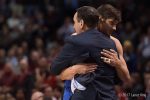 A season ago, Duke Basketball was besieged with early season injuries to Marcus Bolden,  Jayson Tatum and a setback to Harry Giles.  Then there was the incident with Grayson Allen and a hobbled Frank Jackson later in the year.  Add to that, Coach Mike Krzyzewski went to the sidelines.  Everybody was missing games for Duke.
Duke never recovered completely and would eventually lose to South Carolina in their second game of the NCAA Tournament. The bad luck seemingly continued as Frank Jackson made an unanticipated departure in the off season..  Harry Giles and Jayson Tatum declared early for the NBA Draft as expected but then Luke Kennard, who blew up last year cast his lot into the league as well.
The cupboard was bare for the Blue Devils.  If the aforementioned leaving was not enough, consider Duke lost Amile Jefferson and Matt Jones to graduation as well as Chase Jeter who transferred to Arizona.  The only returning  scholarship players would be Grayson Allen,  Antonio Vrankovic, Marques Bolden, Javin DeLaurier and Jack White.
For the longest time, Alex O'Connell was the only committed Blue Devil coming in.  But Duke would later get  big time prospects Wendell Carter Jr. and Gary Trent Jr. into the fold.  It would take some time before they got what they desperately needed in point guard, Trevon Duval.
But then the Blue Devils missed out on Kevin Knox who surprised many by picking Kentucky.  It had been a while since the Blue Devils lost a recruiting battle and this one really stung at the time as Duke was struggling by their lofty standards to fill their roster.
Duke would go on to sign Jordan Tucker and Jordan Goldwire and it seemed as if they were finished recruiting.  Fast forward to the Nike Peach Jam EYBL Finals in North Augusta, South Carolina.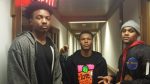 Standing in the lobby surrounded by reporters galore was Marvin Bagley III.  As always, he was flanked by the watchful eye of his father as his talented son fielded questions.  It was obvious that nobody knew what was really going on in his recruitment that day when listening to the questions.
Bagley was being recruited by Duke and Mike Krzyzewski and his staff attended every game he played.   Duke had never put a high pressure push on Bagley.  Instead, it was a slow and methodical recruitment where honesty and knowledge played a key role.
The honesty was telling Bagley, a superstar to be how they would make him a better man and player.  The knowledge would be that Duke knew he had what it takes to come out early and that he had been angling at doing this by taking his education seriously.
By the end of the EYBL tournament it became known that Bagley might consider coming out a year early.  This was a surprise to most in the media but the truth of the matter is that there had been an orchestrated effort by the Duke staff in the works.
Not long after this news, Mike Krzyzewski announced that he would have yet another off-season surgery.  This time he was to have his hip replaced.  Duke would then announce that they had cancelled a trip to the Caribbean where they were to play three exhibition games.
Once again, the fan base and nation could not help but think that the storied program still had a little bit of a dark cloud hovering around. But few college basketball experts knew Bagley would be committing to Duke a short time later.
Many thought that everything was just talk with concern Bagley and that he was still open to all opportunities.  Actually, he was to an extent.  Duke encouraged him to go ahead and visit USC and other schools if need be.  They simply remained confident in their position and what they had to offer and it worked out.
In the coming weeks, Bagley officially announced he would seek to come out of school early and before you could blink he had chosen to attend Duke University.  After visiting one last time, Team Bagley knew exactly where their son would attend college.  They may have known or had an idea all along or at least a good while.
Duke was suddenly the center of the college basketball universe again.  The bad luck seemed to be wearing off.  I mean, Mike Krzyzewski not only got Bagley into the fold, but Tre Jones and Cameron Reddish for the following season.  And all that happened while he was literally on his back.
Marvin Bagley was cleared to play by the NCAA today.  If you had ever talked to the young star to be, you would realize this was never in doubt for he is a smart young man.
Add to that news, the photos coming out on Duke social media which shows Mike Krzyzewski on the practice court and there is reason for joy in the Blue Devil Nation.
So, yeah.  Duke lost some players to the NBA Draft in a season when they had an incredible run in the ACC Tournament only to go out early in March Madness.
The injuries and set backs stung a bit, but that is all in the rear view mirror now.  Duke has once again reloaded like only they can do and will be the favorite to win the ACC this season while being a title contender.
Yes, it was a bit of a roller coaster ride to get here.  Now, Duke fans have to pinch themselves when realizing their good fortune.  It has been a good month of so for the program and they are far from finished.
After all, Duke Basketball never stops.