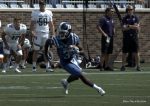 Bragging rights are on the line as Duke travels to North Carolina in the ACC opener for both teams this season.  A season ago, Duke claimed the Victory Bell with a 28-27 win over the then 16th ranked Tar Heels.  Revenge plays a role in the series and by conventional wisdom North Carolina should be ready for some payback in Chapel Hill.
I have no doubt the Tar Heels will be ready to give Duke their best effort.  But lets not forget that the Blue Devils sought revenge with their last upset win over a Tar Heel team that hung 66 points on their defense the last time the teams met in Chapel Hill.  North Carolina flat-out ran up the score that day for the most points scored by any team in the series.
What does this all mean?  Well, for one you can throw the records out in this game for both teams are 0-0 heading into conference play.  In fact, the last time Duke went to Chapel Hill as the favorite was in 1999 and they lost that game 38-0.  Mercy is rarely shown in this game if a team gets the upper hand.
In fairness, Duke (-2.5) is the slight favorite this weekend, meaning this game is basically considered a toss up in objective circles.  While crazy things have happened when these two teams play, there are very few not expecting a close and high scoring game in that the over/under is 66 points.  And yes, that is how many total points the Tar Heels scored alone the last time in Chapel Hill.
About the Heels
The Tar Heels opened the season with an upset loss to California, but the Bears are now 3-0 and are much better than was anticipated.  They could not control Heisman Trophy winner Lamar Jackson losing to Louisville but they scored a ton of points.  They righted the ship with an impressive win over a decent Old Dominion team last weekend while not being a heavy favorite.
North Carolina has suffered from the injury bug early in the season and their offensive line has been one of the main units which have taken a hit.  The defense is coming together after a coaching change as well.  But nobody is feeling sorry for this bunch in that on paper they have recruited well and have plenty of weapons.
The bottom line is that the Tar Heels can score points and Larry Fedora is known for good reason as a solid offensive coach.  They have now established some momentum and seen things go right against an Old Dominion team on the road.  That makes for a more dangerous bunch and the fact Duke is coming in will have their players as pumped as they can get.
About the Blue Devils
Lets start with the fact that Duke is 3-0.  Few had projected the Blue Devils would be undefeated at this stage to begin the season.  Duke coach David Cutcliffe and his staff has the team in a good place thus far but it is early and people are still wondering how good Duke might be.  The team did show signs of not putting Baylor away a week ago before actually doing so and they cannot leave points on the field to a more solid Tar Heel team this week.
Thankfully the talk on pushing Daniel Jones to the NFL via media hype stopped last week.  Jones showed that he still has a lot to learn but at the same time he has shown himself to be a big time quarterback in the quick Duke start.
The story for Duke has been their defense which is highly ranked after three games.  The team has a much better front but there are still questions in the secondary which could be answered this week. The defensive backs will be tested by a Tar Heel offense that likes to get to the ball and run plays quickly.
Duke has also had success running the ball and we can expect a balanced attack in this game.  The Blue Devils have some guys making plays, namely Shaun Wilson, but they need better route running from their wideouts who need to get into their break.
The Dire Importance of the Game
There will be some haymakers thrown for sure in the game for both teams want to start the ACC Coastal Division season 1-0.  The loser of the game will likely have a hard time recovering.  North Carolina would see their bowl hopes take a hit if they fall to 1-3.  The road gets no easier for Duke with a short turnaround for a Friday game with Miami.  Going into that game 0-1 in the league could dig an early hole in conference play.  The Tar Heels need a win the the biggest of ways to keep momentum going.  The Blue Devils could equal their win total from a season ago with a win and be a step closer to a bowl game.  The biggest thing though, is that his is a key Coastal Division game and both teams still have their eye on the prize to make it to Charlotte in the title game.
What Will Happen
Who is to know?  Cutcliffe worked with his kicking game this week and it could come down to special teams.  A turnover could be disastrous for either team and multiple ones could be sure doom and gloom.
On one hand, we may see a resurgent Heels team roll on offense to a big easy win.  They will continue their momentum after rolling past Old Dominion and reestablish themselves as a team to be reckoned with.
We could see a game so close overtime comes into play. It may come down to a kick or a turnover.
Duke might come out and control the game as they have in previous games and let the nation know they are for real.
I waver back and forth on whether this will actually be as high scoring a game as many think.  Part of me feels it could be a more defensive battle than some think.  On the other hand, everything points to points being scored.
It would be silly to think this game is not very competitive in that both programs are hungry.  If Duke can establish their run game it could bode well provided they do not turn the ball  over a lot.  It will be important for Duke to not let the Tar Heels get a big lead for the Blue Devils historically play better with quick starts under Cutcliffe.
I am picking Duke in this one.  I think they have just enough in the tank to earn Cutcliffe his 100th victory as a coach and continue a resurgent season.  But I think they will sweat this one out as well.
Duke - 34  North Carolina  - 31