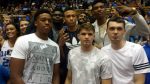 Some young prospect just know where they want to go.  One of those is Joey Baker who announced that he is the first 2019 verbal commitment to Duke University,
Baker is a five-star forward from Fayetteville, North Carolina which is where current Los Angeles Lakers star Brandon Ingram is from.    The Trinity Christian standout has been on multiple visits to Duke where he most recently joined a bevy of stars for Countdown to Craziness,
This one was more or less over when Duke offered Baker on September the 30th.  It is widely known that Baker was high on the Blue Devils and what Mike Krzyzewski had to say since their initial contact.
Once again, Duke benefits from getting a young man who had watch them growing up and one who knew that would be his future home.  Baker is considered to be a versatile small forward and he is asked to do it all for his high school team.  Baker averaged 13.6 ppg for Team Felton over the summer.
Baker will now turn his attention to his high school season while making some trips to Cameron to see this years talented team.  You can also look to him in making an effort to recruit other talented players to play alongside him.
I'm joining the brother hood 🔵⚪️ pic.twitter.com/kDBB8iwfBp

— Joey Baker (@Joey_bvker) October 30, 2017