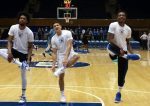 The Duke Blue Devils moved to 4-0 on the young season with a victory 78-61  win over Southern.
The game featured the return of Marvin Bagley III who was back after going out early in the first half in the Blue Devils win over Michigan State.  Bagley had a double-double of 19 points and 11 rebounds,
Wendell Carter Jr. also added a double-double of  20 points and 11 rebounds.  He led the team in scoring.  Grayson Allen and Trevon Duval scored 10 points each for Duke.
Duke played an especially sloppy first half where they were clearly hung over from the win over Michigan State.  The 0-4 Southern Jaguars played with heart and were tied with the Blue Devils 27 all with 6:50 to go in the first half.
A mild Duke run put the Blue Devils ahead at the half 42-32.  During that stretch Bagley blocked a Jaguar shot where Allen picked it up on the run for the two which brought the Crazies into the game.
Duke would play slightly better in the second half, but it was clear they were a bit flat.  Duke was just 4 of 20 from beyond the three-point stripe while almost doubling the Jaguars turnovers.
Southern also got 37 points from its bench to a mere 11 for Duke.  Duke did outscore them in the paint but failed to take advantage of their significant height advantage in a consistent manner,
Despite the performance, there is little need for worry.  "We want to be where we've been," stated Krzyzewski in the post game.  He will have two opportunities to practice on Saturday and Sunday where he will get the team back into focus.
When you have been at a school as long as Krzyzewski has, you learn not to overreact to off games where the team doesn't dominate.  "Hey, we the game and that's a good thing, isn't it?" said the Duke head man after his 1002nd win in Durham.
Duke will next face Furman in Cameron Indoor Stadium this Monday evening in a game that tips off at 7:00.  The Blue Devils will then head to Portland, OR for the loaded PK-80 event the very next day,  That event starts on November 23rd and runs through the 26th.  The Blue Devils first opponent will be Portland State.  All of those games will be carried on ESPN.
The entire Duke team will go to Jeff Capel II's funeral on Sunday.  Capel III returned to the sidelines tonight and will be at tomorrows practice before heading back to handle family matters.