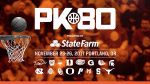 You almost need a map to navigate the many games in the Nike PK-80 event which is a tribute to company fonder Phil Knight and his 80th birthday.  There are two brackets, the Victory and Motion groups.   The two eight-team brackets will run simultaneously in the Moda Center and Veterans Memorial Coliseum in the Rose Quarter with the crowning of two champions.
Duke will play in the Motion Bracket and open the event with an on campus game tonight against Furman in Cameron Indoor Stadium.
The Blue Devils will then head to Portland, OR. tomorrow to face Portland State which is currently 3-0 on Thanksgiving Day in a game scheduled to tip-off at 4:30 on EPSN.
Duke will then face the winner of the Texas (3-0) with Top 25 honorable mention votes vs Butler (3-1 ) on Friday.  Butler handed Furman their only defeat of the season by 17 at home while they lost only to Maryland thus far.  Texas features Muhammad Bamba and Matt Coleman, two players Duke recruited,  It almost seems like a Duke vs Texas match up is in the works, but we will see if that is what the Basketball Gods have in mind,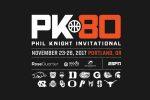 If Duke survives that game they will play in the championship game on Sunday.  Opponent possibilities are 7th ranked Florida, 17th ranked Gonzaga, Stanford and Ohio State,  I kind of think Florida will come out of that side but a Gonzaga team playing near home will be tough as well.  Should both of those teams and Duke advance it will provide strong competition.
Duke arch rival North Carolina will play in the Victory Bracket that features a team Duke just defeated in Michigan State.  They open with Portland who lost to Duke's opening opponent Portland State (3-0) on their home court,    Oregon is likely the best of the rest which features Arkansas, Oklahoma, UConn and Georgetown.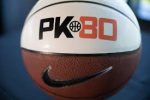 All of the teams participating in this event will end up playing three games via brackets or sessions.  Not all of the teams play an on campus game.  For example Stanford takes on North Carolina at home tonight but neither of them play a home PK game.
There is some leeway with concern to starting times in future games as teams advance.  But it would seem Duke would tip-off at 3:00 on Friday on ESPNU against Texas or Butler with a win on Thursday.  On the ESPN website, they currently have the Motion Championship Game slated for ESPNU at 3:00, the same time as the Victory title game on ESPN.