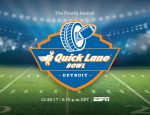 The Duke Blue Devils have accepted an invitation to play in the Quick Lane Bowl.   The game will kick off on December the 26th at 5:30 and will be televised on ESPN.
Duke will take on Northern Illinois, a notoriously tough MAC team that finished 8-4.  They had their leagues best defense allowing just 250 points and defeated Nebraska while losing their opener to Boston College by 3. More on the Huskies here.
"We are honored and delighted to be chosen to participate in the Quick Lane Bowl," Duke head coach David Cutcliffe said. "I could not be happier for a group of young men who had their backs against the wall heading into the final two weeks of the season, fought through that adversity, and now will reap the benefits of their hard work and commitment to this program.
"Obviously we are at the end of the semester, so we'll handle our academic business with exams, and then we'll get back to the practice field to prepare for a very well-coached Northern Illinois team," Cutcliffe continued. "Congratulations to Coach Carey and the entire Huskie team on a terrific season; we have great respect for what the Northern Illinois program stands for. At Duke, we take great pride in representing the Atlantic Coast Conference, and we'll embrace the challenge of competing against an excellent Mid-American Conference squad.
"And lastly, special thanks to Brad Michaels, Danny Jaroshewich and the entire Quick Lane Bowl staff for this event. We know the experience our student-athletes will have will be incredible."
The Quick Lane Bowl is located in Detroit, MI.  He is a link to one of the ACC Greektown Casino Hotel.  But be sure to check in with GoDuke.com for tickets and other possible hotel rooms.
The game is played on the Detroit Lions Ford Field which feature artificial turf.  The stadium had some nice upgrades recently and is where the most recent Mid American Conference Championship Game was played.
The main sponsor for the game is Quick Lane Tire and Auto, but more can be found here.  This will be the fourth year of the bowls existence.
Here is a list of local restaurants and attractions including some open on Christmas Day.
And here is a link to the official website.
The Duke Blue Devils finished he season with two impressive ACC wins over Georgia Tech and Wake Forest to become bowl eligible.  Duke will now have three added weeks of practice which helps the team build up their younger players for next season.