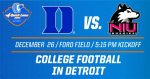 The Blue Devils have been invited to play in the Quick Lane Bowl in Detroit, Michigan against Northern Illinois on December 26th, 5:30 on Ford Field.  Duke is quite happy to get an invite for a few weeks ago they were mired in a losing streak that was nothing short of depressing.
But in the what have you done for me lately department; Duke has won two ACC games in a row in grand fashion.  They can now gain some much-needed experience via extra practices for young players.  Those reps will bode well for the future and a game plan for Duke is at its best when they have time to devise a scheme.
Duke got an unexpected tough opponent in Northern Illinois.  The Quick Lane Bowl is happy the Huskies fell here in that they now have what should be a competitive game.  Had Duke been paired with Akron, they would have been heavy favorites.
What we get in the Huskies is a physical team that looks very similar to Duke on paper.  Each team has a running back with similar numbers and a solid defense.  The Huskies led the MAC in defensive points allowed by a wide margin over most teams.
The Huskies also bring recent success and tradition.  In short, Duke must prepare well and for a physical game.  They may have an edge in the speed department but Norther Illinois went into Nebraska and won this season -- something any team would have a difficult task in doing.
But Duke did beat what is considered to be the best team in Illinois in Northwestern.  In fact, they throttled the nationally ranked Wildcats before suddenly losing their team identity.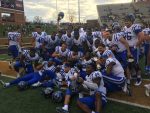 As for the Huskies, they were one of two 6-2 (8-4 overall) teams in the MAC's best division.  Their losses came on the road to Central Michigan and conference champ Toledo.  They played Boston College to a 3 point game in their opener before tripping up in that game.  The other loss came on the road at ranked San Diego State, meaning no bad loss.
Duke left points on the field against Army, Virginia and Pitt and squandered their best chance in years to beat Florida State.  But they discovered something in recent weeks and salvaged their season.  It is called good old-fashioned offense and being aggressive on that side of the ball.
While Detroit gets a bad rap in the press, the fan hotel is said to be nice which is linked in our previous article -
The game will also be played near a very popular district in Detroit which features many restaurants close by.  And did I mention the Hotel has their own casino?  Meanwhile Ford Field is a nice venue and the sponsors seem more than welcoming to fans,
It will bode well for Duke to play on artificial turf which better suits team speed.  The last time Duke Football played in Michigan was 1978 by my recollection under then coach Mike McGee against the Michigan Wolverines.
Per my memory, Duke has only played MAC teams twice in their long history.  That was two wins over Ohio in 1985 and 86.  This will obviously be the first meeting between Northern Illinois and Duke.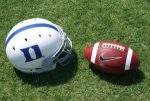 There is a Dave Doeren connection at play.  The N.C. State head man was at the school and led them to an 11-3 record and conference title in his first season.  His 2012 team vaulted to No. 15 in the BCS Standings, which led to a first-ever appearance in a BCS bowl game, the 2013 Orange Bowl against Florida State, which they lost 31-10.  Doeren was hired by the Wolfpack the very next day, but it was current coach Rod Carey who coached in that game.
Northern Illinois has won 10 conference and three division titles, appeared in 13 Division I-A and College Division bowl games in their MAC history,  Rod Carey took over for Doeren and led the Huskies to four west division titles from 2012-15.  He was also a part of an NCAA high at the time 26 game home winning streak.
Some good news for Duke is that the Huskies are on a four game bowl losing streak.  The bad, is that they will not be distracted by the bowl surroundings staying in a Midwest bowl and playing in a venue they are familiar with,
The Blue Devils now return to a bowl game after a one year hiatus.  Duke is 1-3 under head coach David Cutcliffe in bowl games.  They broke through in their last win -- an overtime victory over Indiana in the Pinstripe Bowl.  Previously, they lost three games that were all within reach.
Duke has been labeled an early 2.5 favorite with an over/under of 48.5