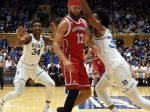 The Duke Blue Devils had doubled their lead to 26-13 at 11:39 in the 1st half.  They did so on a three-point shot by Grayson Allen who scored his 15th point early in the game.
As the half continued, everything was going right for Duke and they went into the break with a 56-30 lead.  But towards the end of the first half, they stumbled a bit and that continued through the rest of the game.
Duke would end up winning their 10th game of the season against no losses  by a 96-80 score.  The aforementioned Allen would lead the Blue Devils with 25 points
The Blue Devils got another double-double from Marvin Bagley IIi as well where he tallied 19 points and 12 rebounds.  Javin DeLaurier fell just short of a double-double himself, ending the contest with 13 points and 9 rebounds.
Trevon Duval had a solid game as well, dishing out a team high 8 assists to go with his 14 points and 4 rebounds.  His play, along with that of DeLaurier earned some praise from Duke coach Mike Krzzyzewski.
During his post game press conference, Krzyzewski said he substituted differently and that he needed to see his subs play more.  He cleared the bench with 6 minutes left in the game and substituted liberally where twelve players would play.
Duke remains undefeated in Cameron against out of conference opponents this season with one more game to play against St. Francis.  That game will tip at 9:00 this Tuesday.
More to come ...