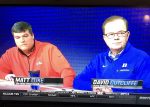 Duke Coach David Cutcliffe showed off his X's and O's acumen on ESPN last night where he shared his wisdom during the National Championship game.  Cutcliffe was part of a team of coaches who talked up the strategy as the game unfolded.
Those who cover the Duke program know Cut is a big film guy and has an elaborate set up in his office.  Social media was abuzz with compliments on his in-game comments.
Cutcliffe was all over the final play of the game and that did not go unnoticed.  Tua Tagovailoa threw a 41-yard touchdown to DeVonta Smith to give Alabama a 26-23 walk-off overtime victory against Georgia.  The Duke coach recognized the coverage and said this may end the national championship right here as the play was just starting to develop.
I think it's fair to say that ESPN will invite Cutcliffe back in the future.  The coach was also able to sit with a former assistant Matt Luke who ironically took over Ole Miss.  Cutcliffe was shockingly let go from the school some years back.  But their shame, is Duke's gain.
Here is a small sampling of some tweets I put together.
Coach Cut called it.

"This might end the National Championship right here."

— Rebecca Fiorentino (@becks23tino) January 9, 2018
David Cutcliffe (I think) as that ball is being snapped: "Man coverage, this may end the national championship game right here." https://t.co/VfaFqhTGO2

— Rob Dauster (@RobDauster) January 9, 2018
How was Alabama's winning touchdown called across ESPN's MegaCast Monday night? David Cutcliffe looked prescient, Aaron Murray was stunnedhttps://t.co/EwmVGKtDVD pic.twitter.com/QUsJW3yHUY

— Awful Announcing (@awfulannouncing) January 9, 2018
Great reaction from David Cutcliffe on the missed FG by Alabama. pic.twitter.com/CyRl28ZgDs

— Matt Schick (@ESPN_Schick) January 9, 2018
David Cutcliffe was outstanding on the game cast last night. The detail was fascinating

— Pete Prisco (@PriscoCBS) January 9, 2018
David Cutcliffe making good impressions in the Coaches Film Room broadcast: #NationalChampionship pic.twitter.com/VSQOsvIPrW

— RedditCFB (@RedditCFB) January 9, 2018
David Cutcliffe was so good. The craziest play ever happened and he is shredding Georgia's grasp of Cover 2.

— Bob Sturm (@SportsSturm) January 9, 2018
David Cutcliffe's reaction to the missed FG that would've won the national championship 😂 pic.twitter.com/zbzKLYWOzs

— CFB Gif'er (@CFBgifer) January 9, 2018
David Cutcliffe-"Effort takes no talent" #hogfbchat pic.twitter.com/hzMkvtqUpp

— Tony Shiffman (@CoachShiffman) January 9, 2018
When faced with a Goliath sized challenge, how do you look at it? Too big to Hit ? Or like David, so big you can't miss!! – David Cutcliffe

— Darryl LaBarrie (@CoachDLaB) January 9, 2018