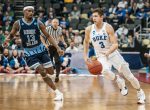 There is a reason you see a lot of smiles around the Duke Basketball program as they prepare to head to Omaha, Nebraska.  This will be the 26th appearance for Mike Krzyzewski in the Sweet 16 where he hopes his charges can take care of business against Syracuse in a game that tips off around 9:40 this Friday evening.
Duke had a light practice on Monday and one today as they get ready to play against the vaunted Syracuse home zone defense.  One might think there is a benefit to familiarity having faced the Orange in a 60-44 win in Cameron,  But Duke captain Grayson Allen squashed that quickly saying that Duke would face a different team and one which has improved.
While it is true that Syracuse is playing their best basketball with three consecutive NCAA Tournament wins, the same is true with Duke.  Krzyzewski said that his team was playing their best basketball of the season when he addressed the media today in Durham. N.C.
The long time Duke coach, said his team was amazingly excited to still have the opportunity to play in the tournament.  He fielded the usual questions about his zone as compared with that of Jim Boehem's but Duke has been moving slowly towards the change to zone since it started to recruit one and done talent.
The reason is that it does not take as long to teach the fundamentals of a zone defense as opposed to man to man, a formerly long time program staple.  Krzyzewski has guys together for a mere eight months with NBA level talent ready to enter the draft and he has to mesh them together into a cohesive unit.  That seems to be happening this season and the hope is that it will lead to the same results it did in 2015 when Duke won the national title.
Krzyzewski said his team talks more in the zone defense and that is a good thing with a team that has a leader in Grayson Allen who had to learn to talk.  While Duke is talented, if not loaded, they are not always the most vocal team.
Duke is confident as a team and they seem to have no fear despite their youth.  But there is still some caution.  There is talk of not looking ahead and Allen is trying to help his younger teammates in playing and living in the moment by taking it one game at a time.
"They're in a good place," said Krzyzewski of his team and now the staff must manage the teams confidence in a way to harness it into full game concentration.
That concentration has happened of late.  Duke is learning to build on leads and not let up. In wins over Iona and Rhode Island the average margin of victory was 23 points, but the games are getting tougher now as they face teams hungry to steal their hoped for glory.
It is a good thing that this is not Krzyzewski's first rodeo, nor is it for Jeff Capel and his staff.  A season ago, the sting of an early loss still remains as do critics of one and done players and whether they can get it done.
In 2015, Duke came together but the next two seasons didn't go as planned.  Some tough lessons were learned and those lessons provide the caution.  But at the same time, there is a can do attitude forming with this years team.
Duke seems to be on the same page as a team. They seem to know their roles and have a desire to collectively play together for a goal.  The Blue Devils are peaking at a good time but a look at recent tournament results shows that upsets are possible.
There are many who feel Duke dodged a bullet in not playing Michigan State.  The reason being that Duke has defeated them so many times that the law of averages has to catch up at some point.  But the team needs to realize that Syracuse beat the Spartans with will and determination.
Duke will basically be playing on the road this weekend.  Kansas which is two hours down the road will have a vast majority of the fans in attendance.  And you can bet they will be rooting for a Syracuse upset.
"It'll be a different game this time," said Grayson Allen when asked about the game and  having seen therm before.  "They're a better team but so are we. "