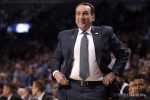 The laundry list is long as to why Duke lost to North Carolina last evening.  Too many turnovers, missed offensive rebounds and playing hard in just the final five minutes comes to mind,
Granted, North Carolina had quite the game plan dishing out 24 assists on 28 made baskets.  But Duke still had a chance to win despite just four players on their roster scoring.
Somehow, someway, Duke got back to some bad habits.  They did not play a full forty minutes and gave up a huge lead minutes into the game.
Perhaps, the most disturbing thing was the fact that at times they did not seem to trust one another on the offensive end.  That leads to players trying to do too much and missing others for open looks.
The bottom line is there is plenty of blame or reasons to cover the entire team.  It was a breakdown in many areas of the game, plain and simple.
Now Duke finds itself 0-0, like everybody else heading into the NCAA Tournament.  The good news is that they are in the tournament and the staff must spin the latest bitter defeat to their arch rival to their advantage.
Duke may well have played its way out of Charlotte with the loss.  A North Carolina win over Virginia would lock that into place.  The Blue Devils will be a second seed but will likely have to travel farther than they originally wanted.
Maybe, that is a good thing for this team.  Perhaps, the constant reminder of a loss and its consequences will motivate an extremely young group of players to come together.
Teams in the past have parlayed disappointment into success.  The Tar Heels did that a season ago after a loss to Duke but they were the veteran team that had been there the year before.
The scary thing to some about this Duke team is that they can lose to middle tier or good teams as easily as they can traditional powers.  That will make for some interesting early match ups in the tournament where they will have to win two games while favored to advance.
Can the staff bring these guys together for one last run?  Or, will some of the guys sure to turn pro crack under the pressure of a close game and look forward or try and do too much?
Duke must find a way to bring it back together and stay cohesive or they will face an exit.  They must trust one another again on the offensive end and hit players when open while protecting the ball which has been the number one negative culprit.
The team is capable of making a run and dare I say winning it all.  That is the team's goal.  They are certainly talented enough for great achievements but young enough to perhaps not learn vital lessons in time to win.  And they have just one older leader in Grayson Allen who did not make the best decisions in the final minutes in their latest loss.
If they get in a similar situation or a tight game, who will take or force a shot?  If it is the latter, then this season will end without a championship.
In a sense, the best thing this team can do is start fast and gain a lead.  And then they must hold teams off by playing the game from start to finish.  In that scenario, they would avoid the pressure of who gets the shot in a critical moment.
Lets face it.  At some point, the team will once again inevitably feel game pressure.  How they respond will determine how this season will end.
Duke has played better defense and now they must iron out some kinks in the offense before their next outing.  The team has won 26 games but they have also been inconsistent even late in the season.
We'll soon know who Duke is playing and it is likely that they will face two pretty good teams right off the bat.  While Duke can beat any team on a given night, they can also lose games they are favored to win.
Duke Coach Mike Krzyzewski has made this statement a couple of times this season.  "Either we'll get it together or we won't." Perhaps that is not a totally accurate quote, but the gist of his message is there.
In short, it is as simple as the long time Duke coach says it is.  Duke will either learn and get better or they won't.  "We came out a little bit flat," said Gary Trent after last nights game.  If Duke does that again, we will be talking about next season.