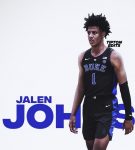 There were fireworks early in the day on the 4th of July for the Duke Blue Devils men's basketball program.  The Blue Devils landed Jalen Johnson, a 6-8, 215 pounds small forward formerly played for Sun Prarie, Wisconsin and now plays for Nicolet in Glendale.
Johnson is ranked the 4th best player in his class by ESPN and the top rated small forward in his class.  Johnson joins Jeremy Roach giving Duke two five-star players in the class to date.
So, what are the Blue Devils getting in Jalen Johnson?  Well, during the recent NBAPA Top 100 players camp in Charlottesville I beamed in on the prospect for an extended amount of time.
This is no knock on the many other prospects which were at the late June event, but Johnson was the one player I wanted most after watching him play.
It took a very short time before I realized that Johnson had a special skill set in many areas of the game.  In fact, beyond the usual need to be a more consistent shooter, I saw few weaknesses compared to his strength -- versatility.
Johnson does everything well.  He is a smart basketball player having a nose for the ball when it is not in his hands.    While he thinks on the court, he does not overdo it, meaning he is cerebral yet reactive.
Smooth movement with the ball helps Johnson have a vast array of offensive weapons.  He can create his own shot or drain short-range and long-range shots.
Johnson is a good defender as well and can turn it up the court and take it rim to rim for the bucket.  His unselfishness has helped him to become a good facilitator with the ball as well,
Despite being listed as a small forward, Johnson has a solid body which will help him with the physicality fo the college game.    Of course, Duke coach Mike Krzyzewski plays position less basketball and Johnson should thrive in the Blue Devils system.
Duke is in the running for several other players in Johnson's class and his addition should be a plus.  His court vision and perhaps his only knock which is over sharing the ball or trying to create for others make him a desirable teammate,
Johnson picked Duke over Kentucky and others but the Blue Devils led for a bit now.  It was good news when Johnson decided to pull the trigger yesterday releasing a video with his intent to play basketball in Durham.
Like many other prospects, Johnson played for the USA Basketball system.  Johnson is destined to be a stat-stuffer at the college level with his ability to score, distribute and hit the boards.
BOTTOM LINE - Solid recruit for Duke which by committing early will allow them to turn their attention to other talented prospects.  A well rounded, high upside player who will need to continue to improve his shot to reach his full potential which is considerable.  Look for him to start working other prospects with future teammate Jeremy Roach by the upcoming Nike Peach Jam.
#TheBrotherhood😈 I'M COMING‼️ pic.twitter.com/ryxNzkXY4J

— Jalen Johnson (@Jalen_J23) July 4, 2019