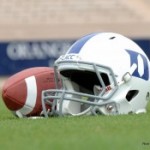 Duke will take on Virginia Tech tonight at 7:00 on ESPN in a rare Friday night appearance.  The stakes are more than a little high for both teams find themselves at a season crossroads.  Both teams are 2-1 and while this is the ACC opener for Duke, Virginia Tech lost to Boston College in their opening game.  Since that time, the Hokies have won two straight games as have the Blue Devils.  To say this game is huge in a quest for competing in the Coastal Division is an understatement.  What does it all mean?  It will be a tense game where both teams lay it on the line.
About the Hokies
Expectations are always high in Blacksburg and this season is an important one for their head coach, Justin Fuente.  Hokies fans are currently mildly depressed that the team struggled to defeat Furman and Old Dominion, but that is because they are spoiled by lineage and expect a lot.
In hindsight, the 14 point win over Old Dominion looks much better now after they almost took down Virginia.  What I am saying is there is some overreaction by some in Blacksburg.  It is also clear, the Hokies have plenty of size and talent where they can throw two running backs at teams and a large offensive front.
While the Hokies have moved some people around on the offensive front, they are huge.  They also are likely to try to establish their running game more and like Duke, have had an off week to adjust their system.
Virginia Tech also hired respected former Minnesota coach Jerry Kill to their staff.  This means, they have had a lot of people studying Duke on film.  The Hokies main strength is the their quarterback, Ryan Willis.  He chewed up the Duke defense a season ago in a 31-14 win over a then-ranked and undefeated Duke team.  That loss sent Duke reeling for a bit before they found their way to a sixth win.
The bottom line is the Hokies in Blacksburg will lay it all on the line.  They have tall wideouts, a defense coached by a legendary Bud Foster.
About the Blue Devils
Duke coach David Cutcliffe has a solid relationship with Fuente and Foster.  But he and his staff must put that aside and have an almost perfect effort to win their ACC opener.  Duke has looked good since their season-opening loss to #2 Alabama.
A big reason for Duke winning their last two games has been the play of senior quarterback Quentin Harris.  The dual-threat Harris has been able to blend in well with pretty much an all new and very young group of receivers.
Last year, one of the more disappointing losses came at home to the Hokies.  In that game, Duke was undefeated and ranked but fell behind quickly and let down a capacity crowd in Wallace Wade Stadium.
The measuring stick for this season comes against the Hokies.  This is a huge game for the Blue Devils, who own one of the nations most difficult schedules.  In short, they need this win for bowl aspirations.
Duke is more than capable of coming out with a win.  But an untimely turnover or lack of early aggression could derail their hopes.  But it will also take four quarters of football and the thought here is Duke wants to be in the game in the fourth quarter.
What needs to happen for a win
Duke did not get pressure on Ryan Willis a season ago and if they allow him time he will pick them apart.  It has been a very long time since the Duke secondary has come away with an interception, so one of those to break the ice would surely help.  Duke will need to be resilient for they can expect some haymakers thrown their way.
What will happen
Firstly, I see a close game.  Virginia Tech opened as a 7 point favorite and that has dropped to 3.  I have seen that kind of movement go both ways, so while I am 3-0 straight up and 3-0 against the spread with predictions, I am swaying back and forth on what will happen tonight.
Conventional wisdom says pick the Hokies for the win.  It has been a few years since Duke won this game in overtime when Thomas Sirk showed the blueprint on how to win.  That blueprint was to play hard and when punched, punch harder.
I think Duke held Quentin Harris back a little when they went to an option a week ago.  But can Duke show enough new wrinkles to overcome the like of Jerry Kill helping the Hokies out or Bud Foster adjusting his defense after a bye week?
When teams get a week off, some improve greatly.  I think this will happen with the Hokies who feel they have to play better football.  On the other hand, Cutcliffe teams play well with time to prepare,
To date, the Hokies have turned the ball over a lot this season.  But a week off may cure that.  On the other side of the ball, the Duke defense has forced just 3 turnovers and had to steal a possession against Middle Tennessee State with an onside kick.
My common gut says to pick the Hokies 34-28.  My heart says it is time for Duke to win 31-28.
In short, this one can go either way.  For more on the intangibles and things I will not mention here, join Blue Devil Nation during our yearly special.
The pick is Duke 28-27