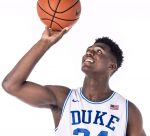 The Duke Blue Devils got a pledge from 2020 power forward Henry Coleman III.  The Richmond, Virginia native made his collegiate choice moments ago at Trinity Episcopal High Scool.
Coleman opened a gift box which contained a Duke cap and placed it on his head.  Some Duke blue balloons on the side may have been a giveaway but his family and friends cheered loudly after his choice.  And for good reason for he is his class's president.
"Duke just felt like home."  The newest Blue Devil commit said he felt he fit in well with his future teammates.  He reiterated, "I talked to Coach K a couple of days before the visit and he said as soon as you get on campus I was going to know it was home."
Coleman stands a good chance of making an immediate impact with Duke which is expected to lose much of their frontcourt.  He is a hard-nosed and hard-working prospect capable of guard either forward spot on the court.
Duke coach Nate James played a vital role as lead assistant.  The Blue Devils gained their fourth commitment in the 2020 class.  Coleman will join recently committed DJ Steward, Jalen Johnson, and Jeremy Roach.
And his commitment brings another big plus.  "Now, I'm turning in to a recruiter for my team and I'm going after Mark Williams!," Coleman said in his USA Today blog.  He continued, "It's easier for me because we're actually best friends and we played AAU together for years, and we've always played really well together."
Coleman impressed the Duke staff while playing for Team Loaded on the Adidas Gauntlet circuit.  His improved play this past season drew a number of offers and the Blue Devils held off the likes of Virginia Tech, Ohio State and Michigan during the process.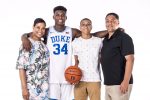 Interestingly, Nate James and Coleman have a lot in common.  James had the nickname Nate "Dogg," while in Durham and he was always around for a key rebound or basket.  Coleman should develop nicely at Duke with his athleticism and hustle.
Coleman fits in nicely with his future class and gives the Blue Devils a strong body in the paint.
The Blue Devils are far from finished with the Class of 2020.  They will now turn their attention to other key players including a big man back on the radar.  For more on the latest recruiting efforts, join Blue Devil Nation Premium during our one-year special.  We have years of experience and get out to the gyms to see the young men in person.
Check back for more on Coleman and his decision to attend Duke University.
Trinity Episcopal basketball player Henry Coleman commits to... Duke? VT? https://t.co/Xt4gRAsf79

— 804 Varsity (@804Varsity) September 27, 2019