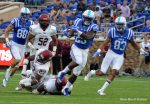 The Duke Blue Devils rolled past the North Carolina Central Eagles 49-6 in their opening game of the season.
Duke opened their scoring on a 50 yard Jela Duncan touchdown run where the redshirt senior broke two tackles before going to the end zone untouched.
Duncan would end the game with a career high tying 115 rushing yards where he scored again on  a 3 yard run which gave the Blue Devils a commanding 14-0 lead.
The Blue Devils also saw two career firsts, when starting quarterback Daniel Jones had his first touchdown pass at Duke. That pass went to Johnathan Loyd for his first career touchdown catch.
Jones also scored on a 7 yard scamper to the end zone and ended the night with three scores on 10 of 15 passing for 189 yards.  Jones played just one set of downs in the second half before giving way to Parker Boehme and Quentin Harris.
Boehme looked efficient as the back up where he went  6 of 8 passing for 37 yards.  .  He also had the second longest run of the evening with a nice romp on 3rd and 18 which set up a score.  He ended the night with 68 yards rushing and one touchdown.
Duke called the dogs off in the second half where they played sloppily when they went deep into their bench.  NCCU would outscore Duke 6-0 on two field goals.
The Blue Devils showed signs of a strong running game moving forward and they got good reps for quarterbacks who have seen little action.
They were sparked on defense by senior defensive line leader A.J. Wolf who had three sacks on the evening.  Duke had four sacks as a team.
Duke rolled up 535 yards of offense, most of that coming in a stellar first half.  The Blue Devils allowed just 112 yards of offense for the Eagles where their two field goals were aided by turnovers.
The Blue Devils ended the game with 308 rushing yards and 227 yards in the air.  The Duke defense also held the Eagles to just 1 of 16 on third down conversions which helped boost their season record to 1-0.
Duke will take on Wake Forest on Brooks Field in Wallace Wade Stadium next Saturday at 3;30 in a game televised in ESPNU.  It will be the first ACC contest for both schools where the winner comes out 2-0 on the young season.