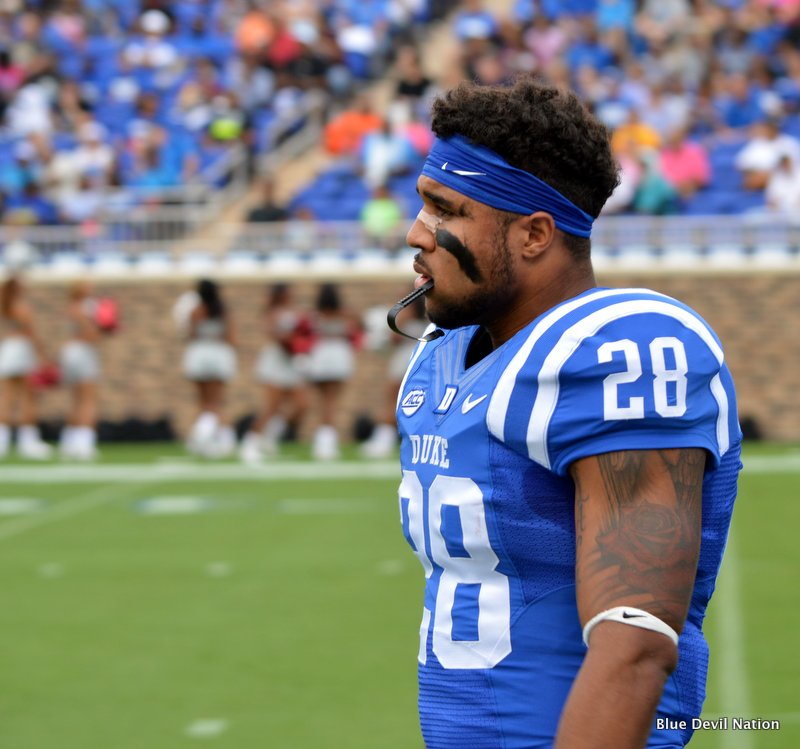 Duke vs. Pittsburgh
12:00 PM ET
Saturday, October 3
Brooks Field at Wallace Wade Stadium
Durham, NC
TV: ESPNNews
Radio: Blue Devil IMG Sports Network
Duke in 2015: 6-3
Pittsburgh in 2015: 6-3
DUKE INJURIES
PROBABLE - Deondre Singleton (S)
QUESTIONABLE - Thomas Sirk (QB)
OUT – Shaun Wilson (RB)
OUT FOR SEASON – Kelby Brown (LB), Bryon Fields (CB), Zach Morris (DT), Taariq Shabazz (DE), Cody Robinson (OG)
PITTSBURGH INJURIES (unavailable)
Duke and Pittsburgh last faced each other on November 1, 2014 in a game Duke won 51 - 48 in Pittsburgh. Both teams are coming off losses in their last game out, Duke being blown out 66 - 31 by North Carolina, while Pittsburgh lost at home to Notre Dame 42 - 30.
The last two meetings between these two teams were extremely high scoring affairs with each team scoring a combined 106 points in the two games. This week's game will once again feature two potent offenses but this year's game does not shape up to be a shootout rather a game between teams with defenses as strong as their offenses.
HOW DUKE CAN WIN
Alignment and assignment. Coach Cutcliffe stated this past week it all starts with all 11 players lining up correctly and knowing their assignment so for Duke to beat Pitt and future NFL wide receiver Tyler Boyd all 11 defensive players must line up and carry out their assignment. Duke can win by the defense playing together as a cohesive unit for the full 60 minutes.
Offensively, Duke must eliminate turnovers. Turnovers hurt Duke last week against Carolina and earlier in the year against Northwestern. With an uncertain situation at quarterback, Duke will need to rely on the run game to move the chains, sustain drives and score touchdowns. Duke can win by the offense setting the tempo of the game.
Finally, Duke can win by special teams winning the field position battle.
HOW DUKE CAN LOSE
The number one way Duke can lose is by allowing Tyler Boyd to have a career performance. The number two way Duke can lose is by focusing so much attention on Tyler Boyd multiple other Pitt offensive players have career days. Running back Qadree Ollison (5.3 yards per carry) and quarterback Nathan Peterman (11 touchdown passes) are quality players who can punish the opponent. Balance on defense is key, keeping plays in front of you and executing good tackling.
On offense, Duke cannot afford empty possessions due to turnovers. If Duke does not value the football and convert on 3rd down to sustain drives, the Blue Devils can lose.
If Duke does not play solid fundamental football, the Blue Devils can lose.
WHY DUKE WILL WIN
This is Senior Day for a group of Blue Devils who have been winners throughout their career so they will be motivated to go out and win the final game they will ever play in Wallace Wade Stadium. Moreover, a win over Pitt is necessary to right the ship after two straight losses. Duke has not lost three straight games since the 2012 season when this year's seniors were freshmen.
BOTTOM LINE
If starting quarterback Thomas Sirk does not play or is limited to minimal action, it makes winning much harder for the Blue Devils and places the onus squarely on the defense to limit Pitt's scoring. Parker Boehme has not played meaningful minutes in a competitive game so he is an unknown quantity. Duke will turn to the running game in an attempt to place Boehme in manageable situations.
Duke 20, Pittsburgh 14
Game Preview: Duke vs. Pittsburgh