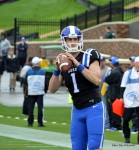 There is a lot of buzz surrounding the Duke Football program after their four overtime victory over Virginia Tech this past Saturday.  Some are pointing to missed opportunities in the passing and kicking game where balls were overthrown and kicks were off the mark that would have sealed a win in regulation.   But the team showed one thing which is important to  championship runs, that being resilience against adversity.
Yes, there were opportunities for Duke to build on a lead with a connected deep pass or two or win the game on the foot of Ross Martin.  But the Blue Devils were able to chalk that up as a learning experience in the film room while still remaining in a hotly contested race for the Coastal Division with Pitt and North Carolina by never giving up.
This was the first ever four overtime affair in ACC Football since the rules were changed and Duke showed a never quit ability that could serve them well moving into the meat of their schedule.  A lot of teams fold under the pressure, but not Duke.
Thomas Sirk had missed on a couple of wide open deep  wide  outs earlier, but he showed the ability to shake it off and move forward.  By doing  so, he grew as a player and leader and his overtime exploits helped Duke pull out a stressful and emotional victory.
Duke fans will not soon forget Sirk barreling into the end zone on a two point conversion.  Sirk had just completed a touchdown pass on the first play of the Blue Devils fourth possession.  Then he took the ball out wide to spread the Hokies defense only to then will his way into over the goal line with q determined run.  As for Ross Martin, he shook off two missed field goals to make them when they counted keeping Duke in a tense battle.
The victory came against a Virginia Tech team playing for program pride.  After some sluggish moments, the Hokies turned a long third down conversion into major momentum.  They became physical to the point of being hard to stop and the Duke defense had to reach deep under the leadership of Jeremy Cash to make a late stop in overtime.
The bottom line is Duke got the Hokies very best shot and they survived it in front of a raucous Blacksburg crowd which tried to will their team to a win.  While Virginia Tech has struggled a bit this season, they still have a lot of talented players and are the same program that beat the currently number one ranked Ohio State team a year ago.  On a given day, they can compete and beat anyone, so don't think this wasn't a big win for the Blue Devils and David Cutcliffe.
The win vaulted the Blue Devils to the #18 position in the Coaches Poll, ahead of some of college football's royalty programs.  And the win served notice that Duke Football is to be reckoned with and losing seasons are a thing of the past.
The Blue Devils are now bowl eligible for the fourth consecutive season under David Cutcliffe and his staff.  They are winning on and off the field with character and a family togetherness few others can emulate.  They are vying to break more and more records where they have turned the corner with rebuilding efforts to have a system in place which is attracting better and better prospects on the recruiting trail.
There are changes a plenty still happening.  While not complete, stadium renovations have been a success.  Duke is providing a better game day experience and learning to refine things as time goes on.
The Blue Devils have just two home games left on their schedule this season.  And the team deserves a solid turn out for the Miami game this week.  Oddly, some have complained about the 7:00 kickoff on Halloween evening.  But folks, that time slot is what teams play for in that it is prime time where more of the nation has eyes are on the game.
The Blue Devils have earned their shot at a Coastal Division title but there are some major hurdles ahead.  A novice fan may only see that Miami fired Al Golden after the worst loss in program history to #3 ranked Clemson as being an advantage.  But one only has to look down the road in the NFL to see how a coaching change can fire a talented team up in the Miami Dolphins.
The Hurricanes, like the Hokies this past weekend will be playing for program pride.  And Miami is certainly still in the bowl talk with a 4-3 mark.  You will see an all out effort from Miami and they will not play as they did a week ago.
This means Duke Football will face another challenge.  It will be a tough game and it will require Duke to take another step in learning how to protect their home field and take a teams best shot.
It should be a fun night where some fans are sure to dress up for Halloween,. What will make the evening ghoulish like more fun is if the crowd can help push the Blue Devils to a 7-1 mark by evenings end.  It will take a win to remain atop the competitive Coastal Division and Coach Cut hopes for more resilience where his team takes the challenge head on.