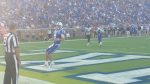 At some point, you knew it had to happen.  What I'm talking here is growing pains.  It's the Blue Devils turn to experience them after going to four consecutive bowl games,
When the final gun sounded, Duke had not left their best effort on the field.  There were too many turnovers, including a fumble which gave Wake Forest all the momentum and an early second half touchdown and a 14 to 7 lead.
Duke would answer on a drive of their own where Daniel Jones ran for his second touchdown of the game, but that would be it for scoring. Wake would tack on ten more points to make the final 24-14.
The Blue Devils line play was less than stellar.  In fact, Wake's offensive front pushed Duke around as their backs rushed for 239 yards.  Duke was solid on defense in the first half, but they seemed to tire as the game went on.
Wake only connected on 6 of 17 third downs, but the Duke coverage broke down when the game was on the line.  The Blue Devils failed to get a stop that led to a Wake field goal that put the game out of reach.  Had just one mistake been avoided, Duke could have possibly sent the game into overtime.
If you read my article in the pre season on important games, you saw where I mentioned this one was the most important.  You do not want to get off to an 0-1 start in the ACC at home and you need to win the games you are favored in to keep bowl hopes a viable option.
In all honesty. Duke placed itself in an early hole by losing to Wake Forest for the schedule ahead is brutal.  Most people felt Duke would have to steal a game to make it to another bowl this season. Now, they will have to steal at least two and have perfect success in winnable games.
There is a lot of football left to be played but Duke will more than likely end up playing for the future.  In order to prevent that from happening they will need to win at Northwestern next week to rekindle any hope for a bowl game.
Duke blew a lot of chances in the first half to take a solid  lead. They allowed Wake to hang around, they turned the ball over and allowed big plays.  And then there were some very untimely penalties near the red zone and two deflating missed field goals.  Off the field, they struggled to put fannies in the stands and student turnout was paltry as well.
While I am painting a bleak picture, all is not as bad as it may seem to the fanbase.  The program has a lot of players who will grow in the system and get better.  It is worth watching them develop the skills they will need to help Duke have future success.
Recruiting is going very well and the stadium renovations are top notch.  But Duke now has to fill the seats and well, nothing was quite as it should be today, or as it will be one day.
Every aspect of the program needs to get better after today's loss. That may not happen this year, but that time is coming.  The reason I say this is that there is a solid foundation being built, it just needs some TLC to get things on the proper track.
Duke has talent, but they are very young in key areas of the team. Much like the renovations to facilities and game day processes, there needs to be some tweaking.
It will take some time and patience, but David Cutliffe has earned that.  Nobody is more upset with this loss than is he and hopefully, the team will play with a sense of urgency moving forward.
Duke will try to defeat a Northwestern team next week who is coming off two upset losses.  The Wildcats will still be the favorite in this game and likely have their ears pinned back.  For Duke, it is still one of the easier games they have left.  If for no other reason than that, the Blue Devils desperately need to come out of this game with a win.