Things are picking up at BDN Premium with exclusive interviews from the AAU circuit, Duke basketball team news, and Duke football recruiting. In addition to those perks, you also get Football Friday, so without further ado... Football Friday the 13th!  [private]
Condolences
Blue Devil Nation sends their condolences to the Alabama Crimson Tide and the family of OL Aaron Douglas, who passed away on Thursday in Florida. Needless to say, it has been a difficult offseason in Tuscaloosa, and our thoughts and prayers are with all of those affected by the April storms and the tragic passing of this young man.
NFL lockout continues
With the NFL Draft now behind us, dozens of college seniors have been forced to put their future on hold while the NFL labor dispute continues. In past years, undrafted free agents typically receive contract offers or camp invites in the days immediately after the draft. This year, due to the lockout, undrafted players have been unable to contact teams, leaving their futures uncertain. This is a difficult time for Duke's group of seniors who are hoping to make good on their NFL dreams. Abraham Kromah recently tweeted some of his frustration: "Notice it's only the vets with money and job security saying they are enjoying this lockout." It's in everyone's best interest for the owners and players to reach an agreement; a cancelled or shortened season would be a huge mistake. For the sake of Duke's seniors and others who are left with uncertain futures, we hope the two sides come together sooner rather than later.
First 3 kickoff times announced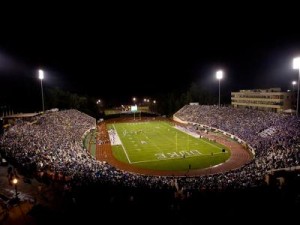 The Blue Devils will open their season on Saturday, September 3rd with a 7PM kickoff against Richmond. Duke fans remember all too well the last time Duke and Richmond met under the lights in Wallace Wade Stadium, and a similar outcome would be a huge blow to the 2011 season. Under Coach Cutcliffe, Duke has hosted four straight night game home openers, with great crowds at the first three as part of Duke's Annual Employee Appreciation Night. One of the defining moments early in the Cutcliffe era was the lightning-delayed home opener against James Madison, where much of the crowd of 32,561 waited out the storms to witness the program's first win under Coach Cutcliffe. The Blue Devils will need that kind of support and enthusiasm in Wallace Wade Stadium this year as they take on another tough home schedule, highlighted by the September 10th game against Andrew Luck and Stanford, which is slated to kickoff at 3:30 PM and will be televised on ESPNU. After an early season conference road loss to Wake Forest in 2010, Duke will need to reverse their fortunes with a tough early season matchup with Boston College in Chestnut Hill on September 17, which will kickoff at 12:30 PM on the ACC Network.
September 3            Richmond                        7:00 PM            espn3.com
September 10          Stanford                           3:30 PM            ESPNU
September 17          @ Boston College          12:30 PM            ACC
Recruiting moving along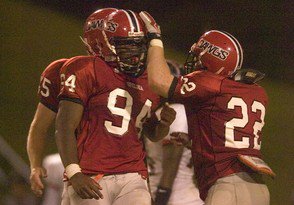 The Blue Devils have secured two commitments early this recruiting season in TE Erich Schneider and DE Allen Jackson. For comparison, by the end of May in 2010, Duke had already received 5 verbal commitments and by the end of May in 2009, Duke had already received 4 verbal commitments. In both previous years, the majority of commitments were made in June and July, and the Blue Devils hope that will be the case again this year. The staff has been on the recruiting trail hard this spring, checking in with current recruits and scouting potential new prospects. With many high schools now in the middle of spring football practices, prospects are given an opportunity to showcase their offseason improvement to coaches in hopes of earning new scholarship offers. After spring practices wrap up, the next opportunity to impress college coaches will be the summer camp circuit. Duke will host its one-day camps on June 11th and 18th this year, with the David Cutcliffe QB College on June 16th and 17th.
It will be interesting to see how this recruiting season unravels, with written scholarship offers not sent out until August. Also, coming off a 3-win season, the Blue Devils have a lot to prove to prospective recruits, who want to play for a winning program. With a relatively small number of available scholarships this year, the Duke staff has been a little more selective than in previous years, focusing their efforts on several high-level prospects. All of these factors will come into play as Duke puts together the class of 2011. The Blue Devils are close to having the facilities, staff, and education to compete with any program in the country, but still need to improve in wins, fan support, and NFL alumni.
Just a few updates on the recruiting front:
DL Matt Godin committed to Michigan on Thursday. He visited Duke earlier this year and the Blue Devils were initially high on his list. Unfortunately, Michigan, Michigan State, and Wisconsin ended up offering the Michigan native, and it became nearly impossible for any school to lure him out of his home state.
TE Evan Baylis committed to Oregon recently. After originally planning to make his decision over the summer, he decided the offer from the Ducks was too good to pass up.
DE Torey Agee received an offer from Stanford this week. Duke and South Alabama were the first to offer the Opelika, AL native, who plans to visit Durham this summer. With Stanford now in the mix, this recruitment has immediately become more competitive. Duke and Stanford are battling for a few prospects already (Dontonio Jordan, Albert Reid), so it will be interesting to see if the Cardinal can continue their success in the post-Harbaugh era.
Next week
Prospect interviews will start up again next week. Please feel free to chime in on the message board on any prospects you'd like to hear from. We'll start to check back in with several of the prospects we spoke with earlier this year to see how their spring has gone and where they are in their recruiting process. Here's to a great week! WE ARE DUKE.
[/private]