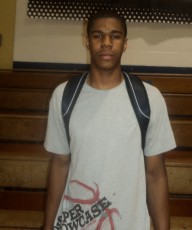 Anton Gill is a 6'3" sophomore shooting guard from the Ravenscroft School in Raleigh, North Carolina.  Gill led the private school team in scoring this past season and has generated interest from high-major programs, including several in the ACC. The first program to offer the 2013 prospect was his father's alma mater, East Carolina. Gill's father, also named Anton, is the ECU Pirates' fourth all-time leading scorer. On Wednesday, NC State became the first ACC program and third overall (UNC-Charlotte) to formally offer him.
In this abbreviated interview, which was conducted earlier, he talked about a variety of topics, including his recent injury which has had him sidelined for the past few weeks, his relationship with Ryan Kelly, and some of the tougher North Carolinian players that he's faced.

First of all, can you talk about your injury and how it happened? Was it at that Telep camp or after it?
It was after Telep. I guess I just tweaked it a little bit. Then, I tried to play on it the next week. We went to the doctor's and he said that it was a stress fracture. I guess I'm kind of unlucky. (laughs)
No, not at all. You're a Ravenscroft kid. How do you feel that you played this past year in high school?
I think I'm playing well and knocking down open shots. I've got a lot of confidence in the things that I can do. I think this is probably the best year that I've had, so far, in my high school career.
In terms of recruiting, who's after you right now? [private]
Right now, I've got two offers: East Carolina and UNC-Charlotte. As far as other schools that are currently recruiting me, North Carolina, Wake Forest, Clemson, Florida State, Texas, and a bunch of other schools showing other levels of interest.
You're still wide open, I assume?
Yes, definitely.
Do you have any timeframe for when you'd like to decide by?
I'm not really sure. I'm just trying to find a school that's the right fit for me.
Now, have you made visits?
Yeah, I've visited Clemson and North Carolina
You must live in the Triangle.
Yeah, I live in the Triangle, closest to NC State.
And you never visited there yet?
Yeah, well, I visited there in my freshman year, but since the whole, like, coaching thing..
It's a new regime. What's your current height and weight?
I'm about 6' 3 1/2" and about 175.
Do you know how tall that you're projected to be? Your dad is obviously a very tall man.
Yes, sir. They think that I'll be about 6'6" to 6'7."
And assuming that you hit that 6'6" to 6'7" height, which position would you like to play?
I think I'm going to be a two guard.
Alright, a 6'7" two guard. I can see it.
Gill - (laughs)
For those that haven't seen you play, what are your strengths and weaknesses?
I would say that my strength is really shooting the ball and getting to the rim. Things like that. My weakness would probably be my strength and being able to finish and even my defense so that I'll be able to take hits.
Strength is one of those things that you don't see high school guards often talk about until much later in their careers. Going back to Ravenscroft for a moment, do you know Ryan Kelly?
Oh, yeah, I speak to him all the time. His mother's here. He plays for Duke and works out with them, but, in the summer, he comes back and we work out with him and stuff like that.
What's he like as a person?
He's cool. Like if you saw him, you wouldn't know that he's a national champion (laughs). He's humble. He's real hard-working. He's just a normal guy to talk with. He's a very smart guy too.
Who will be some people that you'll turn to for guidance in your college decision, whenever you do decide? Your dad?
Yeah, my dad and my coaches, Coach Coleman and my high school coach, Coach Billerman and guys like Ryan, you know, older guys. Same thing, you know, I'd like to hear advice from guys who've been through it.
Speaking of Kelly, is Duke recruiting you, by the way? Will they?
I hope they will, but I haven't really heard from them yet.
Did you have a favorite team growing up? I know this is always a touchy issue in your area.
(laughs) Yeah, for some it is.
Were you a Tar Heel fan growing up?
Yeah, I was a Tar Heel fan growing up (laughs).
Are you still and are you open to NC State and Duke?
Yeah, I'm definitely open to all of them, but…
If the Tar Heels came calling, you'll …
(laughs) I can't even say.
Alright, we'll see.
(laughs)
Who's the toughest opponent for you thus far?
The toughest opponent for me has been either Rodney Purvis or Torian Graham. He's just so strong. He can get wherever he wants on the court. Even T.J. Warren…he scores so easily. He's tough to match-up against.
Is he in your league?
Well, he's 2012, but, yeah, we've played once already and he plays with the older Garner Road team.
Yeah, I've seen all three of those guys. What style of play do you prefer to play now?
Probably up-and-down. You know fast-paced, running the floor, shooting baskets quickly… things like that. I think that I'm more of a perimeter guy. I've grown a bit, but I still prefer to play outside.
Either at the NBA or in college, is there a guy that you try to model your game after?
I'd have to say Kobe Bryant. He's got no weaknesses at either end. A total professional and a competitor.
They always talk about his work ethic.
Yeah, he's got a great work ethic and the thing I like about his game is his footwork. He knows how to use his feet and position his body on the court at all times.
It's beautiful. 
Yeah, it is and that's really something I try to watch and learn from.
What would you like the audience to know about you away from the court?
I'm just a normal kid.
Very approachable and friendly..
(laughs) Thanks. I'm just a normal kid. I play video games, listen to music, and go to school.
What's your favorite types of music and video games?
With video games, I like NBA 2K11 and play it all the time (laughs). Play it all the time and that's what we do.
Let me guess. You're on the Lakers.
Oh, yeah, I'm a huge Lakers fan and, in terms of music, I listen to rap music.

Who do you like to listen to?
Probably Jay-Z is my favorite.
The Brooklyn boy ...
(laughs) Yeah, he's my man.

Do you like movies? What types?
Oh, yeah, definitely. I just like something that keeps me awake. I like action movies. I like action.
What will you be looking for ideally in a college, whenever you do decide?
A place where I'm wanted…where I'm a high priority for the coaching staff
Now, for example, did you visit UNC-Charlotte or East Carolina after they made you an offer?
Yes, I've been there numerous times, particularly ECU. My dad played there.
Now does give them any upper-hand?
Not really. (laughs) I guess it kind of helps them right now, but we'll see. I know their coaching staff and Coach Lebo is great. They're just really welcoming. That's what I really like. It really feels like I'm at home.
What did your father play at ECU?
He played the three and the four. He graduated in 1995.
So, he's a relatively a recent grad.
Yeah. (laughs)
When do you expect for the injury to heal and for you to be playing at full-strength? Will you be ready for July?
The doctor thinks it will only be about four weeks, if I stay off of it.
That's not too bad.
No, it's not. I'm just going to take a few weeks off and just lift weights and stuff. I should be back soon.
How are the facilities at Ravenscroft, in terms of weight-lifting, cardio machines, etcetera?
Oh, they're great. First-class stuff and they really keep on top of it. You come in and they have it all laid out on the wall about the stuff that you have to do. The weight-lifting coach stays on you and things like that.
Have you improved, in terms of weight-lifting?
Yeah, when I came in as a freshman, I think I was maybe 140. So, you can definitely see the improvement and how I've tried to build that lean muscle.
It looks like you must've been targeting your upper body and hitting your shoulders.
That's actually what the coach told me to work on. Hitting the shoulders so that I can kinda get that "V" look like Kobe.
I heard you played well at Telep's camp. What was that experience like and how do you feel you played?
I think I played well. There's always things that you can find to do better, but, overall, I felt like I played really well. It was just fun because you see the different guys that you read about or..
You hear names.
Right, you hear names and it was just an opportunity to show what you can do.

And you're a competitor, right?
Yeah, you definitely don't want to let anybody get the upper hand on you or embarrass you.
Did you play (Rodney) Purvis there?
Yeah, I played him there. I think we played him in the last game. Guys like that are the ones that you want to target and also watch out for.
Lastly, what would you like to work on or target this summer?
This summer, I'd like to continue to get stronger and get quicker. I 'd like to work on my weakness, like my off-hand, and my jump shot. Just tuning my game. I don't feel like there's really one thing thing that is a weakness, but I think, at the same time, you can always get better. Just fine-tuning my game.
Thank you very much.
Sure, no problem. [/private]