The 2011 Duke Football season is behind us. It's time to look forward to the future, and that begins with the class of 2012. Duke has already secured 15 verbal commitments in this class, and BDN will profile each of the newest Blue Devils as we head toward Signing Day 2012.
MICHAEL WESTRAY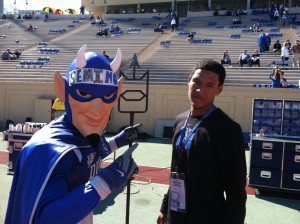 Height: 6'1"
Weight: 190 pounds
Position: Safety
Hometown: Waldorf, Maryland
High School: Westlake High School - Class 3A
Senior season recap: We finished 8-3 and made it to second round of playoffs. I thought that we had enough talent to win the championship, but I'm proud that we fought hard. I was voted to 2 All Star games. My coaches stressed State Championship and team first so I never really tracked stats. I played CB, Safety, RB, WR, and Punter. 
Scholarship offers: Duke, N.C. State, and Liberty
Commitment to Duke: I chose Duke for the opportunity to get a great education, play in the ACC against the great competition, the family atmosphere, and a defense that I'm excited to be a part of.
Considering other schools: No
Academic interests: Computer Science
Pro or College Role Models: I've heard comparisons to Laron Landry and Antonio Cromartie.
College goals: Obtain my degree, help the team win championships, avoid serious injuries, and leave as a better player and person.
Planned enrollment: No set date yet. I'll coordinate with admissions and the coaches.
Message to Duke fans: I can't wait to get on campus. I look forward to spending my next 4 years at Duke and being a part of the community.  Go Duke!
BDN Scouting Report: Westray will join fellow Westlake alum Jon Woodruff in Durham next year, and both will be looking to make an impact on the defensive side of the ball. A high-end athlete, Westray played all three phases for Westlake, but will likely find a home at safety in Durham. He has an excellent nose for the ball and showed good instincts against the run. He will need to improve his footwork and coverage skills, but possesses good lateral agility and quickness. As a fundamentally-sound tackler and disciplined defender, Westray has the potential to develop into an excellent safety in Jim Knowles' defense.
Highlights: