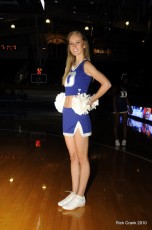 It's time for this week's Monday Musings piece where we think  out loud and  ponder the happenings around Duke Athletics.  This week we talk Kyrie Irving, the December schedule, and recruiting on the Duke Basketball front, Cutcliffe being on the road, a big game for the women's hoops team and we bring you the Duke Cheerleader of the Week.
Will maintaining motivation be a problem for Duke?
Duke just finished a stretch of games that included wins over Marquette, Kansas State, Oregon, Michigan State and Butler leaving us  to question if the Blue Devils can keep up their intensity during the easiest stretch of the season.  In December, players are hard at work in school and on the verge of the Holidays where many will go home for  few days.  It is not unusual for focus to drift but the thinking here is that Duke has too many players wanting to show their stuff and that should prevent too many let downs.  Duke will take on Bradley and St. Louis this week followed by a nine day break before another home contest with Elon and the team will then take another nine day break before travelling just down the road to face UNC-Greensboro.  Face it, Duke will win all of those contests easily and that will push their record to 12-0.  The reason for my confidence is as mentioned that players on the bench will want to show their stuff.  Duke will see to it that certain players get untracked and Krzyzewski's challenge will be to see his team improve before they enter ACC play in that 13 of their next 14 games will be against conference foes.
Kyrie Irving was never a secret but ...
If the ACC media was to vote today for Rookie of the Year, do you think UNC's Harrison Barnes would still outdistance Irving by a 46-9 vote?  I saw the Irving train coming after following the New Jersey native on the AAU trail seeing him play a good 20 or so times.  The youngster is capable of taking over games and he showed that in a game against Michigan State and bounced back with another 20 plus scoring effort versus Butler on Saturday.  What you have yet to see is when he starts dishing dimes [assists]  like they were going out of style and a few double-doubles are ahead.  Irving is as advertised and I can happily say that comes as no surprise to me.  And this just in -- Kyrie just won his third ACC Rookie of the Week honor of the young season.
The Duke staff will remain busy during the Holiday's
There are some on the staff who stay up until just before dawn breaks watching film on the opposition.  I know this after being in close proximity of the situation for most of my life.  I also know that they'll be out in force during several December high school basketball tournaments one of which is the State Farm City of Palms event in Fort Meyers, Florida.  Check out this cast of characters which as BDN Premium members know that a lot of Duke's key targets are on hand.   The Class of 2010 No. 1 includes, Michael Gilchrist, St. Patrick; No. 2 Austin Rivers, Winter Park; No. 3 Adonis Thomas, Melrose; No. 8 James McAdoo, Norfolk Christian; No. 23 Shannon Scott, Milton; No. 27 Julian Royal, Milton; No. 58 Dai-Jon Parker, Milton; No. 75 Marshall Plumlee, Christ School; No. 87 . While the Class of 2012 adds No. 4 Shabazz Muhammad, Bishop Gorman; No. 5 Ricardo Gathers, Riverside Academy; No. 38 Xavier Johnson, Mater Dei; No. 45 Omar Calhoun, Christ the King; No. 47 Evan Nolte, Milton; No. 71 Rosco Allen, Bishop Gorman.  You can discuss the various tournaments and find out more on recruiting information with BDN Premium members by joining and supporting Blue Devil Nation.
Football coaches on the recruiting trail as well
Duke Football is making its list and checking it twice in December but the recruiting efforts started in November where the staff was out the Monday following the last game.  Duke Coach David Cutliffe will have his  own players for the first time next season and he is looking to make some  key offers in the foreseeable future.  BDN will keep you up to date on the latest on the football front..
The Duke Women face Texas A & M on Wednesday
The Duke Women are flying a bit under the radar now and that's a shame for they deserve more coverage on the Duke front.  Duke faces an early season test when they take on Texas A & M tonight in Cameron Indoor Stadium this Monday evening.
And speaking of under the radar
Duke handed out yet another commemorative to fans with Coach K's 800th win being saluted during the Michigan State game.  His milestones are so many that it barely gives Duke fans a chance to catch their breath and reflect  on his success as he continues to move towards being the winningest collegiate coach of all time.
Click here and follow Blue Devil Nation on Twitter for the best Duke coverage avialable.  And be sure to check out Andrew Slaters interview with Kyrie Irving.