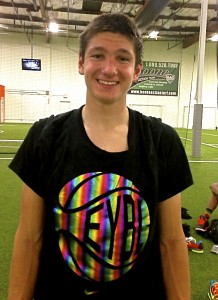 At this time a year ago, 6'4" Grayson Allen of Providence HS in Jacksonville, Florida had earned three scholarship offers. Last week, Duke University Coach Mike Krzyzewski opted to make the combo guard his eighth outstanding scholarship offer in the class of 2014.
This weekend, Coach Mike Krzyzewski and Duke associate head coach Steve "Wojo" Wojciechowski watched two games of their most recently offered player at the Nike EYBL LA. After bursting onto the national scene with the Douglas Brothers Elite AAU program at last year's Peach State Summer Showcase, Allen, a former soccer player, opted to switch programs and joined Southern Stampede, enabling the rising senior to compete in Nike's EYBL, the best AAU competition currently available. Teaming up with 6'8" JaKeenan Gant, 6'4" Ahmed Hill,  and 6'5" Jalen Lindsey for the Southern Stampede, Grayson Allen averaged nine points, two rebounds, two assists, and three steals in his three games in LA.
Allen credits his enhanced recruiting interest, which now includes recent interest from Indiana University, to a fusion of self-improvement and exposure. Grayson Allen, whose forename stems from his family's lineage, says that he has a bit of a split personality: a fiery, competitive player on the court and a quieter, more cerebral side (a reported 4.4 GPA in his most recent semester) off of the court,  tendencies demonstrated in more emotionally stable basketball players. The Northern Florida product, who says that he's been compared to former Florida State and NBA guard Bob Sura, attributes his athleticism and physique to a regimen of plyometrics, push-ups, and sit-ups.
After falling two games short a year ago, this past season, Grayson Allen, who expressed a great deal of divine gratitude for his physical attributes, lead Providence HS, a non-denominational Christian school, to a state title win over Coral Springs Christian for a Florida 3A state championship. In the title game, Allen, who averaged over nineteen points per game, erupted for thirty-one points, including twenty-seven points in the first three periods.
Grayson Allen's three-point shooting and theatric dunks in transition at Providence have made him an instant YouTube sensation. He credits his mother, a Jacksonville native, and father, who played "a little high school basketball" in southern Georgia, with keeping him humble and focused throughout this process. Allen, who felt that his November visit to Duke helped clarify some misperceptions on television about Coach K, said that his college decision could come as soon as "next week or next month," depending upon his comfort level.
This weekend in Garden Grove, California, a reflective and congenial Grayson Allen provided an in-depth interview with me about a plethora of topics.
[private]
After blowing up, for lack of a better term, last year, how differently will you approach this AAU season? I was wondering if your approach changed at all this year versus last summer.
This year, I just want to play against the best competition. That's why I'm going out here and playing in the EYBL with the Southern Stampede. So pretty much this summer, well, last summer going in, I only had two or three scholarship offers. Now I don't really have to worry about that. 
Has that changed your mentality or approach? That's got to be a relief.
It is a relief. My mom and dad aren't worried, there's no pressure on me. The mentality on the court is that I'm not worried. 
In retrospect, with some perspective, can you explain to the audience how that event effectively changed your life?
You know, definitely, it's a good problem to have. 
Well, your parents must be thrilled.
 Yeah, they are. They're thrilled. You know, it's just a big relief. To me, I had dreams and inspirations to play high-major Division I college basketball and now it's a reality. 
When Duke recently offered, what was your initial reaction?
Definitely excited. You know, really excited. They're the most prestigious program out there. They're always in the Top 10, they're academically always great, they're a great school. It's definitely something that excited me.  
What do you know about the program? What do you know about Coach K?
 I built a good relationship with Coach K. From what you see on TV and everything, you don't really get a good view of him. He's just a normal guy. He's funny and everything. I think I built a really good relationship with him. 
What did they say to you when they actually offered you?
They just thought I'd be a good fit. They see me as a combo guard, being able to play the one and the two, being able drive the offense. 
In terms of position, what do you view yourself as?
 I think scoring comes naturally first, but I enjoy playing the one, too. I enjoy setting up teammates as much as I do scoring. 
What was the experience like winning your first state title recently?
That was the best basketball experience I ever had so far. The season before, we lost in the final four, so when we made it back, it made it even better.
Because you could taste how close you were?
Yeah, exactly. 
In terms of the growth of your game since last summer, what do you think you've improved upon most?
I think ball-handling is big. I made a shift from just being able to play the wing to being able to play the point too. And I know, I mean, I think my shooting is a lot more consistent. You know, I'm just always working on my game, my defense, and stuff like that. 
Do you think it's a matter of exposure or improvement in terms of when you exploded onto the national scene (again, for lack of a better term)?
I think it was a little bit of both. I was definitely, improvement-wise, well, I think my improvement from 9th grade summer to 10th grade summer was huge. I couldn't shoot a lick going into my 9th grade summer. I had never been taught. I had my elbow out and everything, so I focused on that and, you know, I think that helped a lot and also, you know, I've played in a lot bigger tournaments so, you know, that probably helped too. 
Is there a player you try to model your game after?  
I wouldn't, but a lot of coaches compare me to Bob Sura. I never saw him play or anything like that. He played at Florida State. I'd never compare myself to that, but that's about it. 
For the vast majority of the audience that's never seen you play, what are your strengths and weaknesses on the court? 
I think probably my biggest strength is my attacking the basket and my athleticism. That probably surprises some people. And you know, when they have to watch that, I also will often take jumpshots. 
And what about your areas for improvement? 
I think ball-handling is something that I can always work on it. That can always be more consistent. Defensively, I want to be a really good off-the-ball defender. 
(Jeff Rabjohns): Talk about Tom Crean from Indiana showed some interest. Where's that at?
He's been contacting me a lot more. They came out to my school last week and talked to me. They said they're expecting to see a lot more of me.
JR: And what was their message?
Their message was pretty much that they want to see me play here and Coach Crean's seen me play a couple of times. 
JR: What's your interest level? I know it's early. When Indiana walks in the door, what was your thought?
I'm definitely interested in them. They've got a great program and I watched them play a lot this season. They were one of my favorite teams to watch, they pushed the ball. I mean, I loved the way they scored in transition. I liked the way they played.
Are there any misconceptions about your game?
No, I don't think so, at least I haven't heard any. 
In terms of visits taken and planned...
I've been unofficially to Florida, Florida State, and Georgia..NC State, North Carolina, and Duke. I don't have any planned right now. Nothing right now.
 In terms of a timeline, how far along are you?
Umm, well, I'm definitely looking into it more right now. I have a couple of schools in mind that I'm really looking into. Just for me, it's when I'm 100% comfortable with the school, I don't know how long that'll be. It could be next week or it could be next month, I really don't know. 
JR: Well, who are the schools that make you feel comfortable right now?
Um, well, the ones that are recruiting me hardest are Florida State, Florida, Georgia, Duke, and Gonzaga. They've really been recruiting me hard. I thought I've really gotten comfortable with them. 
JR: Well, when you say a decision could be coming, you could really pull the trigger, like tomorrow? 
Well, I'm getting prepared. I'm getting more and more comfortable with each school. I mean, nowadays, it's just about the comfort level. That's what it's always been about for me. So, you know, whenever that comes, I'll know. 
JR: So, do you think you'll give a visit to Indiana before that, or did Indiana come in too late?
You know, I'll think about visiting Indiana before that. I've got to talk to my parents about that.
JR: So it's in the planning stage?
Yes, sir. 
What's your current size?
 6'4" and about 195 right now. 
Do you do a lot of strength and conditioning? It looks like you've really built up your arms. 
Yeah, you know, I really don't use any weights. I use my own body weight. I do things like pushups, sit-ups, just natural things. I do do a lot of plyometiric things with my legs, things like box jumps, things like that. 
I'm assuming you're a good student. You seem relatively thorough in your answers.
Well, I finished my first semester of the school year with a 4.4 GPA.
Wow, congratulations. People often reference your athleticism, where do you think that comes from?
You know, I don't know where it comes from. Maybe my dad's side, but I don't think so. 
Did your dad play at all?
I mean, my dad played a little bit in high school, but nothing after that. I really don't know where it came from. 
As long as we're on the topic, maybe you can tell the audience a little about your family.
You know, my parents are a huge influence in my life. They're always there, keeping my head in check, keeping me humble through this whole process.  
What's their background? Are they from Florida originally? 
My mom's from Florida. She's born and raised in Jacksonville and my dad's from a small town in southern Georgia. 
And your unique name, how did you get it?
It's a family name, it's my dad's middle name, I think it was his grandfather's name.  
I figured it had to be a family name. Do you prefer to make a three or a dunk?
A three is worth more, so I'd probably say that, but a dunk can swing so much momentum in the game, so that's always exciting. 
Do you watch any highlight reels of yourself?
 Yeah, actually I do watch them a couple of times. 
What are you looking for in a program?
Playing style is big for me. You know, I want to go somewhere where I can fit into the style of play. 
And what style of play do you prefer?
I like to push the ball in transition, give the guards freedom, a lot of ball screens and spacing the floor. You know, I'm really so big on comfort with the coaches, that's big. Having a good relationship with all of the coaches and the players, the people I'm going to be with for four years. That's huge for me. 
Absolutely, so fit is critical.
Absolutely.
What would friends or classmates say about you off of the court? Or what would you hope they'd say about you?
(laughs) I think my friends would say that I'm really quiet off of the court. I'm a different player off the court than I am on it. I mean, a different person off the court than I am on it. I don't know how it comes out, but on the court it comes out, but off the court, I'm pretty quiet. 
That's okay. That was the case for me too, but, fortunately for you, you're much more talented. 
(laughs)
Who was the toughest player you have ever defended?
That's a really tough one. I think I'm going to have to get back to you on that one. 
Like they say, I'll be here all weekend. 
(laughs)
What are your goals for this summer?
I mean, I just want to win. I'm not really worried about scoring or anything like that, I just want to win.
Well, that's good.
Nothing really more than that.
So, how do you feel about your squad?
I think we have the talent to play with anyone. I think everyone sees that as well. We've just got to keep together as a team.
So chemistry will be very important.
Yeah, that's the key.
Are you playing any other sports?
I used to be a big soccer player, but I gave that up when I was in 8th grade. 
Do you think that helps with your footwork?
I think so. I think it really helps with that and my endurance.
Is there actually a guy you model your game after? Do you have a favorite player? Do you watch a lot of basketball on television, either college or pro? 
Well, my favorite player to watch is LeBron. I don't think I'll ever necessarily play like him, but…well, I mean I just like watching him play. I like he's just always attacking the basket, you know, 24/7.
Are you a Magic fan or..
(laughs) Oh, definitely, a Heat fan.
I didn't know for sure with Orlando's proximity to Jacksonville, but the Heat are definitely a lot more of a fun team to watch these days. Back to position for a second, at the college level, would you rather play the two or does it really not matter and you'll play whatever gets you on the court?
I think it's big that I can play both you know, but, like you said, whatever gets me on the floor.
Lastly, what would you like the audience to know about you away from the court?
I think that I'd like them to know that I put God first. I thank him for all the blessings and everything that he's given me. I'm definitely thankful for the talent and athleticism that he's blessed me with. I've been able to use and build a platform for myself
Which verse of Proverbs is it that you have on the front of your Twitter page?
Proverbs 3:6. "In all your ways acknowledge Him, and He will make your paths straight." It's something that I try to live by.
That's nice. Thank you very much for your time, Grayson, and good luck to you in the future.
Thanks a lot. I appreciate it.
[/private]