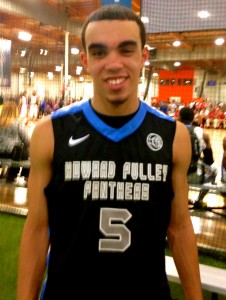 In a state that is historically more known for their contributions to the game of hockey, a trio of rising seniors, Tyus Jones, Rashad Vaughn, and Reid Travis, have caused coaches to flock to the hardwoods of Minnesota. The standout, so far, has been the smallest of the three, 6'2" Tyus Jones, a highly skilled and cerebral point guard from the city of Apple Valley.
In late March, Tyus Jones capped off a brilliant year by scoring twenty-six points, grabbing eleven rebounds, and dishing out eight assists in front of more than thirteen thousand people at the Target Center. That performance against Park Center HS helped Apple Valley HS (30-1), located just outside of the Twin Cities, capture it's first state title in basketball and avenge its only regular season loss. With Tyus, throughout the journey, was his older brother, trainer, and best friend, Jadee, an assistant coach for the Apple Valley Eagles.
The coveted point guard credits his brother, Jadee, who puts him through intense basketball-specific training sessions, with developing his game and providing support through the years. Jones, who embodies the expression "Minnesota nice," is quick to add that his critical support system extends to his parents, Debbie and Rob, who also both played college basketball, cousins, aunt, and grandparents.
As a reward for his season (averaging twenty-one points and nearly eight assists per game for the state champion) and work off of the court (B+ student and community involvement), Gatorade named the junior as their Minnesota Player of the Year for a second straight season.
Last July, Tyus Jones lead a very talented and deep USA Basketball squad to a gold medal at the FIBA U17 World Championship in Lithuania. Jones felt that he was able to carry over the leadership and level of preparation that was a regular part of USA Basketball into his success in Apple Valley. Beyond the patriotic pride and handsome medal, Jones gained a close bond with the players, sharing the collective experience of training and playing for a communal goal.  In particular, he became tight with his 6'11" Chicagoland roommate, Jahlil Okafor. Tyus felt that Jahlil shared many of the same core values that he had been raised with. They laughed and enjoyed playing with each other. By the end of their time in Lithuania, they decided that they wanted to continue playing together in college. They both independently reconfirmed that desire this weekend. Despite a four hundred mile separation, the duo communicate on a regular basis.
The young point guard with an old soul cut his list of suitors in March to seven: Minnesota, Duke, Kansas, Michigan State, Kentucky, Ohio State, and Baylor. A few months after Tyus Jones and his family visited Duke for their Countdown To Craziness, the first in-home visit for Duke Coach Mike Krzyzewski this year was to Tyus Jones' living room. This weekend in Garden Grove, California, the four-time NCAA Championship coach was omnipresent for each of Jones' four EYBL games, including his final game where Jones scored thirty-eight points and dished out six assists against a good CP3 squad. The ten pounds of muscle, mostly in his upper body, that Jones added to his lean 6'2" frame enabled him to withstand the physicality of constantly penetrating into the heart of the defense.
After an EYBL game, Tyus spoke with me about a variety of topics, including his relationship with Jahlil, sharing an accomplishment with his family, the possibility of doing a one-and-done, his motto of T.O.A.O. (The One And Only), and his last time going through the AAU circuit.
With this being your last AAU season, what sort of thoughts and emotions were going through your head? Does it mean more  to you?It's kind of a surreal feeling to know that this is going to be my last AAU season. Every year, you just don't think about it. You're just go and you play, but it's a different feeling, you know, knowing that this is going to be your last go-around. You know, with this being your last go-around, you feel like you've got to make the most of it.
Has it generally been a fun experience for you through the years?
Definitely, definitely. It's something where you're always with the best players, you're playing against the best players, too, and you get to travel. It's been a lot of fun through the years.
You're also coming off of a state championship victory...
[private]
That was just an unbelievable experience.
I was happy for you.
Thank you, I appreciate it. It was the first time for us to be able to make the state and to win it. It was a great feeling to finally get over that hump. 
Did you feel redemption? What were your emotions when you walked off of the court that day?
You can't even explain it in words.
I wish I could.
Yeah right, so do I. (laughs) You just can't explain it, but it was great and I enjoyed it and it will stick with me forever. 
How, if at all, did your experience with USA basketball, in terms of leadership, with that championship run?
Oh, it helped me a lot. Yeah, it helped a lot. I think just being out as USA at the training camp and then going overseas teaches you a lot. It's just an experience to be sort of a different way of basketball at really the highest level. 
You also recently won the Gatorade Player of the Year in Minnesota as a junior. That's quite an honor because they take into consideration both basketball and your off-the-court work. 
It really meant a lot to be able to win that award because I really just worked really hard for it. 
Going back to the state title, you were able to share it with your brother and your friends, so it had to have meant more than some of the individual awards..it's sort of a communal thing.
Yeah, that was great to be able to share it with them and my whole family. And my brother's my best friend. He's been with me since I was born. 
I remember he coached you and trained you from a very young age. His name is Jadee.
Yup, Jadee Jones. He trained me and he worked me out. He pushed me from the player that I am today. I really give a lot of the credit to him. 
It must have been really meaningful to him to win the state title with you.
Yeah, it meant a lot to him.
What do you think you've improved upon most since last summer?
I think really just leadership in general. I think I've tried to be as vocal as possible. I always just try to bring the team in and try to make sure that we're playing as one. 
It looks like you're physically more mature than you were last year, at least in your arms and your upper body.
Yeah, a little bit, a little bit. I had an injury at the beginning of the winter season, so I wasn't able to lift as much as I would have liked to, but during the season, we just got started and I really couldn't catch up. That set me back a little bit, but I'm really able to go hard now and just improve.
That should help you as a point guard trying to get through the lane. 
Yeah, it should. It's very important. Good point.
You've had some recent in-home visits. Touch on them for the audience, please.
Duke, Baylor, Michigan State, and Ohio State were all in recently. They came and they did their presentations.
What was that experience like? Because as a kid, you never would have...
Yeah, that was crazy. You never think of that being possible growing up. It was such an honor having all of those coaches in your house. You know, sitting in your living room and talking to you. You know, it was just great. We had fun with it. 
What about visits for you? Do you have any upcoming ones? I assume you haven't been able to take any recently.
No, nothing recently and I don't have any planned yet, but I'm probably going to be taking my officials in the fall. 
I know you did some unofficials last fall.
Yup, yup. 
Do you have a timeline for when you'd like to decide by and what's the latest on your recruitment? These are things people are always curious about.
Hopefully, by the fall, but I can't say for sure, you know. I don't want to rush it. But, you know, hopefully in the fall. There's nothing really new with my recruitment. I cut my list to seven. Baylor, Duke, Michigan State, Minnesota, Kansas, Kentucky, and Ohio State.
That's an impressive group. Last I heard, you and Jahlil are thinking about doing a pairing. Is that still the case? Are you still very close?
It is and we are. We're still real close. We talk all of the time. 
What do you like about Jahlil on and off the court?
Well, on the court, I think everybody knows that he's the most dominant player in the country without a doubt. Everybody knows what he can do. But off the court, we really bonded because he's a really great young man. 
He's also a lot smarter than people give him credit for.
Yeah, he's smart. He's got a great support system. He was raised the right way and I think that's why..what we have in common, because I was raised the same way.
T.O.A.O., the one and only, that's sort of become your motto.
Yes, sir.
How did you come up with it? How did it become your motto?
It did. It is. Some people try to, well, people don't know what it stands for, but it's just a saying that you want to be your own person. You got to strive to be the greatest person that you can be, the best of the best.
The best Tyus Jones you can be, not somebody else.
Yeah, exactly. Yeah, you don't want to just be the next so-and-so, you want to be the best you.
I get so sick and tired of hearing about the next blank.
Yeah, exactly. You don't want to hear that you're the next somebody, you want to hear that you're the best Tyus Jones. I only want to be the best Tyus Jones. That's all I'm saying. 
By the way, with Jahlil, are you going to do a joint press conference or who is going to decide first?
I'm not really sure. We'll have to think about that. We haven't really talked about that part. I'm not sure how we'll do that yet. 
What are your goals for this AAU season?
My goals are for all of us to win the Peach Jam. I think that's what every team on the circuit's goal is. We're just trying to improve and get better and really come together as a team. 
How do you feel about the squad?
I feel great about it. I feel like we've got a great bunch..great bigs, great wings, great guards. I think we're all pretty smart. I think we've just got to play smart and try to connect.
Play to your strengths?
Yes, sir.
Is there any competition or rivalry between you and Mudiay at all?
No, sir. Eman is a great player. He's just a great player and no, there's no.
I was just curious. 
No, he's a great player and I respect him so much.
What is your relationship like with the various coaches on your list? Coach K, Coach Izzo, Coach Pitino.
No, I have great relationships with every coach on my list. You know, they've all done a great job. You know, really, that's why they're the coaches remaining. They're the ones that I was most interested in. 
Are they constantly contacting you or how often is it for you? Take the audience into your world.
It's somewhat constant, but it's not as bad as the stories you hear. You know, they're very respectful. They know I'm a person and a student as well. 
How often would you say?
You know, once or twice a week, maybe a couple of times, but you know, you'll talk to the assistants even more. 
What do your relatives make of all of your success and the hubbub? 
They're just going along and enjoying it with me. Without them, I wouldn't be where I am and the person I am today. 
I remember being very impressed when I was in Minnesota and you had all of your relatives lined up right behind me.
Yeah, my family has been really great. I feel like I've got a great support back in Minnesota. I couldn't ask for a better one. Without them, I wouldn't be who I am. 
What are going to be some factors in your decision?
There's obviously a lot of stuff that goes into it. You've got to look at the school, being a part of it, in terms of giving you a good education. And all of the schools on my list have a great education, so that's one factor. And then you've got to look at how the coaches relate to the players. Specifically, or especially, the point guard. You know, that's the thing that I'm looking for and also what type of players are they bringing in and also the players that they have on the team and how they are off the court.
How important do you think chemistry and fit will be for you?
I think fit is the right word because you want to go somewhere where you're comfortable. You don't want to go somewhere where you can't be yourself and you feel like you're not a part of it.
Because you're going to be around those guys more than anyone.
Yeah, exactly. 
What are you working on with your brother? I know he's a trainer.
Explosion, strength, just basketball specific training. You want to bulk up, you want to be stronger in a way that can help you. I worked with my brother on a lot of explosive stuff trying to get bigger and trying to get stronger with the ball. 
And have you seen it pay off?
I have. Each year, I feel like I keep growing.
You're dunking now.
It gets easier for sure.
What's your favorite pass or favorite shot that you've ever made? Do you have one?
You know, any pass that I'm able to set up my teammates on, I enjoy. I enjoy it. I enjoy seeing them having so much joy. It helps us score. I threw a couple of nice lobs today.
Yeah, I saw.
(laughs) Those are always great. Those are always fun.
What's your current size?
About 6'2" and about 185.
In terms of the mindset, are you thinking on-and-done or staying beyond that and enjoying the college experience?
(pause)
It's sort of a tougher question 
I think you need to go into it trying to have success. Don't look past that...at all. If you go into it with the mindset of trying to have success, you'll be successful. If you leave after one year, then that'd be great. If you stay all four years, then that's just how it is. There's really nothing that you can complain about. You're going to college to play basketball.
For free.
Yeah, exactly.
I really appreciate you taking the time, Tyus.
Oh, no problem.
[/private]