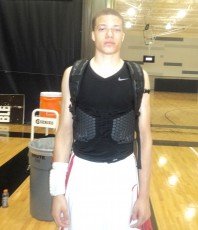 Brannen Greene is the epitome of a small town student-athlete. In Forsyth, Georgia, a town of less than four thousand and located about an hour south of Atlanta, the sophomore 6'6" wing led Mary Persons HS to its best season in history on the court, made All-State, and achieved a 4.0 grade point average off of it. On the AAU circuit, he plays for the Southern Kings and the 2013 recruit was recently elevated to the 17 and under team, where the competition is most fierce. Greene, who has started to build a reputation as a tall deep shooter, is planning on deciding on a college program in the next four months. Right now, he is making plans to visit prospective schools. After a controversial last second loss against Baltimore Elite at a recent tournament, Greene was gracious enough to speak with Blue Devil Nation about the latest in his recruitment, balancing academics with athletics, and Duke's recent interest in the confident sophomore.   Get to know Greene up close and personal with our latest premium offering and when you are finished, check out the latest on Alex Proythress.
How have you done so far this season?
 Let's start with the AAU. I've done fine here, but I started out in 16-and-under and I was like killing them there. Like, I was dropping players there. Some of the scouting services said that I should be playing up so I could have more competition and so I am.
How was your high school season?
It was the best season in our high school's history.
Congratulations
Thank you. We hosted our first round game, we won a regional championship, and I was named first-team all-state.
What are you hoping to  [private] accomplish, both in the AAU season and in your high school season?
Yeah, well, I'm looking to develop overall as a player. I'd like for us to make it to the state tournament game and in AAU, I'd like to be a leader on this team.
Is it difficult at your age to do that and, particularly, with you being a new guy on the team...or does it just come naturally?
I mean, I've always been the leader on the teams for, like, my whole life. Next year, I'm looking forward to doing that even more, though, because we'll have pretty good players and so I just play...
It must have been a little odd going from 16 to 17.
Yeah, I didn't know any of those guys. We had no chemistry at first when I started to join them and then I've played with them and we clicked.
In terms of recruiting, what schools are after you right now?
Alabama, Georgia Tech, Marquette, Duke, Georgetown, Florida State, Ohio State, Providence, and Stanford
Have you figured out a time line for when you'd like to decide by?
Me and my guys discussed it. Most likely, we'll decide at the end of the summer…at the end of July… in the live period. We're going to decide before this season.
Have you visited any schools so far?
 I visited Alabama, South Carolina, Georgia Tech, and Xavier.
Do you have any planned?
I've already visited Alabama, but, in about two weeks, I'm going to visit there again because they've been recruiting me so hard. Then, I'll go to Georgia Tech again and I'm also planning about visiting NC State.
Would you visit Duke when you're there, as well?
 Oh, yeah, we're actually working that out right now.
You must be a pretty good student though. Can you touch on that, as well?
Oh, yeah, I'm a 4.0 GPA, but there are always tournaments, dude. I got to get my studies up. I got to get my grades up.
How do you balance these basketball tournaments with your academics?
How do you manage? It is. Between working out and leaving, you know, missing Fridays of school and then having to make it up.
Do the teachers hassle you about the exams and the make-up tests?
Yeah, they get mad and stuff, but...I just go to them after school and get tutoring.
Can you talk about your strengths and weaknesses on the court?
My strengths are shooting...
Three-pointers, obviously.
Yeah, and my ball handling and just like overall IQ. My weaknesses are I don't know..my defensive intensity? I mean, I like defense, but sometimes I don't put my whole effort into it. I just want to keep getting to be an overall better player.
How do you feel about shooting off of a catch versus shooting off of the dribble? Which way do you feel more comfortable?
Pulling up is fine with me, but like I like doing step-backs.
Saw that in the game here.
. Shooting off the dribble is fine with me, but I guess I prefer shooting off of a catch.
Catch and shoot seems to be your bread and butter. How about taking the ball to the hoop- do you feel comfortable doing that?
Yeah, but there are some times when I settle too much for the jump-shot, but I'm still comfortable, though.
In terms of position, what do you view yourself as?
A 2/3 or a 3? A 2/3, but sometimes I even play point guard.
What's your current size and what are you projected to be?
 6'6", 190. They're projecting that I'll be no shorter than 6'9." They examined my growth plates and said that they are wide open.
Is there a player that you try to model your game after?
Yeah, I love Kevin Durant.
 The Georgia Stars coach was comparing you to Reggie Miller, when you're angry.
Yeah, yeah.
Who will you turn to for guidance whenever you do decide?
My father.
Is he here?
Yeah, he's here. He came over to the game and shook my hand..and he's now one of the assistant coaches here. Him and Coach Morris, that's about it. I try to keep my circle very tight.
That's probably a good thing. What would you like the audience to know about you off of the court?
 I don't do that partying or drinking thing. I've never done that. That's not my thing. That accounts for the 4.0. I just like hanging out. I'm not a real outsy person, but I am outgoing and I like to have fun.
In terms of your physique, what are you hoping to accomplish this summer? Are there any goals?
Definitely, I could get stronger, I wanna just work on my overall body, I need to get stronger. That's something that's going to be needed for college. It's very important to get my strength up in order to make an impact.
What are you looking for, ideally, in terms of a college program?
An institute that's really high on academics, one that wants to help me develop mentally and physically, and then distance..I want to be close to home, but like, if it's the right place and it's far away, I'll go. I mean, in terms of distance, I like to be close to my family.
I was curious about that. Can you touch on your defense, where you think it is and where you'd like it to be? We touched on that a little bit before.
I need to get more intense and focus on it more because that'll be what separates me from the other top players.
So, it's more of an effort issue for you than anything else?
Yeah.
Who's the most difficult player you've guarded so far?
Probably Ricardo Ledo.
Oh, yeah, Ricky Ledo?
Yeah, him, or Nerlens Noel.
He's a big-time player and a very tough player to guard. You can't stick him.
 Oh, yeah, I know both of those guys. I'm still in shock over how we lost that game.
Before, you mentioned Duke, what contact has been made between you and the coaches and what do you know about the school and the program?
My dad has been talking to Nate James. My AAU coaches have been talking to Duke. My other AAU coaches, my 16s, have also been talking to Duke. It's primarily been Nate James and, like I said, we've been talking about setting up a visit.
And what do you know about the University and the program?
Academically, they're a great school and obviously their basketball program is a great basketball program. I just like Coach K's style of play and you know with a lot of screens and stuff.
Have they talked about how you would fit in there and where they see you?
Actually, they probably have. They probably told my coaches, but I really haven't heard.
So I'm talking to the wrong guy here. (laughs)
 (laughs)
 By the way, what's your best subject?
Math. It just seems to come naturally to me.
Thanks a lot for your time.
Sure. [/private]