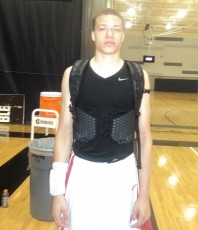 In early May, BDN Recruiting Analyst Andrew Slater, told you that Brannen Greene was setting up a visit to Duke.  In our usual follow up interview, a BDN Premium standard  practice others have now borrowed, Greene tells us that visit is set.  Our west coast recruiting correspondent Varand Kachadouri has all the latest as BDN continues to set the pace on AAU Basketball scene coverage.  - Mark Watson
A name that has popped up on Duke's radar recently is 2013 wing prospect Brannen Greene of Forsyth, Georgia. The 6'6 wing prospect did not attend the L.A session of the Nike EYBL, but did compete at the Pangos All American camp. The once Southern Kings player says he will now be playing with the Atlanta Celtics. BDN got a chance to catch up with the Duke prospect last weekend, here's what he had to say.
BDN: We didn't see you last weekend at the EYBL, what happened with that?
BG: Well the head of our program, Morris Gordon, got into a little bit of trouble and he got removed from the head position and he lost his job and everything. So now there was a new head and everything was just all crazy and stuff. So I just decided to take that weekend off.
Tell me a little bit about Mary Persons High School.
BG: Well it's about 15 minutes north of Macon, Georgia, about 45 minutes south of Atlanta. It's kind of in the suburbs, it's a real nice country school that's big on academics.
I had read that you stated [private] when you moved up to the 16's and 17's there was chemistry issues, naturally. How did you guys as a team solve that?
BG: Well last year I was 15 and played up with the 16's so I knew most of those guys from last year, but it was a change when I moved up last year. I only played with the 16's for two games and then moved up. It took me about two games to get use to the 17's and I was fine. I just needed to get use to how they played.
How do you balance school and sports at the same time? It must be tough.
BG: Well my dad and my mom both push me. My mom is a school teacher at the school (Mary Persons HS), and my dad is big on academics, he always is saying "school first, school first", so I always do my school work first and then find a way to work out every day.
Where on the court do you like to get the ball most?
BG: I like getting the ball on the right wing. That's where I feel most comfortable.
What's your first thought when you get the ball there?
BG: First I will square up and see what I got, if the man's back then I'll shoot. If he's not, I'll probably use footwork like the jab step or something like that to find a way to get around him.
his is still a ways away but have you ever given any thought about a major in school? Or a favorite subject?
BG: Yea I really like journalism.
What are you looking to take away from a camp like this?
BG: Just whatever the camp instructors say, I mean they are obviously here for a reason and the people who are speaking have obviously accomplished something. I just want to make new relationships with players, get to meet them and get to know them. Just really enjoy the experience out in California. Enjoy the competition and just take what I can and learn and develop.
Is this your first trip out to California?
BG: Yea it is, I really like it a lot out here.
Do you have any routines that you like to do before games?
BG: Not really any routines. I like to take naps before games if I can. I'll listen to some music.
Anyone specific in terms of music? Who's on your iPod right now?
BG: If you took my iPod right now you'd probably find old school Tupac, Lil' Wayne, Drake, and probably Big Shyne.
You talked about meeting new people at the camp. Who are you close with on the AAU circuit?
BG: I'd probably say Matt Jones from the Texas Titans, Archie Goodwin from the Arkansas Wings Elite, Isaiah Lewis who plays for the Albany City Rocks, and definitely Chris Walker, we use to play together, we are really cool. We talk all time.
Have you confirmed any upcoming visits yet?
BG: I'll be visiting Duke from June 25th to probably the 29th. I have a visit with Alabama coming up soon too, Georgia Tech as well.
Greene setting a visit to Duke [/private]