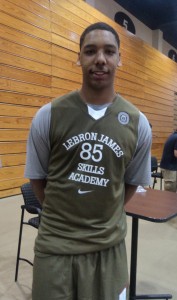 "For of those to whom much is given, much is required"
-President John F. Kennedy
Jahlil Okafor is a 6'10" rising sophomore from the North Side of Chicago. In the Gold Medal game of the 16U FIBA Americas, the fifteen year-old was perfect from the floor and finished with eighteen points and fourteen rebounds against Argentina. This was the culmination of months of preparation. Okafor had spent countless hours refining his low-post skills and shedding some baby fat in order to be able to both make the final cut and ultimately contribute to the USA 16s team.
Although one of the youngest members of the team, Jahlil wound up finishing second on the team in rebounds (9.2 rpg) and third in points (14.6 ppg), while leading the team in shooting, both free throw (82.6%) and field goal (71%). His Mac Irvin teammate and friend, FIBA Americas MVP Jabari Parker, was on hand to celebrate the moment with him on the court in Mexico.
Okafor had a solid freshman year on the varsity team at Whitney Young, a magnet school that is the alma mater of First Lady Michelle Obama, the NBA veteran Quentin Richardson, and the directors of the Matrix, the Wachowski brothers. Jahlil was reportedly offered a scholarship to DePaul as an eighth grader at Rosemont Elementary School by their former interim coach, Tracy Webster. Since then, Okafor, a passionate Bulls fan, has received college scholarship offers from high-major programs across the country.
In late May, the decision was made to advance the fifteen year-old Jahlil to Mac Irvin's 17U team in order to give more of a post presence for Nike's EYBL wing in Los Angeles. Like a duck taking to water, he was a natural in his game against the physical 6'8" senior Elijah Macon and All-Ohio Red. His advanced footwork, size, and developing low-post game have helped him hold his own against significantly older players at the LeBron James Skills Academy and the Peach Jam.
After losing his mother in the third grade, the focused and gregarious big man has been raised by his father Chukwudi "Chuck" Okafor and helped out by his aunt, Dr. Chinyere Okafor-Conley, an assistant principal at Penn Elementary School in Chicago. Education is a major point of emphasis in the family and was the primary factor in Jahlil's decision to select the academically challenging school, Whitney Young.
At various Nike EYBL events throughout this AAU season and at the recent LeBron James Skills Academy, Jahlil spoke with Blue Devil Nation.
What was it like playing LeBron James?
It was a great experience. I've been watching LeBron since I was a little kid. It was a really cool experience to be able to play with him. I couldn't believe I was on his team. I got to play with LeBron and Jabari Parker was on my team, too, so that was good.
What were your hopes for USA Basketball and how did you prepare?
I couldn't wait. That was like my hope for the whole year. That's like all I was thinking about every time I'd work out, you know. Just getting ready for the USA team. It's been very important to me. I wanted to represent for the US and be a part of it.
How was your USA Basketball experience?
It was a lot of talent and we pretty much knew everybody. It was fun to come together though. We were together for a few weeks.
Can you talk about training camp, making the team, and that whole experience?
It was very intense. It was pretty hard. There were a lot of emotions. We pretty much had to fight through it. When I finally made the team, I was just so excited. I was really happy. I called my dad first to tell him about it. It was very emotional. When I made the cut, I was really happy.
[private]
Yeah, I was really happy for you when I saw your name was on the list.
Thank you, thank you.
What was it like when you finally won the Gold Medal?
It was just great. We were practicing for, like, two and a half weeks and we kept trying to focus on getting that gold medal. We'd end every practice talking about it. It was even better than we expected.
And you guys were bonding.
Yeah, that was great. We became real close.
Where did you put the Gold Medal, by the way?
(laughs) Well, right now, I think it's in my room, but it's going to get framed.
That'll be really nice.
Yeah.
How have you enjoyed the experience of playing with Jabari, both for Mac Irvin and on the USA team? He's been tremendous on the AAU and camp circuit. Then, he won the FIBA MVP down in Mexico.
Playing with Jabari is great. He makes the game a lot easier. He's a great scorer and a lot of people don't know this, but he's also a great passer. He makes it so easy for you on the break. He's got great court vision.
He's so versatile, too.
Yeah, he is.
Do you feel you've grown as a person, travelling abroad with USA Basketball and experiencing what you have?
Oh, yeah, I think I've gotten way more mature. My leadership is definitely better. I'm talking more with people out on the court in general.
What did you see when you went down to Mexico? Did you get to see any of the country or did you not have an opportunity?
I saw Chichen Itza.
Oh, yeah, Jabari mentioned that, too. He thought it was the highlight for him.
Yeah, it was for me too off the court, but other than that, we didn't get to see too much off the court. We mostly concentrated on basketball.
What part of Chicago are you from, by the way?
Oh, I'm from the North Side. Yeah, I'm a North Side guy.
When you're playing in front of coaches, what kind of emotions go through you? Are you excited? Nervous?
Well, playing in front of coaches is not too big for me. I try not to get too emotional one way or the other. I've been doing this for a number of years. I try not to get affected by it too much. I feel like I pretty much know that it's just basketball. I've just got to go out there and perform.
What are you trying to show college coaches this summer?
Mostly, I want to show them that I can post up and that I'm one of the more dominant big men in the country.
For those that may not know, what's your current size?
I'm 6'10" right now and about 250 to 255.
What are you projected to be?
Oh, 7'2."
What position do you like to play?
Well, I'm more of a four, but I can play the four and the five.
You feel that you're more of a natural four.
Yeah, I like the four more because they let move around a little more.
You've got pretty good footwork for a guy your size and age.
Yeah, thanks.
What about the experience playing now with the seventeens for Mac Irvin? How much of a jump do you feel it's been from the other age brackets?
Oh, yeah, it's totally different. I'm fifteen now and I was playing the 16s, but this is at a completely other level. It's so much faster and guys are stronger down low.
I was going to check you out in Dallas, but you were playing with the 16s in a different area.
Oh, yeah. I played well, but, with the 17s, everything is much faster and you can't take any plays off. You have to sprint every time.
You play in a great high school league in Chicago, but how does that compare with what you've faced today?
I think playing 17s in AAU is harder than high school because, in AAU, it's like all of the players are really good at their high school instead of facing just one or two.
What kind of an adjustment did you have to make when you were promoted to the 17s?
Not that much. My coach just said to make my game faster. So, I tried to step up and do that.
What so view as your strengths right now?
My strengths are being able to post up, but I can face up..My body, my height, and my actual strength..I can take a lot.
It looks like you have the frame to really hold a lot of muscle.
Yeah, I think so.
What do you consider your weakness?
My weaknesses are probably staying in shape. I always need to stay on top of that.
How do you try to combat that? How do you plan on staying in shape during the downtimes this summer?
I was playing with the Olympic team this summer. I tried to get my body in shape before we headed down there.
Are you going on treadmills? Running? Spinning?
I've got two trainers. One works on my basketball skills and the other one works on my core and my flexibility.
That's a good approach. Who's recruiting you at this point? Are there any new schools that have expressed interest in you that haven't offered yet? I have to make sure I cover my bases.
Oh yeah, sure, I understand.My scholarship offers are from Illinois, DePaul, Michigan State, and Arkansas. Ohio State just offered me. I've talked to UConn, Georgetown, Syracuse, and North Carolina... and Kansas. I'm supposed to take a visit there, but I'm not sure when. And Syracuse has shown an interest.
Has Duke recruited you at all yet?
No, not yet.
Is distance going to be a factor for you?
Oh, no, no. I'll go anywhere. It doesn't matter to me.

Have you taken any visits recently or do you have any plans other than Kansas?
I'm supposed to visit Ohio State, Illinois, and Kansas before the end of summer.
What are your goals next year for Whitney Young?
Our only goal next season is to simply win the state championship. Last year, we lost in the sectionals to Farragut and that was disappointing.
We'll forget about that.
(laughs)
What are your goals for this summer?
My main goal was to make the final cut for the Olympic team. That was my number one priority. After that, my next goal is to help us win the Peach Jam.
Well, I think you've got a shot at both of those things.
Yes, sir.
Can you talk about playing with some of your high school teammates on your AAU team?
Oh, yeah, it's great to play with guys like Jermaine Morgan, Thomas Hamilton, and Derrick Randolph. Those three guys really help me out a lot.
Who are you closest to?
Jermaine Morgan and Thomas Hamilton. Those two are like my two older brothers.
How did you choose Whitney Young?
Well, in seventh grade, before I knew they even had a good basketball team, I knew I wanted to go there because of the academics.
I'm from New York, but I know that Whitney Young's a magnet school academically.
Yeah, even if the basketball team wasn't any good, I would've gone there regardless.
That's interesting. Are you a good student or pretty good?
Yeah, I'm pretty good.
What type of style of play do you think best suits you?
It doesn't matter, but I think I'm a little more effective if we can slow it down a bit and let me post up.
Do you have a go-to move at this point?
I usually spin a lot and sometimes it works. (laughs)
Are you able to work out at all between these AAU events to work on skill development?
Yeah, I definitely try to get it in. I've had to miss some AAU practices cause I feel like I can grow more if I work out individually with a trainer. I feel like it benefits me sometimes more.
Is there a guy that you try to model your game after?
Jared Sullinger.
Did you have a dream school growing up?
No, I didn't.
What about an NBA team?
Oh, definitely, the Bulls. The Chicago Bulls..I love them.
How'd you feel about their year this year?
Well, I think they surprised a lot of people. I mean nobody expected Derrick Rose to be MVP. I mean nobody expected them to be in the conference finals and so they accomplished that and I think they have a great future.
I think they've got a good shot over the next couple of years, if things break right.
Yeah, so do I.
Do you know Theo Pinson pretty well now?
Oh, yeah, definitely.
How would you assess your defense at this point?
I feel I'm playing pretty well on defense at this point. I like my effort and I guess, for the most part, the results. I'm definitely trying out there.
Can you give a scouting report on Jabari Parker? You've played with him in AAU and against him in high school. What's the best defense against him?
Well, in the past, I would've said to make him shoot, but he's improved so much in the last year. I think he's one of the most unguardable players out here. I mean he's been a great teammate, but he's really stepped up his game and his body. He can beat you inside with his moves or athleticism and now outside with size and shooting. He can really run the court.
Are you related to Emeka Okafor?
Yeah, distant.
For your big decisions in life, who do you turn to for guidance?
Probably my dad and my high school coaches.
Is your dad here?
Yeah.
Can you talk about the rise of Chicago? A lot of people are talking about the rise of Chicago for the 2013 and 2014 classes on a national scale.
We have a bunch of players coming out, yeah. I think our top two players are also top ten in the country. 2013 class is very good to with Jabari Parker, Thomas Hamilton, and Kendrick Nunn. Jabari Parker and Kendrick Nunn are two of the best players in the state and they're both going to be playing for USA. We have four players from Chicago on the USA team.
Is one of your goals to eventually be the #1 player in your class?
Oh, yeah, definitely. I want to try to be that.
Who are some people that you're close with nationally that people might be surprised about?
Right, I'm really friends with Theo Pinson. Do you know him?
Yeah, and I like his dad, too.
Oh yeah, he's real cool. I'm real cool with Theo and Ishmail Wainright. I'm also close with Dakari Johnson.
Going forward with Dakari (Johnson), is it friendly or is it a rivalry?
Well, I consider it both. We've known each other since about third grade.
Well, you two are two of the best players and big men in your class.
Yeah, they naturally compare us. It's a friendly rivalry.
Who's going to be your toughest competition next year in high school?
I've got to say Simeon. They're going to be tough. They're loaded.
How did you guys do against them this year?
We went 1-1. The first game they beat us, the second game we beat them at the end. The first game we played them at DePaul and the second game we played them right around where we're from.
Who's the best player you've faced?
Well, LeBron, but..
Alright, other than LeBron?
Oh, then Thomas Hamilton.
Oh, Tommy Hamilton. What do you feel you've gained this summer through your various experiences that you can bring to Whitney Young?
First of all, my condition is really better.
Yeah, I saw you running the court out there a lot better than you did in the past.
Yeah, I'm also more of a vocal leader now and also my defense is better.
Are you guys going to be on TV this year so people can catch you?
Yeah, we've actually got a couple of games on TV, not sure when though.
What would you like the audience to know about you away from the court?
I'm just a humble guy. Modest…very modest. That's it.
Thanks a lot, Jahlil, and good luck.
Sure, thank you. [/private]