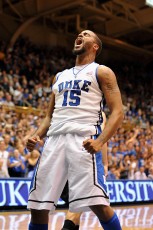 It was a heavenly like royal blue night in Cameron Indoor Stadium for the Duke Family.  As you walked up to Cameron you could see a banner hanging on the front which is of course a tribute to Mike Krzyzewski who is now the all time wins leader in NCAA Basketball history.
As the students filed in they were given Nike T-Shirts commemorating the win and they were packed in and ready to welcome their coach home.  Duke came alive in the second half and  rolled to 4-0 on the young season with an 82-69 win over Davidson and after the game Coach K, fresh of his 904th win and his family, flanked by the Duke President Richard Brodhead, Athletic Director Kevin White and former Athletic Director Tom Butters.
The celebration was great and Krzyzewski enjoyed it immensely as those truly close to him payed homage to the record setting coach.  We'll have more on that later, but for now I want to concentrate on this young Blue Devil team that is improving with each game.
A killer run was sparked by defense
Ask any experienced basketball coach and they will tell you that defense leads to offense.  After trailing at the half by a 35-34 margin, Duke went on a tear.  At the 16:42 mark of the second half the score was tied at 41 all and it looked like a very pesky Davidson team would take Duke to the wire.  In less than three minutes the Blue Devils defense locked down on the Wildcats (2-1) and that translated into a 10 point lead and Duke never looked back.  The lead would grow to 17 eventually and Duke ended up winning by a 82-69 over a very good mid major team.
Defense also helped Duke score in transition
Going into this game Duke had few breakaway plays but tonight they scored 12 points off the fast break and 18 off turnovers.  And that led to some remarkable showboat plays and dunks that got Cameron Indoor Stadium rocking.  And a lot of those transition buckets came when freshman Quinn Cook was in the game and he ended the game with 9 points and had a renewed confidence in the Duke locker room.  The bottom line is good defense leads to a lot of positive things.
Mason Plumlee is becoming one of the nations best big men
Duke will take 16 points and 13 rebounds from Mason Plumlee in any game and be happy with it.  Plumlee played with emotion and made things happen on the court tonight and he helped to get his brother, senior Miles Plumlee untracked in the second half with a pass to him for a resounding, crowd pleasing dunk.  Mason is developing has stepped up to become one of the best big men in the ACC and his consistent play has to be pleasing to the staff.
Duke was able to use their depth effectively
The Blue Devils went deep in their bench and got good production as they continue to develop the freshman.  The aforementioned Quinn Cook was very impressive as he got comfortable and now he needs to find his teammates more form the PF spot.  Krzyzewski praised him for allowing him to rest Curry.  Duke got a solid 8 minutes from Josh Hairston as well and 17 from Thornton.  But it was Ryan Kelly that stepped up big too with 3 blocked shots to go with 8 points and 5 boards.  Krzyzewski said that Kelly was playing like he did in China after getting off to a slow start in practice this season.  Duke has played 4 games in 7 days to date and by the end of the Maui trip they will have played 7 games in 12 days so that developing depth will come in handy.
More notes
Duke dominated in the paint holding a 42-24 point edge, but the rebounds were even.  The lead changed 11 times, mostly in the first half and Duke warmed up in the second half from the three point line going 4 of their 5 made attempts coming in the second half.  Coach K said what he has since the pre season in that different players would step up in different games until stars are developed. Austin Rivers tallied 17 points and showed flashes of his offensive brilliance that made him one of the nations most coveted prospects coming out of high school.  Ryan Kelly got his first start of the season. Austin Rivers played all 20 minutes in the second half
By the numbers
Duke extended it's home court victory streak to 39 , Duke has not lost in CIS since Feb. 11th of 2009.  It was the Blue Devils 89th consecutive victory over a non conference opponent at home.  Duke has had four players in double figures three times in four games.  Cook had his first two career steals and sank 4 of 5 free throws.  Curry started his 17th consecutive game and has scoreed in double figures in all of the Blue Devils games.