Browse:
Home
/
Coach K Academy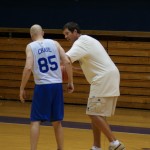 By Mark Watson on May 28, 2012
I hope that all of you are having a great Memorial Day weekend and that you are all fresh and ready for the coming coverage at Blue Devil Nation. We have had Andrew Slater in Oakland, California all weekend long covering Nike EYBL Session 4 and he has updated via his twitter site but the [...]
Posted in Monday Musings | Tagged Coach K Academy, Duke althletes earn honors, Duke Hoops recruiting reports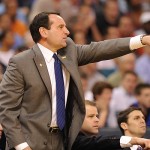 By Duke Sports Information on May 14, 2012
DURHAM, N.C. – Over 30 former Blue Devil basketball players, including four former greats (Mike Gminski, Christian Laettner, J.J. Redick and Jason Williams) that have had their Duke jerseys retired, will serve as team coaches this summer to headline the 10th annual K Academy, May 30 – June 3, at Duke's historic Cameron Indoor Stadium. [...]
Posted in Duke Basketball | Tagged Coach K, Coach K Academy, Duke Coach K
By Mark Watson on June 9, 2011
BDN caught up to former Duke quarterback Thaddeus Lewis, who spoke of his young career with the St. Louis Rams, Duke Football, the NFL lockout, Sean Renfree and Duke Hoops.  Lewis, who has been working out at Duke, was the back up quarterback for the Rams in his rookie season.
Posted in Duke Football | Tagged BDN Video, Coach K Academy, Duke Football, St. Louis Rams, Thaddeus Lewis
By Mark Watson on June 4, 2011
DURHAM – The Coach K Academy is in the stretch run of their annual event  and if one were to  stroll about campus you may well run into a former Duke player.  BDN caught up to Jon Scheyer recently and here is what he had to say -
Posted in Duke Basketball | Tagged Blue Devil Nation Video, Coach K Academy, Duke Basketball, Jon Scheyer
By Mark Watson on June 4, 2011
Former Duke players have gathered in Durham to participate in the Coach K Academy where campers have a chance to live the Duke Basketball fantasy.  As in the past, this means we'll hear from Coach Krzyzewski and that's always something that Duke fans love.  BDN was on the scene and this is the first of a few [...]
Posted in Duke Basketball | Tagged Austin Rivers, Blue Devil Nation, Coach K Academy, Coach K talks Rivers adjustment
By Mark Watson on June 9, 2010
DURHAM – BDN caught up to Elton Brand during the Coach K Academy and got his thoughts on his return to Duke and his future with the Philadelphia Sixers [76'ers].  We had a one on one interview save a few questions from folks who interrupted the conversation mid stream.  We'll be talking more with Brand [...]
Posted in Duke Basketball | Tagged BDN Premium, Brand returns to Duke, Coach K Academy, Elton Brand