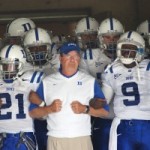 Unless you have been in hibernation or are not a sports fan, you know that Tennessee recently fumbled the handing of hiring or firing Greg Schiano.  Okay, maybe he was neither hired nor fired but let me add for emphasis that it was a hot mess.
Now, sources say they reached out to David Cutcliffe who has already balked at the opportunity in the past.  Make no mistake about it, part of Cutcliffes heart is in Tennessee where he met his wife.
But the Vol Nation has had horrible timing in hires of late and their track record of success has been abysmal with choices.  Had they offered Cutcliffe at the right time, meaning years ago -- perhaps he would be there today,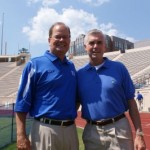 Anyhow the story is making the rounds on ESPN.  But Cutcliffe seems likely to end his coaching career at Duke.  He has invested a lot of time in building a program that will soon get its fifth bowl invitation in six years.  And the university has invested in him with facilities in a mutual plan for improvement.
FWIW, Tennessee is now flying a group to Stillwater, Oklahoma to entertain Mike Gundy.
Duke will know where they are going bowling this coming weekend.  As for Tennessee, a storied program continues to struggle in their efforts to rebuild.