[private]How will the three point line being moved back play into this season?
The guys who really shoot the three can hit them, so it won't bother us that much.  It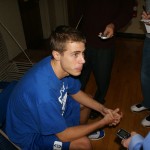 could become a little bit more of a specialty because teams will not have as many players who can shoot the three.  So, that can change how our game plan works.  Knowing the three is a little further will have us scouting team and looking for the changes.
As a team, how will you deal with the last two seasons early outs in the NCAA's?
You are going to be judged on what you do in March and we haven't done much.  All of us were anxious last year to get back after the loss in our freshman year.  This past year we learned you have to take the games one step at a time and when it comes March we'll worry about that.
How does it feel to be a captain for the Duke Basketball team?
It's something I dreamed about, wanting to be a captain and it's an honor to be named one at Duke University.  I'll do whatever it takes to lead the team.  I'm glad Coach and my teammates have confidence in me and I don't want to let them down.[/private]