[private]The Duke Blue Devils took to the hardwood for the first time this season by taking on Virginia Union in an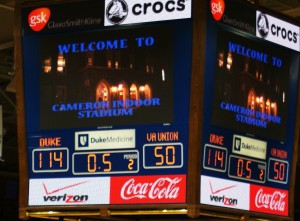 exhibition game.  The result was a lopsided 114-50 victory where six players scored in double figures.  Elliot Williams and Kyle Singler had 15 points apiece while Henderson and Plumlee tossed in 14 apiece.  Scheyer and Thomas round the six out with 12 and 11 points.
Duke held Virginia Union to 27.3% for the field for the game - 17.1% in the first half.  Duke played 13 players and 12 of them scored.  Check back in for more coverage later today.  If you are a premium subscriber, check the message board for an update on hot prospect Harrison Barnes and other visitors.
The numbers - (points, rebounds, assists)
Singler - 15, 5, 4
Henderson 14, 3, 2
Plumlee 14, 7, 0
Smith 8, 4, 6
Scheyer 12, 2, 0
Paulus 8, 1, 5
Pocius  4, 0, 0
Czyz 4, 2, 0
McClure 0, 3, 1
Williams 15, 2, 2
Thomas 11, 6, 1
Johnson 4, 2, 0
Zoubek 5, 6, 1
Duke had ten blocked shots[/private]