Phenom: phenomenon; especially: a person of phenomenal ability or promise
Merriam-Webster Dictionary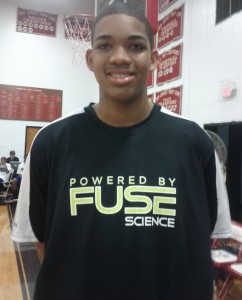 Phenom is an overused term in sports, but there are times when it merits use. 6'11" freshman Karl Towns, Jr. has already helped lead St. Joseph's Falcons of Metuchen, New Jersey to a 28-2 record and its first New Jersey state title. It's a feat that alumni including the Lakers' Andrew Bynum and former Duke All-American and Chicago Bull Jason Williams weren't able to achieve during their time at the North Jersey Catholic school. After averaging a double-double in the always competitive New Jersey Catholic leagues, MaxPreps named Towns, Jr. to its freshman All-American team.
Off the court, Towns' impact was also felt at St. Joseph's, as Karl, a sociable and conscientious young man, took on a leadership role as the freshman student class president and has earned a reported 4.3 GPA in the classroom. When Karl, a Knicks fan, was contemplating a career in sports broadcasting, MSG Varsity, a regional cable network, sent the then fifteen year-old to interview his basketball hero, forward Kevin Durant of the Oklahoma City Thunder. At the halftime of a Rutgers-Seton Hall basketball game earlier in the year, Victor Cruz, the All-Pro wide receiver for the Super Bowl champion New York Giants, wanted to meet with the young phenom. An exceptional all-around athlete, the Piscataway, NJ native is a scratch golfer and, although perhaps not yet Randy Johnson, the 6'11" freshman right-hander, who wears a size-20 sneaker, reportedly can already throw a baseball over eighty miles per hour.
On the court, "Little Karl" has benefitted from the tutelage and guidance of his father Karl Sr., a 6'5" former tenacious rebounder for Monmouth University (still the university's leader for rebounds in a season and game) and a successful high school coach at Piscataway Vo-Tech High School in New Jersey for the past fourteen years. His father has also coached Karl, Jr. on the AAU circuit, including for the Sports U. 16s at the Pitt Jam Fest, where the freshman was named to the All-Tournament team by HoopGroup. In order to honor the Dominican heritage of his mother, Jacqueline "Jackie" Cruz-Towns and to give his relatives a chance to watch him play competitively in person, Karl has trained with the Dominican National Team and yesterday made the senior team, which is still hoping to qualify for the Olympics in London this year.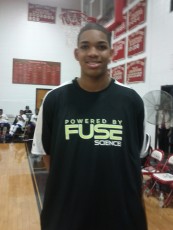 A rare, young American big man who is both able to play with his back to the basket and has a face-up game to beyond the three-point line, Karl came within one shot of winning the three-point shooting contest at the recent Mary Kline Classic, a charity event  in Pennington, New Jersey that included some of the best talent on the East Coast. Towns, who was one of the youngest participants, wanted to play in the event, which was able to raise over $20,000 dollars for brain cancer research, because he lost his grandfather to cancer.
Under Coach Mike Krzyzewski, Duke has developed a legacy of success with tough New Jersey high school basketball players. All four of Duke's National Championship teams had, at least, one starter from the Garden State. NBA Rookie of the Year Kyrie Irving (St. Patrick's), the Bulls' Luol Deng (Blair Academy), the Hornets' Lance Thomas (St. Benedict's), the Pacers' Dahntay Jones (Rahway), Jason Williams (St. Joe's), Bobby Hurley (St. Anthony's), Roshown McLeod (St. Anthony's), and Alaa Abdelnaby (Bloomfield) all went onto have NBA careers.
After the event, Karl Towns, Jr., an ambitious and cerebral young man with a disarming smile and a big heart, spoke with me extensively about a variety of topics.
Let's start with the state title run.
Oh, you know, it was a big thing for us at St. Joe's. I always told St. Joe's that I wanted to do something that had never been done before: I was going to bring a state title to them. When we were going for the state title, we knew we had a chance to win it. We knew that we were the best team there.
At what point in the year did you get a sense that this could be the year? When did you feel that the group was really clicking?
When I first committed to the school..
Oh, really (laughs)
Yeah, you know, I did. I always have a high confidence that I know that we can do well in whatever we set our minds to. After the game in Teaneck, we lost the second game of the year. We came back and we won that third game. After that game, I just felt that we were going to gun for a state title this year. We weren't going to wait.
Can you touch on your thoughts on two other talented guys that have passed through those same hallways, Jason Williams and Andrew Bynum?
Oh, Jason Williams is a great player and so is Andrew. I'm just trying to make my own legacy at St. Joe's.
Sure.
Bynum is such a great player and I just wanted to use the shooting touch of Jason and put it with Bynum's post presence and then just try to make that work.
In terms of international play, you've trained with the Dominican National Team. How has that unique experience gone so far?
Oh, I actually just left our practice to come to this event. It's just a great experience and know that I'm playing for my country and playing for something that's much bigger than me is just rewarding and puts a lot of pride in myself.
[private]
As you know or can see I've tried to do a lot of research on you..
Yeah, yeah
and I know that your mother is of Dominican descent and your grandmother and other relatives still live there.
Yeah, you know, my mom was born in Santiago. My mom's mom, you know, my grandmother built a house in Santiago. I guess that I'm just trying to keep the Dominican family name alive. Really, everything I work for is for my family. So, in this case, if I can help the Dominican team in any way, I'm happy to.
Another distinguishing thing about you is that you've reportedly earned a 4.3 GPA. First of all, is that still 4.3 GPA true? Secondarily, talk about your emphasis on academics and how you feel that sets you apart?
Yes, it is true. You know having a 4.3 GPA is something that I always wanted to achieve and so I went out there and earned it. I was always a great student when I was younger, but I just wanted to prove that, as a freshman, I'm a great student and also a great athlete as well. I wanted to show other kids that it is possible to be great at both. I've worked hard in both areas and tried to use both to my advantage. For me homework and school come relatively easily because my mom and dad have been teachers.
I knew your dad was a coach.
Yeah, he's a coach and a teacher as well. I've used his teaching methods and I just tried to put it into my work.
Since you mentioned it, how difficult is it for you to balance the almost unrelenting number of basketball events and still try to achieve in the classroom? As you may know, I'm at these AAU events and, as a player or coach, they essentially take up your entire weekend if you continue to win, advance, and then travel back in a van or catch connecting flights from God knows wherever the organizers can find the cheapest venue. In your case, you don't play in as many AAU events as some other kids and your dad has your best interests at heart, but still there is the balancing aspect that you have to deal with.
Yeah, yeah, definitely, you know it's just making sure that you have your priorities straight or right. You have to use your time valuably. So, there are times when we have AAU events and, well, instead of me going around and going into other hotel rooms and part..
Don't worry, I know.
Yeah, doing stupid things or hanging out, I'm studying..or I'm hanging out and studying sometimes too.
So, for you, it's a lot about time management.
Yeah, it's all about time management.
What are your favorite subjects and have you thought at all about what you'd like to major in?
Oh, my favorite subject is social, well, history. I love to learn about the past. I like World History especially. Then, I guess my second favorite would probably be math.
In terms of leadership, I'll sometimes talk to team captains or point guards, but you are the class president. What was the election experience like and how has it shaped your leadership ability?
The election was funny because it was during this thing in the beginning where all of the freshman get together to see who has the best freshman class and we won. Then, the election took place and I won and I knew that, as president, I had to have the priorities of not just me but for everyone in the school. So, I have to try to make sure that everything runs smoothly in the school and be a good representative. I've had to make a lot of decisions that I am proud of and the same time everyone has benefitted from them.
Hopefully
Yeah, hopefully.
You're supposed to be a scratch golfer and play baseball as well.
Yeah, I well quit baseball this year so that I could concentrate on basketball, but I'd like to play again. So, maybe next year I'll play.
I heard that you can throw it over eighty miles an hour right now.
Oh, yeah. (laughs) You know actually I was going to go golfing tomorrow actually, but it's funny baseball was always my first love really.
 Now, what's the latest in recruiting for you? By normal standards, it would still be very early, but..
There are so many schools to remember, but I always get new schools every week and every day. There are just so many schools that I don't want to leave anyone out. I can pretty much say that almost every team that was in the NCAA Tournament has offered me or expressed interest.
Are you in any sort of rush to decide? Some kids are, while others would prefer to wait until the end.
Yeah, you know the thing about picking a college, I feel like I have four years to do it.
I feel guilty even asking you about recruiting, but there's been some talk that you'd decide sooner than later.
Yeah, you know, I feel blessed to have four years and have options. I didn't have to wait until my junior year to get some notoriety like some kids. I think that I'm going to wait for a little bit, before a decision.
 Sure, your father played at Monmouth and has been a coach for almost your entire life. What advice has he given you and talk about his influence in your life?
Yeah, you know my dad is always, well, he went to Monmouth and he's still the greatest rebounder and blocker in their program's history. I'm so competitive that I wanted to beat him in anything that I do so
What was that experience like the first time that you beat him in basketball? He's a big guy, but I heard that it was fairly early.
Yeah, you know I beat him in one-on-ones, but the first time I beat him I was, like, six or seven
Oh, wow.
Yeah, and he didn't want to talk about it anymore (laughs), but, you know, anytime I'm out on the court, I'm always trying to break any amount of blocks or rebounds that he's ever gotten.
In terms of being the child of a coach, what do you think are the benefits of being around the game and, perhaps, viewing the game differently than the average player? I would think that it would give you an inherent advantage.
Yeah, you know it is, but the challenge with it is that my dad wants me to do so well that he tries to coach me and sometimes forgets that I'm his son. He gets mad because he never, like, wants to talk to me in a negative way. That's why I think sometimes that he wants me to be just perfect.
He's got high standards.
Yeah, he does and that's how he coaches me, but, as his son, he always helped or gave  me ways to improve my basketball IQ or scoring in different ways and I think that's really helped a lot. He's given me a lot of his experiences and helped me learn how to do stuff at an early age. He also works me out and so even that helps in a practical way.
 This is related to your family and recruiting, but will distance be a factor in your recruitment or college decision?
I don't know. It could be. I haven't really thought too much about that issue. I don't think it will, though, because my parents really just want me to go to the best school for me. They just want me to go to the school that'll give me the best chance at a good future in my life.
Let's talk about Kevin Durant. He's your favorite player and I know that you had a chance to interview him for a local network. What was that experience like for you?
Yeah, Kevin Durant is such a great guy. He's just such a sociable guy. Kevin..
Yeah, he was, without any fanfare, quietly very good to a friend of mine and he's got a great work ethic as well, which I'm sure you appreciated.
Yeah, he's got just an amazing or crazy work ethic which I loved and I was able to spend a day with him for MSG Varsity. It was great to just do that and pick his brain and learning from him. It was just an incredible experience, even with the interview off. It was great to just be able to learn from him and, at the same time, I felt like, in some ways, I could relate to a lot of where he was coming from.
I also saw that you thought of either being a sports broadcaster or eventually becoming a doctor.
Yeah, you know, I wanted to do that, but..
It gave you a taste of it and you didn't necessarily like it.
Yeah, you know, it gave me a taste of being an ESPN reporter (laughs) and I see how it  is now. It's really a little gut-wrenching I have to say because you know that you have to hide your questions and you've got to come out with it, but it really opened my eyes…
As you can see over there, I've got some shorthand
Yeah, yeah, (laughs) now, I see, you're very good, but, yeah, it was a great experience and I learned a lot.
How do you battle against both hype and complacency? There's, unfortunately, both a  tendency to build players up and then try to tear them down. How do you also try to protect yourself against settling or becoming complacent?
Yeah, I don't mind the hype, but you have to recognize it for what it is and be prepared to live up to it and maintain the hype, if you will. For me, I just go in the gym everyday and I work hard and just make sure that anytime that people make standards for me that I will always live up to them.
 Have you taken any visits recently and do you have any planned?
Georgetown was my last visit and I don't have any planned just yet.
What will you be looking for in a college, whenever you do decide?
Oh, the academic standards need to be top notch. It needs to be a great academic school and it also has to be a great basketball school.
How did you decide on St. Joe's and will that be a similar process in terms of how you ultimately decide on a college?
You know you're right. I think it will be a similar thing. For me, it came down to comfort for me with the basketball program at St. Joe's and I think it'll that same thing for college.
Who do you turn to for guidance whenever you make big decisions?
Mostly, my family I'd have to say, really my whole general family. They've been very supportive.
How would you assess your recent play in AAU competition, such as the Pitt Jam Fest?
Yeah, you know the last time I played was in Pittsburgh and I think I did very well. It was a great time to be back with my teammates and coaches. It was a lot of fun.
What are your goals for next season, for you individually and for your team?
I just want to win a T.O.C. (Tournament of Champions) Championship.
Yeah, you came close this year. I know that strength and conditioning is something that you've wanted to work on. How is that going and what areas are you concentrating on most? What have done to improve in that area of your game?
Oh, you know, I've just physically been getting stronger overall.
It looks like you're getting stronger and building up your upper-body and developing a base.
Yeah, thanks, I've been concentrating on that area. I've been trying to develop a base and work on my legs as well. I want to continue to strengthen my body. Even though I had a very good rebounding season, I want to do even better next season, which, you know, goes back to my competitive side. I know that I can do better and get stronger. This will help.
Usually, guys your age tend to favor one heavily over the other, but I'm curious with you..do you prefer to play with your back to the basket or face-up?
Yeah, you know, it really doesn't matter for me. i just want to do whatever I can with the ball so that's why I've been working in the gym so hard in order to be able to do both. It's really just where do I pick up the ball and sometimes habits.
What will be your role next season for St. Joe's? Quenton (DeCosey, a Temple commitment) obviously moves on. This year, you played all over the court.
Yeah, you know I think my role will be even bigger because I'll have to shoot the ball more and be all over the court and be active. This is just another step in the road and I have to just live up to the hype.
In terms of recruiting, is Duke recruiting you at all? For them, it's usually very early in terms of evaluating or recruiting players your age. They tend to wait a little bit longer than some other schools that feel the need to get in early with a kid.
Yeah, you know Duke has shown a little interest, but I don't really think that there has been any scholarship offers or anything like that yet.
It's still very early for them.
Yeah, yeah, I completely understand.
What do you know about Coach K and what do you know about their program?
Coach K is probably the best coach in college basketball history. Even with what Coach Bob Knight was able to accomplish, I think Coach K has even surpassed him. He's one of the greatest coaches ever and anyone would be lucky or love to play under him. In terms of the program, the program is just amazing. It's become just an NBA warehouse or I can't quite think of the word, but they've been able to produce just so many players who then went on to the NBA. Anyone who goes there just…
Does that fit, by the way, in terms of the general criteria..
Yeah, yeah
that you were mentioning before about looking for a program and a school that offered you a balance of a top notch athletics and academics?
Yeah, yeah, it does exactly. I want to make sure that I have a bright future ahead of me and prepare for all possible things.
We're here at the Mary Kline Classic. How did you get involved in this event and what does this event mean to you?
Oh, this is a great event and for a great cause. I'm here to help in any way that I can. Cancer is such a terrible disease and, you know, I lost my grandfather to cancer.
I lost my aunt to the same affliction as Mrs. Kline.
Yeah, this is something that affects all of us and, in any way that I can ever help out a charity, I'm there to contribute.
I'm glad that you're here. What are you hoping to show coaches this summer?
Yeah, you know I'm hoping to show college coaches that I have a great post-up game because it often gets overshadowed by the three-point game. People don't realize that my post-up game is probably better than my three-point game, but the outside shooting tends to get mentioned more because it's unusual.
I also think that, whether it's your father's influence or whatever, your passing in the half-court, especially out of the post, is very advanced. You're able to quickly hit the open man, when necessary.
Yeah, you know, I've always been known as a shooter or as a passer, but I'd like to be known more for my post-up game. I want to show them that my post-up game is probably even better than my shooting.
In terms of size, how tall are you now? I can see those size twenty shoes.
Yeah, I've got my size twenty shoes. I'm now 6'11" and I have no idea how much I weigh today.
 What would you like the audience to know about you away from the court?
I'm a video game freak.
I know you like the 2K basketball games.
Oh, yeah, I love NBA 2K11 and 2K12. Those are my games. I'm a video game fanatic and I just love the challenge and competition.
By the way, do you think it helps you at all on the court, in terms of things like hand-eye coordination or visualizing plays?
Yeah, you know, I actually do. I think I learn from it. I think a lot of guys play just to play, but I play to learn. I think another thing that people don't realize about me is that I actually like playing soccer.
Oh, yeah. My God, at your size..
Yeah, it's fun and helps too.
Who are some other kids, nationally, that you're close to on the circuit? I know locally your friends with (Isaiah) "Boogie" Briscoe.
I'm close with Wade Baldwin [a 6'4 sophomore at Immaculata HS (NJ) with offers from Northwestern, Seton Hall, and UMass]. He's actually my cousin. Many people don't realize that. We visited Georgetown together. You know, in terms of other people, it's hard. I mean I feel like I've got friends all over and so, you know, it's really hard to say who I'm really close with.
Sure. What's your take on the state of New Jersey basketball?
You know New Jersey basketball is probably the best basketball in the country I'd have to say. There's a lot of intensity and competition. I mean you look at it on the high school level and we consistently produce very good teams and players that wind up playing around the country. Amazing consistency
 (Interview reconvenes after losing the three-point shooting contest by one shot in the final round)
 Oh, I can't believe I just lost by one. That's going to bother me for a while.
Don't worry. That was still impressive. Let's go, sort of, rapid fire. What's your favorite pro team?
The Knicks.
 Who's the toughest player you've played against so far?
That's a tough one, but I think Al Horford (of the Atlanta Hawks).
What do you plan on working most this offseason?
Strength, my strength.
What is one area of your game that you expect to be better in a year from now?
My strength or rebounding
Do you watch a lot of basketball?
Oh, yes, definitely.
In terms of when you decide on a college, are you looking more for someone who's going to be your buddy or someone who's really going to push you?
That's good. I think for someone who's a pusher. I think I need or benefit from coaches that push me. I think I need that push.
 Where do you like to catch the ball most?
Anywhere (laughs).
That's true.
(laughs)
 How would you assess your defense at this point?
I think I'm good in all kinds of defenses. I wasn't the best when I was younger and so I always tried to work on my defense. The work has started to pay off. I think I'm a lot better now.
Do you know what your stats were this year? Does twelve and ten sound right?
Yeah, I averaged twelve points, but eleven rebounds, six blocks, and I think six assists.
Impressive, particularly for a freshman in this area. What about your outside game? It is obviously an important part of your game and a major distinguishing factor for you offensively.
Well, it just cost me a three-point contest. So, I don't know how good it is anymore.
Oh, no, no, it was a cheap rim.
(laughs) Thanks, but that's gonna frustrate me for a while. So close. Realistically, my outside game is probably the best part of my game.
I was reading that there's a Willie Mays' quote that you have on your wall, "It isn't hard to be good from time to time in sports. What's tough is being good every day."
You know because it just shows that people usually have great games once in a while, but they just fade away. A good player can be like that. They can occasionally have a great game, whereas the great player has the consistency to keep having great games almost everyday. They don't let up.
Well, I think you can see that very clearly in AAU ball, where a player can have a very good weekend. The great ones distinguish themselves by the consistency of their performances. They deliver event after event.
Absolutely.
You met with Victor Cruz (an All-Pro wide receiver for the New York Giants). What was that experience like?
Yeah, he wanted meet with me after winning the Super Bowl. He heard about me through New Jersey hoops. He's from Patterson.
Right, he went to Patterson Catholic.
Yeah, exactly, he was a really good guy.
Running the court and conditioning is often an issue for big guys. How do you feel about where your conditioning is at right now?
Oh, I feel great right now. I feel like I'm in the best shape of my life. I'm running the court very well. My legs are in great shape and I feel fine.
Lastly, you mentioned earlier working on your low-post moves. What have you been working on specifically?
You know I always had them. They're actually better than my three-point game surprisingly. It's just that most of the time coaches don't want me to use it and so I'll do whatever they tell me and shoot the three. I feel like we're really just fine-tuning the moves right now for next season.
Do you have a preferred position?
Oh, no, I'll go wherever my coach tells me to play. I'll play wherever he thinks is best.
Thanks very much, Karl.
It was nice to meet you.[/private]