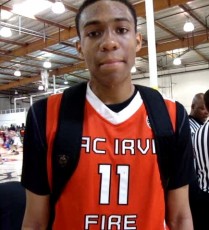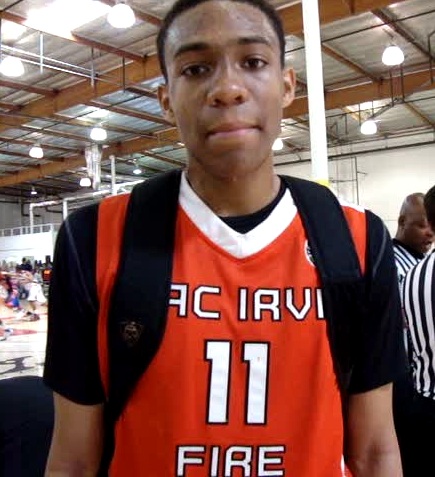 Last year, we profiled 6'8," 220 lb Jabari Parker after a Nike AAU event in Dallas, Texas. In the time since, the young man from the South side of Chicago has continued to lead an ambitious and altruistic life.
In June, Jabari led the United States U-16 Team to a gold medal at the 2011 FIBA Americas U16 Championship in Cancun, Mexico. For his considerable efforts, he won the tournament's MVP award and USA Basketball later named Parker their 2011 Male Athlete of the Year, joining such notables as Kevin Durant, Elton Brand, and Chris Paul. Afterwards, Parker helped his Mac Irvin AAU 17U squad to successful runs at Nike's Peach Jam and the Fab 48 in Las Vegas.
This past high school season, the junior small forward led his Simeon (HS) to a 33-1 record and its record-breaking third consecutive Class 4A Illinois state title with a 50-48 victory over previously undefeated Proviso East. In the state title game, Parker finished with fifteen points and five rebounds, while being the primary focus of the opposition.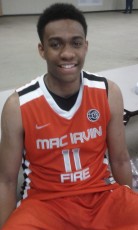 Over the past two seasons, while playing a competitive national schedule, Jabari Parker, now 17, has led the Simeon Wolverines to a 63-3 record. This year, he became more assertive and, as an upperclassmen, took more of a leadership role on his Simeon team. As a result, his statistics all jumped across the board. The son of NBA veteran Robert "Sonny" Parker ended up averaging over twenty points, nine rebounds, five assists, and three steals per game, while achieving the primary goal of winning a third consecutive state title.
This month, Gatorade named him their National Player of the Year, becoming just the fourth junior to ever earn that distinction. This latest accolade came with the added recognition of his academic achievements (18th in a class of 377 students at Simeon) and community service (work with Salvation Army and Operation PUSH). For the first time in thirty-two years, a junior, Jabari Parker, won Illinois' Mr. Basketball, winning by a sizable margin (400-72) over the next closest runner-up. Jabari was Simeon's fourth Mr. Basketball, joining Derrick Rose, Nick Anderson, and Deon Thomas.
After a tough loss to a well-coached BABC team geared to shutting him down, Jabari sat down with me to talk about a variety of issues, including dealing with fame, recent accolades, the loss of Mac Irvin, winning a third consecutive state title, advising Jahlil Okafor, and embracing being a role model to Chicago's youth.
First things first, what was your reaction to the passing of Mac Irvin? Can you tell the audience the impact that he had on your life and the lives of other Chicago young men?
Sure, him passing took a toll on me.
I was sorry to hear that.
Yeah, I didn't really have a grandfather growing up. I really didn't know him and, so I would really look up to him as another father figure in my life and that was my dad's mentor growing up, when he was in the NBA, he had a chance to talk with him a little bit and so him not being here is like we're missing a piece of the puzzle. Without him, we don't have an inspirational guy. That means that everybody else needs to step up his role and get everybody involved.
Jahlil (Okafor) was saying that you guys have effectively dedicated this season to him, with the hope that you can win the whole EYBL in his memory.
Yeah, that's the hope. This was really probably the first trip that he wasn't able to come with us.
[private]
Mac was always very nice to me and I appreciated that.
Yeah, he was always a very respectful guy and it's a shame that he's not here.
On a more uplifting thought, you just won your third state title.
Yeah, that felt pretty good. You know being the first Chicago team to win three consecutive downstate titles. It really just makes us want it more. We don't want to get complacent or become satisfied. We just wanted to go out and execute.
Did this one differ from the first two, for you personally, as your roles and responsibilities have changed? Did you feel differently about this one in particular because you're more mature and had more of an impact?
Yeah, it was more different. The first two years, I was more humble, but, with this third one, I was a little bit satisfied. I had a big chip on my shoulder and the game caused me to humble myself. It reminded me that I've always got to be prepared that everybody will try to give their best game.
You had a few close victories against Proviso East in the title game and against Whitney Young (52-48) before that.
Yeah, they were real close, definitely.
You also had a huge honor recently when Gatorade named you their national player of the year. It's a significant one because, when I spoke with their guy who handles it, he said that they're always very cognizant of a player being well-rounded, in terms of being a high character person who balances athletics, academics, and charitable work. They basically want to try to make sure that the kids who win won't embarrass their brand off the court.
Yeah, that was a huge honor for me. It was a really special one in terms of giving us a lot of exposure.
There was an interview you and your brother Christian did and I think he said of you, "Basketball is what he does. It's not who he is."
Yeah, definitely, basketball is what I do, but I really just try to use it to be a role model to the kids. I'm just trying to be a role model in my community.
Let's quickly get back to basketball. Do you still train with your dad, brothers, and, from time to time, I think, Tim Grover?
Well, I haven't really trained with Tim Grover in a while, but I've just been going on my own…to my own school and getting a lot of shots up. With my dad, he really doesn't coach me anymore.
So, it's just mostly your brothers at this point.
Yeah, it's just mostly my brothers right now.
What about you and Rahm Emmanuel hanging out? It's sort of unusual for a kid your age to be hanging around with the Mayor of Chicago.
Well, yeah, it's been kind of special because my mom was assigned to show him around during the games and we've got a relationship for a while…, well, from last year, so meeting with him again this year, we all just felt a lot of support. He's a very big Simeon fan actually.
Oh, is he? Well, that's good for you guys.
Yeah, that's been good for us.We definitely feel the love.
Speaking of your mother, I saw that she said,paraphrasing, "We all struggle together. Fame is fleeting. We're no better or worse than anyone else."
Yeah, that's true. Fame is fleeting
I took it mean that effectively we're all in it together, so to speak.
Absolutely, we're all in it together and, with respect to fame, it can either bring you down or make you humble. With that, you can't let it get to you and think that you're bigger than anyone. You need to be there for everyone and be of service.
Has it been an adjustment for you as you've gotten older and people are obviously asking you for pictures and autographs?
I give them my time because I know that they're probably only going to see me once in lifetime. So, it's good and fantastic the things that I'm doing now so, you know, why not take a little time out to sign an autograph or take a picture.
There was a bit of controversy over you guys leaving your sneakers on the court after you won the state title, as a way of leaving your mark.
Oh, yeah, it was nothing really. We just thought that it was our way of leaving our mark on history. It wasn't meant as anything too egotistical, but people are going to take it out of perspective. They were going to build into something that was a little bit more than what it was.
Another issue that came up recently was Cory Dollins (his best friend) going to DePaul as a walk-on and your high school coach trying to get in the running for a job at Illinois. Do those specifically or similar things have a legitimate or serious impact on your ultimate recruitment?
Oh, no, not really. I've got to go through the process and just go to the program that suits me the best. I can't look at everybody and make everybody satisfied. Sometimes, I've got to be selfish on my own behalf.
What would you say that you've improved on most for fans that haven't seen you play in the past year?
Oh, working on my defense would probably be the most noticeable thing. Rebounding has also been something that I've tried to improve on, but really just trying to be a better overall player. Not taking anything for..well, playing every possession like it's my last. I'm starting to do that a little bit more than I used to. Looking back, I think that I used to take more plays off.
I think you're also a little bit more assertive this year, particularly offensively, than you were in the past.
Yeah, I think a little bit. That's a good word. I think I've become a little bit more aggressive on the offensive end.
Yeah, just a little bit.
Yeah, yeah, definitely
If you could target one aspect of your game, what would you like to tighten up most before you hit college?
Probably my body. I need to strengthen up. I've got to try to get, well, toning up. I've got to tone up my body.
Do you hit the weight room at all right now or not really?
No, not really.
You were mentioning before about being a role model, like the anti-Charles Barkley. I know you work with Operation Push, the Salvation Army, and prayer groups.
Oh, I don't look for any attention. It's just to help me out. It's what I do. It's part of my benefit. That's what makes me happy. A lot of people see that and it seems to bring them joy and hopefully inspires them too.
So, there will hopefully be some ten and thirteen year-old kids running around Chicago wanting to follow in the footsteps of Jabari Parker?
Yeah (laughs).
Do you have any visits planned and have you taken any visits recently?
No, I'm going to take my visits in the Fall time or possibly in the summer, but that's if I cut it down in the end.
Outside of that trip to Utah, have you taken any other visits recently?
Oh, no, not really.
Have you given any advice to Jahlil (Okafor), by the way?
Oh, yeah, I always try to get on him. (laughs) I tell that it's going to be different next year than it was as a sophomore. He's going to get a lot more attention. So, he's going to have to be a lot more responsible. He's going to have to choose his friends wisely and keep his inner circle tight. There's going to be a lot of people trying to get involved. I just try to be a big brother to him because he doesn't really have any siblings and, me, I don't really have any younger siblings. So, I, sort of, look at him as a younger one.
You're sort of going through some things now that he'll have to deal with in a year from now, in terms of his recruitment and the attention.
Yeah, yeah, I'm just sort of giving him some feedback that I think he needs to hear.
How about, in terms of him, physically getting in better shape or conditioning? You mentioned earlier how you wanted to tone up your body, but I thought a major turning point for you was when you lost all of that body fat during your sophomore year. It took your game to another level.
Yeah, that's a good point, but, with him, you know, it's just genetics. He's part Nigerian. So, you know, they're naturally big people.
Some of my best friends growing up were Nigerians.
Yeah, yeah, so, with him,  I just tell him that he's got to improve his wind. He's got to run even better and be able to keep it up. If he can run, at his size, he doesn't really need to worry about losing weight.
He's got a bright future as well.
Yeah, he does.
Where was that when you wrote "All of my guys eat like kings?" It looked like a nice place.
Oh, (laughs) that was after the Gatorade award. I just wanted to show my teammates my support and how thankful I was for their help in getting me that award. It was a really nice place. I just wanted to show them my appreciation.
That's it for me, Jabari
Oh, thank you very much for your time.
Absolutely, I'm just glad for all your successes. I was really happy for you.
Oh, thank you so much.[/private]