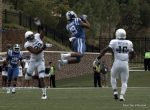 Baylor (0-2) at Duke (2-0) (Homecoming) 
September 16th, 12:30 p.m. kickoff, Brooks Field at Wallace Wade Stadium in Durham, N.C.
2017 Homecoming, TV - Raycom Sports Network
First Take
One team is hot and one team is not.  Duke is off to a 2-0 start with impressive wins over NCCU and Northwestern.  Meanwhile, Baylor has yet to find itself after two upset losses under new head coach Matt Rhule.  Duke has been labeled a 14 point favorite which seems a bit high to some.  Baylor was picked in the top 40 by three pre season publications and Phil Steele had their team units ranked quite high in his magazine in the Big 12 conference.   The bottom line is that this is a bit of a trap game against a team that has talent but has yet to put it together.
About Baylor
Many are quick to discount the Bears due to their early season struggles.  But a closer look shows that talent is still there.  Like Duke, Baylor is playing a lot of true freshman this season.  The numbers are similar with the Blue Devils playing 11 to the Bears 13.
The Bears will switch quarterbacks this week to a more pro style passer.  Zach Smith takes over and he has had success leading the Bears to a bowl win over Boise State a season ago.
Baylor has been a victim of mistakes.  Turnovers and penalties to be exact.  The thought is if they can reverse that trend they will be able to show off their talent which lurks below the surface in the results.
"We improved on defense," Baylor coach Matt Rhule said after the loss to UTSA. "We played well enough to win on offense two weeks ago. We didn't play well enough on defense. We played well enough to win on defense this week and not on offense. Now we have to put it all together."  Rhule, of course, turned things around at Temple before coming to Baylor.
According to the Waco Tribune, Rhule plans to let the offense loose this week against Duke after playing a conservative game plan in weeks one and two.
About Duke
Duke is off to a great start and the fan base and team are looking forward to each week with great anticipation.  Duke has already won half as many games as last season and they seek to keep the momentum going against Baylor.
The Blue Devils are getting great effort on both sides of the ball.  On offense, Daniel Jones is blossoming into a bright young star at his quarterback position.  His ability run and throw has been an early season key.
Duke is also getting better play on the offensive line and from its wideouts.  In short, the offense has been consistent to date while not allowing opposing defenses to key on any one area of the game.
The Blue Devils have been better on defense as well.  They totally handled the Northwestern run game a week ago by allowing one of the Big 10's best back his career low.  The youth in the secondary has yet to be exploited and the kicking game, while not perfect is better as well.
Duke has also benefited from better coaching where the staff has shown more continuity.  The Blue Devils are hell-bent on returning to a bowl game this season and seem focussed on the job at hand.
The Bottom Line
Baylor is a dangerous team.  All they are hearing is how disappointing they've been to date, so there is a gathering behind the wagons feel to their team this week.  If they see some early success, they could be, pardon the pun, a Bear to handle.
Duke will look to take advantage of a banged up Baylor secondary. The defense must pressure the quarterback while not allowing speedy skilled players to make big plays.
Baylor will give their best effort of the season and will be pumped up playing an ACC team which is considered the favorite.  Duke will have to be aggressive on the offensive end and score some points to win.
I have been all over the place with how I think this game will go. Baylor has a lot more speed than Northwestern and are the underdog in a most dangerous way,  Duke on the other hand has been very efficient but how will they respond if there is adversity?
If the Bears cut down on mistakes and Duke makes some, this could be a close game.  If Duke plays mistake free football, they should come away from the game 3-0.    There is a part of me that thinks Duke will win easy and another part that thinks this is the trap game of the season.  I am going with the good Blue Devils with few turnovers, but the game could be much, much closer than my pick.
The Pick is - Duke 38 Baylor 22