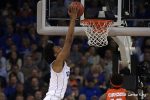 The Duke Blue Devils won a hard-fought game over Syracuse to advance to within one game of the Final Four.  Duke will need to play one of its best games of the year to get there for their opponent is fellow blue blood program Kansas.
Nobody can factor in for sure how much of an advantage a mostly Jayhawk crowd will affect the outcome.  Nor can we know how ready Duke is to play after a very short time to rest after its latest win.
What people fail to see if that players are selected for mandatory drug tests by the NCAA after each game.  And the team must wait for that after a prolonged interview session before they can go back to their motel.
While the intangibles are unpredictable, some things are not and here are the keys in my mind's eye of what Duke needs to prepare for to come out a winner.
1 - Keep turnovers to a minimum - Yes, this is the same thing I led with before the game with Syracuse.  And the Blue Devils did just that committing just 7 turnovers.  The team forced  16 Syracuse turnovers which means a 9 plus possession advantage.  You do the math.  Duke won by four despite a huge advantage here making it imperative that they have an advantage in certain areas to win.  Kansas does a better job of ball handling, so this will make protecting the ball even more important in this game.
2 - Push Kansas off the three-point stripe - Kansas went 10 of 22 from the three-point stripe against Clemson;  That is a 45.5% clip and it was the reason they won the game.  Duke must be aware of where the three Kansas guards are at all times.
3 - Guard everyone - Kansas is a very balanced team on offense that relocates the ball quickly to open shooters.  All the Kansas starters took 9-12 shots against Clemson.  Malik Newman could prove an especially tough match up for Duke.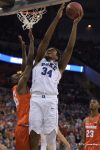 4 - Block out - Yes, Duke has the height advantage but that is neutralized if you do not block out.  Duke was handled on the glass at times against Syracuse.
5 - Hit your three's - Duke was ice-cold from beyond the three-point stripe against Syracuse.  They need to get back on track against Kansas which held Clemson to 6 of 20.
6 - Own the 50-50 balls -  Duke needs to do a good job getting to loose balls and battling for possessions.  In a big time match up like this, the team caught flat-footed always loses.
7 - Come out of the gate strong - We know what happened when Duke came out flat against UNC.  And we know what can happen when you are not ready to play at the start of he second half.  Duke flirted with disaster with their slow start against Syracuse after the break.
8 - Play loose but smart and together - Duke must play loose while being wise and not forcing the issue.  Make the smart play, not the Sports Center highlight attempt.  Duke needs to trust one another as a team and hit the open man immediately and good things will happen.