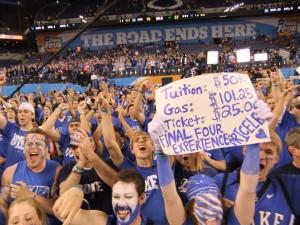 INDIANAPOLIS -  Hey Duke fans!  Live in the moment for opportunities to win a national title don't come around often.  Take a moment and realize how lucky you are as a fan to follow such a great program and a great team.
From the Duke coaches to the players, there is nothing but solid character on the 2009-10 Blue Devils team and it's time to recognize and cherish that.  Just ask UNC fans who are coming off a title how long ago that seems now?  If it happens, enjoy it, savor it, live it.
Before you begin to worry if Kyle Singler will return or when the next recruit  will commit, live in the here and now.  Immerse yourself in the here and now and enjoy rooting for the team everybody in the nation will be watching this evening.
Make no mistake, that the majority of fans out there would kill to have a program like Duke's, so recognize how lucky and blessed you are to have them as your team.
It's been an amazing season and that season may well end in a fourth National Championship and how amazing is that?  I mean, who thought this would happen after Gerald Henderson left or Elliot Williams transferred?
This Duke team has succeeded at meeting every goal it set forth to date and you will never see a more likable and grounded roster of kids than this seasons.  No matter what they have been faced with, they have met the challenge with success.
Bozo media types are saying Duke had an easy road.  Well, they beat the PAC 10 Champions, the Big 10 Champions and the Big East Champions to get here and the Horizon Champions may be added to the list in about seven hours.
But don't get caught up in all the hate and realize that a lot of it is fabricated to begin with.  Worry instead if Duke will defeat a Butler team that is laying a trap.  But know your Blue Devils will show up and I mean they will be ready.
I have a good feeling that Duke will be atop the world by midnight, but should they slip, these guys are still champions.  It is rare to have senior leadership like Brian Zoubek, Lance Thomas and Jon Scheyer and they should be cuddled by the fan base.
If Kyle Singler goes pro, wish him the best for he will have left you with something special.  What I am saying is that nothing should take away from the joy that only two teams will experience when the ball tips at 9:21 tonight and no I am not saying Kyle is gone, so relax and don't go there.
Oh, and make sure you greet these Blue Devils in a big way when they return.  And do me a favor Blue Devil Nation, cheer hard for me as I will still be on the road back to Durham.  In fact, a video of the return would be appreciated or a tape of any local coverage of the event.
It's been one heck of a ride and it's one that nobody should want to end.