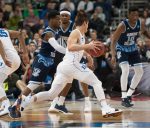 The Duke Blue Devils were never threatened in route to a convincing 87-62 win over Rhode Island.  With the victory, Mike Krzyzewski will now enter the Sweet 16 for the 24th time which is the most of any coach in history.
Duke was led by All American Marvin Bagley III who tallied 22 points to go with 9 rebounds.  Gary Trent Jr. added 18 points, 5 rebounds and 4 assists in a solid all around performance.
Wendell Carter Jr. helped Duke get out to a big first half lead with his play.  He ended the contest with 13 points and 6 rebounds while going 6-6 from the field.
Freshman guard, Trevon Duval was solid dishing out 7 assists to just 1 turnover to go with his 11 points.  Duke captain Grayson Allen was also in double-figures with 10 points.
Duke knocked down 10 of 21 three-point shots while going 19-24 from the free throw stripe.  The Blue Devils also had 20 assists on 29 made shots all of the aforementioned making them very efficient on the offensive end.
The Blue Devils zone defense also gave the Rams (26-8) fits by holding them to just 62 points, which is way under what they average.
It was a sold performance for Duke from start to finish and perhaps one of their better played games of the season.  And that play could not come at a better time in that the Blue Devils pushed their record to 28-7 on the season as they await the winner of Michigan State-Syracuse game which tips off 2:40 tomorrow afternoon.
Mike Krzyzewski won his 1099th career game.    Duke is now 5-0 all time against Rhode island and this was by far their largest margin of victory.  Nine players scored for the Blue Devils who netted 13 points from players off the bench. Duke has never lost in the state of Pennsylvania (8-0) in the NCAA Tournament.  The Blue Devils are 14-9 in Sweet 16 games under Krzyzewski.