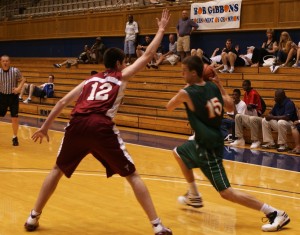 There are a lot of special surprises in the works for this Friday's Countdown to Craziness, so be sure to either attend or tune in to this event.  More details are forthcoming, but they want to keep some of the entertainment and activities under wraps.  The promotions for this event are listed at GoDuke.com or the Countdown for Craziness site.
In a recent talk with an assistant coach, I was told that every single player had come back better than they were before.  As always Duke will adjust their team to the personnel at hand.   All three freshman are expected to play key roles in their first season.  Andre Dawkins will be asked to feel some big shoes which formerly belonged to Gerald Henderson.  Ryan Kelly will add versatility and Mason Plumlee will almost certainly start in the post.   Kyle Singler will be allowed more freedom which may mean we'll see what he can do at his natural position.  We've hinted that Nolan Smith could have a breakout year and they will give him more of a leadership role as well.  Jon Scheyer has them excited and there are no worries that he cannot thrive once again as a dual point with Smith.  BDN will bring members the news from Wednesday's season opening press conference with Coach Krzyzewski in a live blog and will have audio up shortly after the gathering.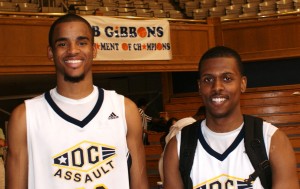 So far, there are four visitors slated to attend Countdown for Craziness.  [private] Marshall Plumlee leads the pack of prospects and he'll be joined by Quin Cook.  Duke verbals Tyler Thornton and Josh Hairston will also be there.  We will tell you if any others join the frey as the week goes on, so there is no reason to ask about this on the message board.
Now, let's talk about Kyrie Irving.  As some of you have already seen, any calls to Irving will only result in what you already know.  The date for his official announcement is October 22nd and that will be televised by ESPNU.  As we've told you, Irving will visit Kentucky's Midnight Madness, but there is little reason for worry despite anything you are apt to hear.  Irving will be a Dukie so let's just be patient and wait it out.
That said I would like to address recent issues on the message boards where some posters go into a tailspin at what they hear from other sites message boards.  Our policy has long been to deal in facts, not rumors.  Neither myself or the BDN staff will answer all of the rumors for what we tell you is factual and informed.  Please do not send me the "He said, she said," stuff for I can assure you I hear pretty much everything that goes on.  Our sources are as good as they get and our network grows daily.  If you hear something here, you can count on it and our track record speaks for itself.  If there is anything going on, I will tell you what I can, so it isn't always necessary to ask about every little whimper.  We have created a rumor forum for the purpose of containing rumors, propaganda and paranoia.  I will not answer a lot of questions in that forum.  I have also instructed moderators to take a firmer approach in an effort to keep this the best board out there.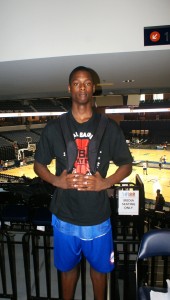 Now, back to recruiting news.  Many close to the situation feel that Harrison Barnes is a two team race with Duke and North Carolina.  The Tar Heels have made up some ground and negative vibes have been sent out through various channels in the most heated battle between the two schools since Shane Battier.  No matter what cards the Heels play, Duke can counter and the relationship between Krzyzewski and Barnes has been solid from the start.  UNC is playing catch up and they have done a good job of impressing Barnes, but I cannot see them as being the leader as some suggest.  Maybe there is no leader, but that could change with Barnes official visit to Durham on October 23rd.    Expect Barnes to come in knowing that his friend Kyrie Irving committed the night before and expect Duke to be real and put their best foot forward during the visit.
Speaking of this site blowing up on October 22nd, let me set the scenario for you.  We expect Kyrie Irving to verbal to Duke on Friday and then there is the Pfeiffer exhibition game which we'll cover.  Of course, Harrison Barnes is in town and Duke plays Maryland at home in football, where we will again cover the event.  The next morning I will head to Greensboro, North Carolina for ACC Operation Basketball which kicks off the season with all of the ACC coaches and players from each team.  In short, articles, news and information will be all over the place.  You can bet I will be taking my vitamins in the coming days.  As we have said before, there are times when this site explodes so be prepared for the fireworks.
Duke is still recruiting and staying in contact with Roscoe Smith, but will only turn their attention to him after Harrison Barnes makes his decision.  Of course, Barnes to Duke would like cause Duke to move on to 2011.
Duke is still working on getting Brad Beal to visit Durham, but if Irving and Rivers fall into place, they would likely have enough players at his position.  They really like Beal though, as does most everyone who has seen him play.
The Blue Devils also stay in close contact with Quincy Miller [offered] who they feel is a Duke kid through and through, but with advisers in his ear, this one will almost assuredly go on for a while.
On a football note, recruits have responded very well to Dukes 49-28 win over NCSU and this one is already paying dividends in the class of 2011, especially in state.  Duke is expecting to be healthy for Maryland on the aforementioned super weekend and Cutcliffe will emphasize how to enjoy a win yet still know you have to work hard to earn victories.  Of course, this is new for many Blue Devils and it will be important for them to get a proper mind set for the coming ACC season.
Lastly, we'll talk of Austin Rivers.  Rivers has officially opened his recruitment up for Duke and it is Duke and Florida for his services.  Expect Rivers to concentrate on his coming high school season and then make his decision.  You all know by now that I am calling Duke in this one and yes I feel very confident about that.  I am very excited having watched Rivers adoringly on the AAU circuit in about 15 games. [/private]