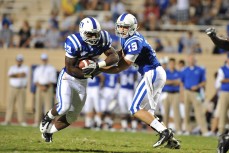 After a good effort and a win in week 1, Coach Cutcliffe and the Blue Devils kick off the ACC season early with a trip to Winston-Salem in week 2. The oddsmakers have Duke as 6 point underdog, and a win against the Demon Deacons Saturday would be big for the program. The game will be televised by Raycom Sports in ACC markets, and is also available online at espn3.com.
Duke in Week 1
The Duke Blue Devils got off to a 1-0 start in the 2010 season with a 41-27 win over a pesky Elon team. Sean Renfree was 31 of 39 in his first career start at QB, totaling 350 yards and 2 touchdowns. Ten of his passes went to sophomore Conner Vernon, who ended the game with 129 yards in receptions, while junior Donovan Varner finished with 7 catches and 123 yards. Desmond Scott led the Blue Devil ground game with 77 yards; freshmen Josh Snead and Juwan Thompson also were impressive in limited roles. The defense allowed over 400 yards of offense to Elon, but forced two turnovers and came up with key stops in the red zone, which ultimately led to the victory.
Wake Forest in Week 1
Wake Forest defeated Presbyterian, 53-13, on Thursday. Wake Forest has returned to a more traditional Jim Grobe-style, dominating the game with physical play at the line of scrimmage. The Demon Deacons rushed for 6 touchdowns and 415 yards, while giving up just 70 yards on the ground to the Blue Hose. Sophomore QB Ted Stachitas finished with 76 yards on 10 carries, and the Deacs averaged 8.3 yards per carry as a team. Wake Forest didn't show much in the passing game, completing just 10 of 24 passes for 94 yards, but will continue to develop their two young quarterbacks throughout the season. Defensively, the Deacs allowed 292 passing yards to winless Presbyterian, but did come away with 4 sacks and an interception returned for a touchdown.
Analysis
This is one of the most intriguing matchups of the season, for a number of reasons. Duke and Wake Forest are two of the top private schools in the Atlantic Coast Conference, with student-athletes who standout both on the field and in the classroom. The head coaches are two of the most likable guys in the ACC, have a great deal of mutual respect for each other, and both have demonstrated a strong commitment to their respective programs. An even closer look shows that the rosters feature 10 players who were high school teammates, and a number of others who were high school rivals. The significance of this overlap is not lost on Coach Grobe, who pointed out, "when you have a lot of kids that have played against each other in high school and in some cases gone to school with each other, I think it stirs things up a little bit." Both teams are breaking in first-year starting quarterbacks, and have questions on the defensive side of the ball. The matchup is intriguing as much for the similarities as for the differences. Wake Forest features one of the best running games in the conference, while Duke boasts one of the most potent passing offenses. In recent years, Wake Forest competed for ACC championships while the Blue Devils struggled.
We will probably learn a lot more about whether Duke is ready to compete for a bowl game in 2010 in week 2 than we did in week 1. Can Sean Renfree lead the Duke offense in a big ACC road game? Have Duke's young running backs improved significantly from a year ago? Can Duke's new, aggressive defensive strategy bring pressure without giving up big plays? Can Duke's defensive front consistently stop a potent running attack? This last question, in particular, may be most relevant, as the Blue Devils will face several prolific rushing offenses in 2010.
Duke will look to get out to an early lead against Wake Forest, and the Demon Deacons' secondary should be no match for Sean Renfree and Duke's ACC-leading receivers. Duke's young running backs will face a stiff test in the Wake Forest defense, but will have to break open a few runs to balance the offense. Defensively, if Wake Forest is able to run the ball and control the clock, it will be a long day for the Blue Devils' defense. The Blue Devils will have to match the Wake Forest physicality at the line of scrimmage, and will have to force defensive stops, as the Demon Deacs are unlikely to turn the ball over on the ground. If the Blue Devils can force the inexperienced Wake Forest quarterbacks into passing situations, they will have a good chance of forcing turnovers and stops. It is likely to be a busy day for the Blue Devil linebackers, who will need to get penetration at the line of scrimmage and bring pressure against Wake Forest's running backs and quarterbacks. In what is likely to be a close game, any mistakes in the kicking game will be costly; both Duke and Wake Forest missed field goals in week 1. Both teams have dangerous playmakers as return men, which will put kick coverage and field position at a premium.
Ultimately, as in every game, the outcome will be mostly based on the team that wins the battles at the line of scrimmage and makes the fewest mistakes.
Check out watzone's game preview with a Duke slant at Raycom Sports.com by clicking here
BDN Prediction
While many may have circled September 18 and the visit from the reigning national champion Crimson Tide as an important game on Duke's schedule, those close to the program circled September 11. It's no secret that the Demon Deacons have had the Blue Devils' number, wining 10 straight meetings between the two schools. In fact, Wake Forest Coach Jim Grobe has never lost to Duke, despite several close games in recent years.
Duke has ended several unsightly streaks during David Cutcliffe's tenure, and Saturday could bring the end to another. In what is likely to be an exciting, high-scoring contest, the BDN consensus/cumulative pick is Duke 35 Wake Forest 34