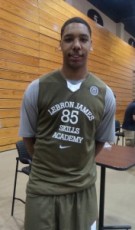 The Duke Basketball staff is on the road as you learned in out latest recruiting update and BDN has confirmed that an official offer was made to Jahlil Okafor, a 6-9 sophomore center who plays for  Whiney Young High School in Chicago, Illinois.
Blue Devil Nation Recruiting Analyst Andrew Slater gives you the low down on Jahlil Okafor below and if you like what you read, you will love how informed Blue Devil Nation Premium is.  What are you waiting for?  Join in on the fun as a member now!
"For of those to whom much is given, much is required"
-President John F. Kennedy
Jahlil Okafor is a 6'10″ rising sophomore from the North Side of Chicago. In the Gold Medal game of the 16U FIBA Americas, the fifteen year-old was perfect from the floor and finished with eighteen points and fourteen rebounds against Argentina. This was the culmination of months of preparation. Okafor had spent countless hours refining his low-post skills and shedding some baby fat in order to be able to both make the final cut and ultimately contribute to the USA 16s team.
Although one of the youngest members of the team, Jahlil wound up finishing second on the team in rebounds (9.2 rpg) and third in points (14.6 ppg), while leading the team in shooting, both free throw (82.6%) and field goal (71%). His Mac Irvin teammate and friend, FIBA Americas MVP Jabari Parker, was on hand to celebrate the moment with him on the court in Mexico.
Okafor had a solid freshman year on the varsity team at Whitney Young, a magnet school that is the alma mater of First Lady Michelle Obama, the NBA veteran Quentin Richardson, and the directors of the Matrix, the Wachowski brothers. Jahlil was reportedly offered a scholarship to DePaul as an eighth grader at Rosemont Elementary School by their former interim coach, Tracy Webster. Since then, Okafor, a passionate Bulls fan, has received college scholarship offers from high-major programs across the country.
In late May, the decision was made to advance the fifteen year-old Jahlil to Mac Irvin's 17U team in order to give more of a post presence for Nike's EYBL wing in Los Angeles. Like a duck taking to water, he was a natural in his game against the physical 6'8″ senior Elijah Macon and All-Ohio Red. His advanced footwork, size, and developing low-post game have helped him hold his own against significantly older players at the LeBron James Skills Academy and the Peach Jam.
After losing his mother in the third grade, the focused and gregarious big man has been raised by his father Chukwudi "Chuck" Okafor and helped out by his aunt, Dr. Chinyere Okafor-Conley, an assistant principal at Penn Elementary School in Chicago. Education is a major point of emphasis in the family and was the primary factor in Jahlil's decision to select the academically challenging school, Whitney Young.
For more, join BDN Premium for full site access.