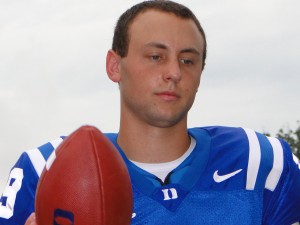 DURHAM, N.C. - Anthony Boone's 32-yard touchdown pass to Tyree Watkins with 11:15 remaining in the fourth period lifted the White squad to a come-from-behind victory over the Blue unit in Duke's annual Spring Game on Saturday afternoon at Wallace Wade Stadium.
Saturday's event brought spring practice to a close for the Blue Devils.
The Blue team opened the scoring with a 14-yard touchdown run by Patrick Kurunwune at the 8:51 mark of the first period.  Just over four minutes later, Brandon Connette found the end zone from 14 yards out on the ground to push the lead to 14-0.  The White team managed to pull within seven prior to halftime when Sean Renfree hooked up with Conner Vernon on a six-yard touchdown pass.
Midway through the third quarter, Desmond Scott brought the White unit even on the scoreboard with a 16-yard touchdown run.
On the day, Renfree connected on eight-of-14 passes for 105 yards and one touchdowns while Boone was seven-of-15 through the air for 94 yards with one touchdown and one interception.  Scott paced the White team with 56 rushing yards on 13 carries while Juwan Thompson gained 35 yards on nine rushes.  For the Blue unit, Connette completed 10-of-16 throws for 102 yards while rushing for 34 yards on eight attempts whileJosh Snead picked up 54 yards on six carries.
Watkins finished with six receptions for 67 yards while Brandon Braxton (21 yards), Cooper Helfet (64 yards) and Vernon (19 yards) had three catches apiece.
Defensively, Jamal Wallace carded a game-high seven tackles while Austin Gamble had six total stops.  Issac Blakeney, Walt Canty, Matt Daniels, C.J. France, Tyree Glover and Jonathan Woodruff logged five tackles each, with Blakeney also contributing two tackles for loss, one quarterback sack, one caused fumble, one quarterback pressure and one pass breakup.  Charlie Hatcher, Jordan DeWalt-Ondijo and Tony Foster each recorded one quarterback sack while Garrett Rider's interception in the fourth quarter was the game's lone turnover.
Cutcliffe also announced the program's award winners for spring practice award winners with Thompson (Most Improved Offensive Player), Ross Cockrell (Most Improved Defensive Player) and Preston Scott (Blue Devil Heart Award) claiming honors.
Duke opens the 2011 season at home on September 3 against Richmond.  Season tickets are available online at GoDuke.com or by calling the Duke Athletic Ticket Office at 1-877-631-3853.
White 21, Blue 14
1st - 8:51 - Blue - Patrick Kurunwune 14 run (Jeffrey Ijjas kick)
1st - 4:15 - Blue - Brandon Connette 14 run (Paul Asack kick)
2nd - 7:05 - White - Conner Vernon 6 pass from Sean Renfree (Will Snyderwine kick)
3rd - 7:30 - White - Desmond Scott 16 run (Will Snyderwine kick)
4th - 11:15 - White - Tyree Watkins 32 pass from Anthony Boone (Will Snyderwine kick)
RUSHING: Desmond Scott 13-56, Josh Snead 6-54, Juwan Thompson 9-35, Brandon Connette 8-34, Anthony Boone 5-31, Sean Renfree 2-25, Patrick Kurunwune 4-23, Sean Schroeder 3-7, Team 1-(-1)
PASSING: Sean Renfree 8-14-0-105, Brandon Connette 10-16-0-102, Anthony Boone 7-15-1-94, Sean Schroeder 3-8-0-13
RECEIVING: Tyree Watkins 6-67, Cooper Helfet 3-64, Brandon Braxton 3-21, Conner Vernon 3-19, Juwan Thompson 2-43, Josh Trezvant 2-31, Desmond Scott 2-16, Braxton Deaver 2-13, Josh Snead 1-20, Preston Scott 1-12, Danny Parker 1-4, Jack Farrell 1-3, Patrick Kurunwune 1-1
PUNTING: Alex King 5-204-40.8
FIELD GOALS: Jeffrey Ijjas - 44 (no good)
TACKLES: Jamal Wallace 7, Austin Gamble 6, Issac Blakeney 5, Walt Canty 5, Matt Daniels 5, C.J. France 5, Tyree Glover 5, Jonathan Woodruff 5, Charlie Hatcher 4, Kevin Rojas 4, August Campbell 3, Nick Sink 3, Jordan Byas 2, Ross Cockrell 2, Jordan DeWalt-Ondijo 2, Anthony Young-Wiseman 2, Garrett Rider 2, Tony Foster 2, Jamal Bruce 2, Zach Greene 1, Garett Patterson 1, Curtis Hazelton 1, Steven Ingram 1, Will Boeckman 1, Sydney Sarmiento 1
TACKLES FOR LOSS: Issac Blakeney 2, Jordan DeWalt-Ondijo 1, Tony Foster 1, Charlie Hatcher 1
QUARTERBACK SACKS: Issac Blakeney 1, Jordan DeWalt-Ondijo 1, Tony Foster 1, Charlie Hatcher 1
PASS BREAKUPS: Issac Blakeney 1, Jordan Byas 1, C.J. France 1, Ned Smith 1, Johnny Williams 1, Anthony Young-Wiseman 1
QB PRESSURES: Issac Blakeney 1, Kevin Rojas 1, Jamal Wallace 1, Anthony Young-Wiseman 1
CAUSED FUMBLES: Issac Blakeney 1
INTERCEPTIONS: Garrett Rider 1