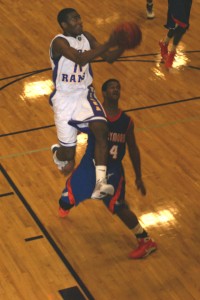 John Wall was just hours removed from a meeting with Duke Coach Mike Krzyzewski and, if you are a member, you know it went very well.  One would think the nation's top point guard prospect could soak that in for 24 hours before an interruption, but that was not the case on Monday evening when reports indicated Memphis Coach John Calipari was about to leave Memphis.
It could be just hours before Calipari signs a 35.5 million dollar contract that will make him the nation's highest paid college basketball coach.  A ripple effect is now in play with some of the nation's top recruits with Calipari being Kentucky bound.  Already, Memphis prospects are taking the necessary measures to get out of their verbal commitments.
But the player Duke fans are concerned about is John Wall, who had Memphis listed as his favorite.  Blue Devil Nation Premium caught up with Wall just before he watched former D-One teammate Ryan Kelly win the three-point shooting contest, and another Dukie, Mason Plumlee, threw down some sweet dunks in the McDonald's game.
There was a time when Wall dreamed of playing in the McDonald's All Star game, but a new rule change had a dire effect on schools with fifth year players.  It was America which lost out on its chance to see the point guard who goes east to west or north to south quicker than anybody in the country.  But while somewhat upset about it, John has focused in on the big picture.
"I'm kind of upset I'm not playing, but there's nothing I can do about it.  I'm just happy to have what I've got.  I'm happy for the guys that made it, but I'm not mad at anyone because I didn't make it.  It's tough that I have seen so many fifth year seniors play in the game, but they just made that new rule this year."
The news on John Calipari caught Wall off guard today, but he is now processing what is likely to soon happen, "I haven't  [private] talked to him (Calipari) yet, I guess it's just part of business.  He has to do what is best for him."  As this goes to press, the announcement is not official, but sources say Calipari is meeting with boosters to push a former Memphis assistant.  Others think Memphis is making one last push, but I will trust my source on this one.
There has already been a lot of scuttlebutt in the Big Blue Nation concerning Wall.  Many feel that Kentucky may now be a player for his services, "I was considering them a long time ago.  I will look into it if he (Calipari) gets the job."
But what effect has all this had on the Blue Devils' hopes of signing the point guard they covet?  When asked if this pending announcement would help Duke, Wall calmly stated, "It helps Duke a lot."
While that sounds pretty good in the ears of Duke fans, it would still be wise to just let this situation play out.  Today's events prompted him to mention that he had another meeting scheduled with Krzyzewski this week.
"I learned some good things on my visit to Durham.  He told me some things I didn't already know.  He felt like I could come in and help the team right away and that he could make me a better player," said Wall.
Krzyzewski showed Wall highlights of Jason Williams and Chris Duhon and told Wall that he could help the team be better. " He told me that he could make me a player so I could be one and done and that he wasn't going to try to hold me back."
When asked how Memphis told him he would be used, Wall said, "Let me play my game, basically just let me  be John Wall.  Duke said the same thing, that they just wanted me to be me."
"Memphis was the favorite, but we'll just have to see all that goes down and stuff," said Wall.  When asked if Calipari stays would he still feel good about them, he said  "Yeah, I'd feel pretty good about them."
I think it's somewhat safe to say that Duke has made up a lot of ground with Wall, especially if Calipari goes to Kentucky.  But one of the more telling quotes came when I  asked him to talk about Baylor and N.C. State.  Wall said,  "Um, naw ...  I just talk to them sometimes and still consider them a little bit."
That comment could assure one that Duke is in a very good position, one which many couldn't fathom just a month ago.  Duke missed on Kenny Boynton, who they remained faithful to after offering.  After that offer Boynton expected them to keep a spot open, but that sidetracked the Devils' effort in the end.
Once that happened, Duke started to track Wall, a player they had kept an eye on throughout the process.  Wall now has a chance to take the keys to the machine that is Duke Basketball.  It's seems to be a pretty good match, but only time will tell.  Unlike the Boynton ordeal, Duke will know the answer within a few weeks.
My call - There have been many who have questioned John Wall from unfounded rumors, but I can tell you that this young man handles himself in a polite manner every time I've seen him.  One has to remember that this is a player who has been crowned the best and it took a bit of growth along the way, but it all came to fruition.
My  analysis is that Duke is in better shape than they have ever been with John Wall and reports I'm getting say that Brian Clifton was impressed by the visit.  Clifton already has one player in a Duke uniform, that being Ryan Kelly.  "Kelly and Wall made each other!  They both made each other better while playing for D-One," said Clifton during the Carolina Challenge.
It certainly doesn't hurt Duke if a door opens up with D-One, for there are other talented players coming down the pike.  That group includes Bishop Daniels and Deuce Bello who BDN interviewed over the weekend.  We have a backlog of information which we will get out as time allows.   One thing to watch out for is Kentucky making a heavy play for Wall, though they will be decimated by departures and have few offers available.  But, knowing the Cats, they will somehow make some additional room.
Wall will leave for the Nike Hoop Summit on April the 8th and the game will take place on the 11tth.  Once that is done, he will participate in the Jordan Brand All Star Game and will likely make his decision at that time.
It's a busy time around here and BDN Premium is red hot!  New members now know what others have for a good while -- we truly stay ahead of the curve.  This site will never be outworked in bringing you accurate and timely information.  So, tell your pals about us a for this site is growing daily and is second to none in a very short time.  The best is yet to come.  [/private]