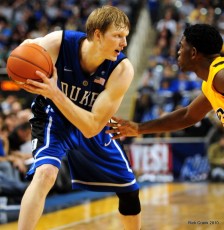 DURHAM - The Duke Blue Devils improved to 26-2 overall this season with a 78-61 defeat of #23 Temple on Wednesday evening in Cameron Indoor Stadium.  Duke was led by Kyle Singler who dropped 28 points on his second to last game he'll play in Durham. 
After struggling a bit on offense in the first half, the Blue Devils made some halftime adjustments and they played better on the post where they were once again led by Mason Plumlee who grabbed 13 rebounds and 6 points, 4 of those coming off successive dunks in a second half spurt.
An 8-0  run late in the first half helped Duke to a 31-24 edge in a game eerily similar to their last outing.  The Blue Devils scored 34 points in the paint and held an 18-6 edge in points off turnovers as their defense continued it's solid play of late.
Nolan Smith added 15 points and 4 assists but was just 5 of 17 from the field.    In short, it was another workmanlike effort by the Blue Devils who next play Virginia Tech with ESPN Game Day in Blacksburg for what is sure to be a hostile environment.
Sidebar -Duke has won 86 straight games versus non conference opponents.  Duke has won 35 consecutive home games, longest in the nation.  Duke has won 20 straight games in the state of North Carolina.  Mason now has 13 games with double figure rebound this year.  Smith scored in double figures in all but one game this season, the one where he played PG for the first time after Kyrie Irving's injury.  For the second consecutive game, no media member asked about Kyrie Irving in the post game.  Andre Dawkins hit 2 of 2 three point shots and that gives him an impressive .432 on the season.
Stay tuned for post game videos.