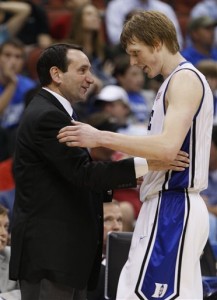 JACKSONVILLE, Fla. - Duke had little trouble disposing of Arkansas Pine Bluff  by a score of  73-54   in their opening game of the NCAA Tournament.  This one was pretty much over from the opening tip in that the Blue Devils are far too deep for the game but undermanned Golden Lions.
Duke pushed their season record to 30-5 overall and they will next take on the winner of the California-Louisville game on Sunday with the time yet to be determined.  The Golden Lions fell to 18-16 and were led in scoring by Tavaris Washington with 9 points.
Krzyzewski used this game as an opportunity to play several players extended minutes helping develop their bench.  Duke was led by Kyle Singler with 22 points, while Jon Scheyer added 13  points and Lance Thomas added 12.
Singler continued his torrid play of late with his 15th 20 points or more this season.  Singler also recorded his seventh double-double of the season by grabbing 10 rebounds in the game.  In fact, Singler has 728 career rebounds at Duke which is more than Carlos Boozer had in his first three seasons.
"One of the keys for s coming into the game was just attack, to attack their defense," said Singler.
The win helped Duke improve to 23-2 in  NCAA opening round games under Krzyzewski.
The taller Devils dominated the boards holding a 41-24 edge in rebounding.   "One of the advantages we have is our size, especially inside," said senior Jon Scheyer.
Then there were the second chance points where Duke held a 16-2 advantage.
Krzyzewski has now had 9 teams reach 30 wins in his 30 seasons as Duke's head coach. "It's nice to have.  I mean, but no I don't -- I know we've done it a number of times, I don't know how many," said Krzyzewski when asked of his teams 30th victory.
Stay tuned for interviews with the Duke players