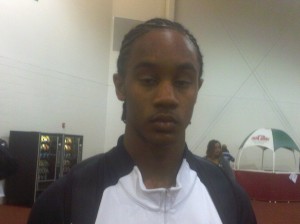 As a junior, Levi Randolph led Bob Jones to the Alabama State Title and was named the 6-A Player of the Year. After playing last year for the Nashville Celtics, he joined the nearby Alabama Challenge AAU program and had a great weekend for them at Session I of EYBL in Hampton, Virginia. After a game in which he dropped twenty-one points and dished four assists in a win over the Metro Hawks of New York, Randolph told Blue Devil Nation about himself.
Can you talk about the experience of winning a state title?
It was a long journey. We had a lot of injuries and fourteen losses, but we got on a streak at the end and won six games in a row. We return four starters though so we should be ready to challenge again next year.
You stepped up and put up a near triple-double in the championship game. Was that an unusually good game for you?
No, I was pretty consistent throughout the season. I won the 6-A Player of the Year. I tried to be pretty consistent.
Are most schools recruiting you as a two or a three?
As a one or a two, actually
Which schools are recruiting you? [private]

Alabama, Auburn, Vanderbilt, Baylor, Marquette, Miami, UVA, Florida, Wake Forest, Oregon St. Ole Miss, and Virginia Tech
Have all of them offered you?
Everyone, but Virginia Tech and Florida
Can you provide the audience with a scouting report on yourself?
(Smiling) I am a scorer. I get to the rim, but I also like to shoot it from deep too. I'll work very hard too.
Do you prefer to get out and run or play in a more structured, half-court offense?
Either way, I just like to play.
What's your range?
Half court (laughs). No, I just feel comfortable shooting the ball from the mid-range to the three-point line.
Where do you like to catch it?
Anywhere.
What are your strengths and weaknesses right now?
My strength is my ability to score. My defense is the thing I want to work on most.
What are you looking for in a college?
I'm looking for a place that will make me better academically and as a person. I'd like to go to a winning program too.
Do you do pretty well in school?
Well, I have a 3.8 GPA.
Does playing in the SEC appeal to you? Is location a factor?
I don't care about either of those things, sir. I'm just looking for those things that I mentioned before.
Do you have a go to move? You used that, sort of, stutter step crossover against Mike (Taylor)?
Yeah, my favorite move is my killer crossover. Actually, don't put that down. (Laughs) I don't want anybody to know my secret moves. I sort of took it from watching Allen Iverson.
Is he who you try to model your game after?
Yeah, he was when I was younger, but now it's Carmelo Anthony. I try to watch his highlights and Kevin Durant's.
How big are you now?
I'm 6'5" and 180 pounds.
So you still have time to grow another couple of inches?
Yes, sir. I hope so.
Have you begun strength training?
I've done a little, but I want to do more.
What would you like to weigh by the time you reach college?
About 185 pounds of muscle (laughs)
Who's the best player you've ever faced?
Reggie Bullock
Have any of the Duke coaches contacted you yet?
No sir. Well, actually my AAU coach on my old team told me that they were interested in me in ninth grade, but I never heard from them again. I always wondered what happened.
Well, I believe they might have some interest in you now.
Really?
Yes. My partner wouldn't have had me interview you tonight if they didn't. You may be on their radar.

Wow. That's amazing.
What do you know about Duke?
I don't really follow it, but I know they just won the national title. I only really get to watch highlights on Sportscenter in the morning with breakfast.
Well, you're busy studying. How about Coach K?
I think he was the coach of the USA team, right?
Yeah.
Would you be interested in Duke, if they start to recruit you?
Yes, definitely. My friend at school just loves Duke. He loves everything about them. I'd like to visit Duke, if they're interested in me.
Well, maybe you two could visit together if all comes together.

Yes, sir.
Finally, what would you like the audience to know about you away from the court?
I'm a funny guy, but I'm also a good student and approachable. I try to nice to everybody in school. If you're a stranger, you can always approach me and I'll be happy to talk to you. (Hugs BDN)
Thank you, Levi.
Thank you, sir.
I'll be keeping an eye out for you. [/private]