It's hard to find a starting point in talking about how dominant the Blue Devils 85-44 win over Maryland was today.  I mean the Devils defense held Maryland to four points over the last ten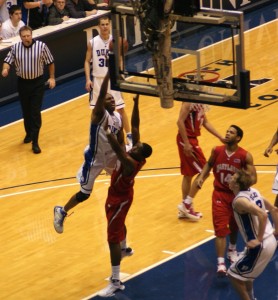 minutes of the first half and limited the visitor to 27% shooting on the day and their lowest point total in forty years.  Here are some random thoughts -
Duke hit their three point shots- The Blue Devils shot better from the three point stripe than they did the field where they finished 12 of 25.  If Duke can continue this kind of production, they'll be tough to beat come March.  An interesting side not is that all of Scheyer's (4 of 13) made field goals were three pointers.
Gerald Henderson - "G" is starting to dominate the game as he finds his comfort level.  I mean 17 points, 8 rebounds, 4 assists and 2 steals in 23 minutes of play is ridiculous!
The Duke defense-  I don't want to jinx these Blue Devils, but could this be the best defensive team Krzyzewski has ever had?  While Maryland was ice cold, Duke still created 17 turnovers, held them to 28.2% from the field and a high school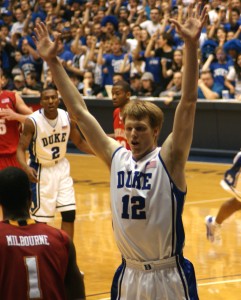 point total of 44.  A 12-2 advantage on points off turnovers help too.  We may get a more definitive answer after this coming Wednesday's road game at Wake Forest.
Good Match up- This year's Maryland team doesn't have the intimidating front court players as they have in years past.  Duke matches up very well with the Terps, as witnessed by their 56-38 rebound advantage.
Chemistry coming around- If you have read my recent game stories, you'll see where I pointed out how few assists Duke was getting from the point guard spot.  Well, they woke up today for 85 points on 23 assists is pretty darn good. Duke got 8 assists from their two quarterbacks, Paulus and Smith.
Fun atmosphere in Cameron - It's been a while since the Cameron Crazies, fans and team had as much fan as they did on Saturday.  Everything went right and walloping a team that has been a thorn over the years was sweet.  The cheers were great and well, it was a lot of fun for Duke fans.
Freshman get minutes- Is anybody tired of the message board talk on Elliot Williams or is it just me?  Okay, there will always be some, but Williams showed flashes of coming along.  He tossed in 9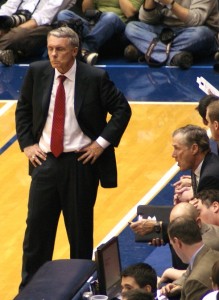 points, many on dunks today and played good defense.  He is gradually getting accustomed to the speed and physical nature of the ACC.  Mile Plumlee had a time getting a shot to drop, in fact he was 0-5, but he did grab 5 rebounds and swatted 3 shots away.  Olek Czyz got some burn as well, playing nine minutes.
Is Duke #1?- While UConn may get some votes, Duke should be tops in the land in both polls come Monday afternoon.  This week will mark the 60th time Duke has been at the top pf the heap in the ESPN/Coaches poll since it's inauguration.  UNC is a distant second.
5-0, 18-1 -The fast start in the ACC is a blessing in that Duke has Wake and UNC coming up twice each and a road trip to Clemson.  Trust me in that at Virginia Tech, Boston College and Maryland are no walks in the park.  The neighboring team has a much more conducive schedule.
Senior leadership - So, have you noticed the selflessness of Duke seniors David McClure and Greg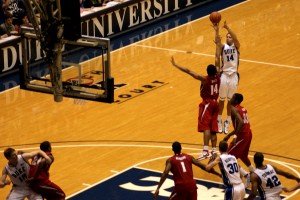 Paulus?  Well take notice for they have five more games to play in Cameron for their career.