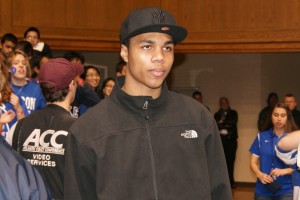 As our members know, as the college basketball season goes into its final weeks recruiting talk heats up, for AAU ball is less than two months away.  It's been a bit busy around here where we have been covering basketball and spring football, which caught everyone off guard with an early start.
I had originally planned a list of Duke's prospects, breaking each one down, but, instead, we'll concentrate this update on Micael Gbinije and Carrick Felix.  If you think Gbinije caught us by surprise, think again, for we have sat on his name for a week now while Duke's interest grew.  Then duty called and delays were imminent for our latest update.
Anyhow, here is the deal on Gbinije and since we've seen him play a dozen times, BDN can definitely break his game down [private] for you.
Who is Michael Gbinije?
He's a 6-6 WF from Benedictine High School in Richmond Virginia.
When did Duke get involved?
Duke has watched the development of Gbinije for a good two years now.  Duke Assistant Coach Nate James watched him play in Richmond and Coach Krzyzewksi took in one of his games during last year's AAU Nationals.  Duke has also seen plenty of film on him.

Who else is he considering?
Georgetown, Oklahoma, Villanova, Wake Forest , andVirginia Tech are some of the legitimate contenders.

What about UNC?
It is true that Gbinije liked UNC growing up and still does, but he also likes Duke.  Folks, UNC cannot get them all and they have few offers to throw about right now.  That is, of course, unless they have a transfer and as I have said before, they will have at least one defection in the off season according to reliable sources.  I am not sure UNC will offer.
What if they do?
Well, Duke has wings in the wings.  If they do, it only opens up other possibilities for Duke, and UNC would then have very little wiggle room in their recruiting.
How did the visit go?
It went very well, as good as one could hope for according to those close to the situation.  Nate James has been the lead for Gbinije all along.
What's his game like?
The word steady comes to mind.  He doesn't jump out at you on the court like some wings do, but you always know he is out there for he is making plays in a consistent manner.  He is a bit of a tweener, but can certainly mix it up some and watching him develop with another years maturity should prove interesting.  Prep Stats rates him the 20th best prospect in the class of 2011.  Gbinije brings a balanced skill set to the table.  He can shoot the mid range jumper, drive and hit the glass hard when he needs to.  He has good hands and makes the safe play rather than go for the flash.  He is a glue player in that he seems willing to fill roles, but he has the potential to turn into a serious contributor.  He moves well without the ball and seems to understand how to play help defense and space properly.  His footwork is above average, but needs some refinement on the defensive end.
Duke has a long list of wings they will follow once the season ends and we'll sort them out as some names become serious.  We sat on Gbinije's visit for nobody had this out there.  Andrew can attest to this via e-mail exchanges about the Primetime Shootout.  Speaking of the shootout, Andrew caught up with the elusive Kyrie Irving for a detailed interview.  You may have noticed that Kyrie has shut out the Duke media of late.  A few more things coming from Slater's way as the week progresses as well.
A little tip for you - Duke will run next season.  The offense will look drasticly different with Irving in the fold and Duke wants some wing athletes to go with him.
Enter Carrick Felix.  We should have film coming on him and yes I think he will be the next Dukie.  He will visit after the season and formalities are pretty much all that remains.  He is strong in the class room and adds something in which the Blue Devils don;t have on their roster at this time.
Austin Rivers is still scheduled to visit during the UNC game and you know how I feel about this one and nothing has changed.
Thanks for being patient during a busy time for our staff.  I will address other prospects at a later time, so please do not ask of them until then if possible.  We are thinking about changes and this has taken us away from our usual coverage, but we're about to get back to normal and long time members know that's a good thing.   There are times when we get too busy to even tell you what we have learned and sometimes another site will claim the scoop, but that's okay for we are in this for the long haul and the cream always rises to the top.  Quite simply, sometimes our hands are tied with what we can share and we must let others get their breaks.
Thanks for your support! [/private]