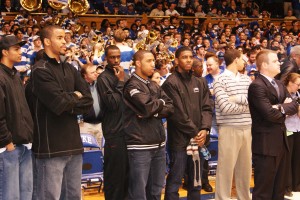 Durham, N.C. - This weekend marked the first time Kyrie Irving had been to a game at Duke this season and what he saw made him want to stay.  Irving will be here soon enough, July to be exact as will his future teammate Josh Hairston who also attended the Blue Devils blowout win over North Carolina.
But there were others in attendance and we will discuss those kids in our latest lengthy BDN Premium Duke Basketball Recruiting Update.  As you know, Austin Rivers [private] was unable to make the trip in that his team advanced to the championship game in Florida.  I still feel great about Rivers and Duke.
Another Duke target Qincy Miller went to Kentucky instead of making the trip to Durham.  While Duke still holds interest in the talented forward, they will continue to recruit others for many reasons.  One is that Quincy is quite the internet personality and two, a lot of people are involved with Millers recruitment, two names which you should figure out.  Now, I'm not talking other teams here, for we know who they are.  I'm talking individuals with lot's of pull.  As I stated in an earlier update, Miller changed a whole lot from the first time I talked with him to now.  He is enjoying the limelight and at times seems aloof, but that's probably just a kid enjoying himself.  Anyway, Duke is definitely still interested but Quincy has to show that back.  Make no mistake, Duke is still on his list but if there is a team to beat it is Kentucky.  This one will go on for a good while, so prepare to ride the waves.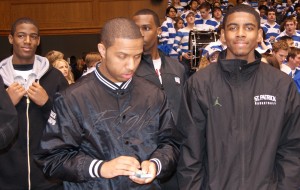 I will reiterate that Carrick Felix is all but in save the formalities of admissions which should be no problem.  Felix is a character kid that excels in the class room.  In short, he's not your everyday garden variety JUCO.  Felix is athletic enough to make an impact in a role position the day he steps on campus.  While this is the first JUCO that will be taken under Krzyzewski, you will eventually see Felix has great character and ability.  I would imagine something will happen here shortly.  FWIW, Duke's only other JUCO was Cameron Hall a center out of Canada.
Duke still has interest in Justin Anderson [Class of  2012 6-5 combo guard, Montrosse Christian] but this is at the evaluation stage.  As talented as he is, there are some holes in Anderson's game and Duke will watch to see how he progresses in several areas.  He will get some looks come spring.
The Blue Devils are still high on J.P. Tokoto [Class of 2012 6-5 WF Menomonee, WI] as well and despite waht you hear about him being a Carolina lock, this one may take some turns along the way.  In a way, I would rather people say North Carolina is his if offered.  He will get an offer from them, but there is a jam at his position if you do the homework.
Duke will also continue to be state friendly.  What I mean by that is the Blue Devils will continue to check out local talent and just ask Duke Football Coach David Cutcliffe about how fruitful this can be.  Enter kids like T.J. Warren will be invited to attend games as will others along the way in an effort to maintain relations..   Keep in mind that Miller, Bello and Marshall Plumlee are N.C. kids as well.  BDN will be attending the Telep's camp and we will focus on the local talent at the end of this month.
A new name to keep an eye on is Tyler Adams , a hulking 6-9, 255 pound prospect from Brandon, Mississippi.  He was unable to make the game but was invited.  he is a physical presence that already has a college level body.  Adams is in the class of 2011.
There is no doubt that Josh Hairston is getting bigger as he ages.  Not huge, just maturing and filling out his body.  Hairston, of course was front and center for the game and cheering hard and often.  No word as to why Tyler Thornton didn't make it.
As for Kyrie Irving, well, he had a blast.  He was the first one to jump off the bench when Duke took a 9-3 lead over North Carolina in the opening minutes and he was obviously liking what he saw.  From all reports close to the situation, he can't wait to get to Durham and may be here earlier than July.  Irving had a close friend with him on the visit and he has already tweeted about his experiences.
One big kid there this weekend was Michael Haynes, who made his second game.  As it turns out, former Duke player Sean Dockery is his neighbor in his home town of Chicago.  Not only that, Dockery is acting as a mentor of sorts.  Haynes now plays in Martinsville, Virginia and his game is that of a physical presence.  He is tough on the blocks and in the paint and is the type of player Duke would like to close out the class of 2010 with. For that to happen, he will have to meet Duke's academic requirements.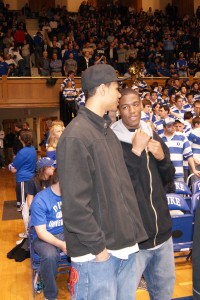 Then there was the second visit from Michael Gbinije [Class of 2011 6-6 WF Benedictine, Va} from the class of 2011.  From all reports, he is accessing the opportunity at Duke and the word is his parents like the situation a lot.  It would not suprise me to see Duke close on him soon, but we'll see.  I have seen Gbinijie play several times and here is how I see his game.  He will not jump off the page at you athletically bt is a good athlete.  He is always steady and plays withing his capabilities.  He loves garbage buckets and plays taller than his height.  He has a good mid range shot and a decent handle and passes does everything pretty well.  He is a very quiet kid on and off the court.
I am pretty certain Marshall Plumlee did not attend, but I did not confirm that.  It is interesting that Indiana let Roshown McLeod go yesterday.  We'll see what effect this has on Plumlee who is high on Indiana and Duke.
We'll close in saying that Shabazz Muhamed [Class of 2012 6-4 WF Bishop Gorman, LV, Nev}was at the game as well.  The talented Las Vegas prospect took in Duke and North Carolina over the weekend.  It's very early in the process on this one for both the aforementioned schools, so we'll see how this one develops.
That's it for now, but we will likely add some other updates on the message board.  One last note, the team let go of the weekends big game this afternoon and their sole focus is on getting better between now and Friday where they face the winner of the Boston College-Virginia game. [/private]