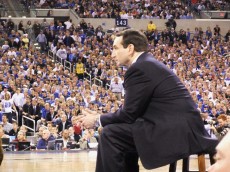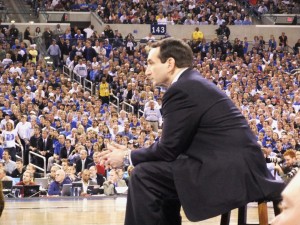 CHARLOTTE - The recruiting landscape is about to change for college basketball coaches and prospects alike.  The NCAA is set to employ new rules starting this April.  By NCAA standards, this is a quick turnaround after reaching a consensus decision for change.  While many of the details are still being worked out, the thought is that this will come to pass this spring.
During yesterdays ACC Media Day, Duke Coach Mike Krzyzewski stated that the changes were imminent.  Kyrzyzewski, who is never short on words for positive change on the college basketball landscape discussed the matter with BDN.
"With the new rules coming into effect, we'll be allowed to do things with a junior.  There is going to be a change on when kids can visit and how you can contact them throughout their junior year.  If it is passed and I think it will be, a kid can visit sometime during his junior year and that can be one of his five visits," said Krzyzewski.
In the past, prospects could only take official visits going into their senior season and  each prospect is allowed five total official visits to schools during the recruiting process.
Krzyzewski continued by saying, "In the top level of college basketball, kids are making up their mind sometimes in their junior year so moving the process back a bit makes sense."
A lot of the changes will effect the new world of social media if passed.  When questioned about social media and contact, Krzyzewski stated, "I think all will be allowed.  We've been under archaic rules like no text messages." He then offered an example stating,   "Okay, so you e-mail a kid."  (pause) You can't call him, so you e-mail him to tell him to call you."
Krzyzewski was speaking to how you could contact kids in a certain media forum but not others.  He then joked of keeping track of the calls and responses and said the kids were accustomed to contact in various forums in that was what they did all the time.
While many athletes have been in hot water over what they've said via tweeting, Krzyzewski allows his players to participate. In fact, Krzyzewski said that while he didn't want his players to fall prey to saying the wrong things in venues like twitter, he equated possible missteps as part of a learning process for the student athlete.  "If they (players) do say something embarrassing, that's a good lesson to learn while they are a collegiate player.  It's just like learning how to speak french or calculus ... it's a learning process.  So we don't take away a means of providing education, "
"They (prospects and current players) live on Twitter, Facebook and texting.  They don't e-mail that much, but Twitter and Facebook are really their main means of communication. That's the main reason we allow our guys to do both.  In fact we don't put any restrictions on our players because you would be eliminating a basic way of communication.  I mean it's like something all of them are doing and then we say don't do that, we're afraid you're going to say something, said Krzyzewski.
Here is a synopsis of the changes -
- Start date for official visits will begin after the NCAA Final Four in April of the junior year for prospects.  This opens up the process earlier for juniors, many of whom are giving early verbal commitments these days.
- The big one is the deregulating of communication between coaches and prospects which includes text messaging and twitter.
- The new rules would allow unlimited communication after Aug. 1 before the prospects junior year in high school.
- The rules open up evaluations via certified AAU type events on two weekends in April, with some restrictions.  In the past, April has been closed to coaches as an evaluation process.  Coaches will also be allowed limited contact with the prospects high school coach and the biggest change, the prospect himself.  In the past, coaches could only nod and watch.