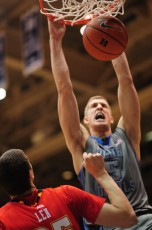 There is simply no other way to describe the Duke at Florida State game other than to say it's a big one! The ramifications of a win or loss will be far reaching, be it a tie at the top of the standings with North Carolina or third place. And then there is seeding for the fast approaching ACC Tournament in Atlanta and NCAA seeding implications per said outcome. Yes indeed, this is a terrific match up and one of those pins and needles games if you will that makes every possession and every play seem critical. That said, Blue Devil fans need to gather their collective mojo and channel it to the team.
That team of course has now won 5 straight ACC games since the upset loss to Miami in Cameron, including two instant classic games against local rivals North Carolina and North Carolina State. In the pre game interviews (see them on BDN) star freshman Austin Rivers, said Duke was playing great basketball and they are, but to put into perspective how hot Florida State is, well, they're 10- 1 in their last 11 games. That means something has to give this evening.
Duke is none too happy about losing to the Seminoles in Cameron but to focus on revenge is not always the magic potion needed for victory. The Blue Devils will be playing in a most hostile environment and keeping calm and cool will be a must. Weathering an early storm would be beneficial to the Duke efforts for Florida State is likely to try an intimidate the Blue Devils from the outset with their depth and athleticism.
The Seminoles are a mature and physical team, one which was a game away from the Elite 8  a season ago and lost but one significant player. After a slow start to the season, they asserted themselves and destroyed North Carolina 90-57 in the same venue the Blue Devils will play them in tonight. Close attention will be payed to Michael Snaer who hit a shot at the buzzer and is the conferences top three point shooter. In fact the Seminoles have the top three point field goal percentage in league play.
Another player Duke will watch closely is Bernard Hopkins, a versatile inside presence that is perhaps the leagues most overlooked player when talking All ACC. And yes, this games outcome will even effect votes for the All ACC where the ballots will soon be out. I know my votes can be swayed in tonights' game. But with Florida State, you cannot guard just a few players for they come at you in droves.
The Blue Devils will face the leagues top defense which is holding opponents to .375 from the field and while some perceive the Noles to struggle on offense they average the 5th most points in the league. That means, Duke will have to be very efficient on the offensive end while trying to remain even or so in the battle of the boards.
This will be one of the biggest games in FSU history in that they have a chance to win the ACC outright since they first joined the league. But this is also a big game for a youthful Blue Devils team, one which has reached deep of late and in the process found it's heart. This affair has instant classic written all over it going in but we'll have to wait and see if that comes to fruition.
In my opinion, slowing the Seminole guards and making sure there are limited second chance opportunities will be the key to winning. I also feel this game could come down to who hits their free throws and remains out of foul trouble. Seth Curry and Austin Rivers have been playing their best collective ball of the season of late and that play needs to continue.
The Blue Devils must also prepare for the physical play Florida State will likely play where they get their moneys worth on every bump or foul committed. Another good idea would be to take advantage when their defense over extends with some backdoor cuts. Anyhow, I think it best I leave the strategy in the capable hands of Coach Mike Krzyzweski who is 28-7 all time vs Florida State.
It's been rare that Duke loses three straight to anybody in the league under Krzyzewski, but with a loss that would be the case. But the Duke coach has worked an unusual roster to a 23-4 record. An interesting note is that the Blue Devils 8 losses to Florida State in the series have been by a total of 3.0 points per game which points to a close game this evening win or lose, but then again, remember the blowout of the Tar Heels.
Florida State is quite simply one of the hottest teams in the nation and they've been steadily moving up in the polls. This is a team looking to prove itself even more on the national scene and they're coming off a win over N.C. State in Raleigh where they crushed them in their own backyard after they played Duke to the wire.
So at the end of the evening in the Donald L. Tucker Center, one team will be tied with North Carolina and one team falls to third place and will likely be out of the race. Oddly, North Carolina fans should pull for Duke in that the Noles would win the tie breaker over them for the regular season title would they win out. But something tells me that their fan base might have a hard time doing that and will depend on the Noles to lose to Miami or Virginia on the road. Like I said, this is a huge game in many ways.
One more thing to be on the look out for is how much this game takes out of the Blue Devils win or lose in that they have a ridiculous turn around where they play Virginia Tech at noon on Saturday. And that leaves so little time to prepare and more importantly get some rest. That means we may see some bodies play tonight, but then again, maybe not and Krzyzewski will use his depth against the Hokies.
But these Blue Devils have showed no quit and I in no way expect to see that tonight. I see a very hard fought game on the horizon and I also feel the resilient Dukies will find a way to win but it will be close. The pick here is Duke 75-71