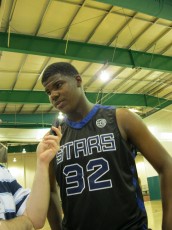 One thing you can generally count on is that the Georgia Stars  AAU Basketball team will have some big time college prospects on the team year in and year out.  BDN caught up to their well known head coach of 23 years Norman Parker recently where we talked about two of his studs.  Duke has long been after Tony Parker,Tony Parker a force in the paint and now  Alex Poythress has caught their eyes as well.
Talk about Alex Poythress for me.  He has really come on since last season and just joined the Stars this season.
He's got great character an brings a wonderful attitude to our team and to be honest with you we are learning how to use him and fit him into to our offensive scheme.  I think our team will get better as we get used to [private] working with him as a team.  He is an outstanding young man that I think will be a future pro one day.
It is intersting to see just how much he has improved in a year.
We think he has improved a lot in one season.  I wanted him to come play with us to play the perimeter, not just wanting him to play in the paint because he does handle the ball.  He shoots the ball well and does a lot of things good handling the ball well to be 6-8.
He played really well in Hampton, especially when Parker went down.
He stepped up when Tony Parker could not play, he was our go to guy and I think you could see that more and more as games get on the line, we will have to use him and Tony.  Getting those two to play together will be a challenge but they are rooming together and like each other so we are beginning to build out chemistry and when you get two kids like that it take a while.
Tony reshapped his body in the off season in a big way ...
Tony works really hard.  He works out daily.  He runs, he lifts weights, he does everything he can to get his body in shape and I told him during high school his body looks as fine tuned as I have ever seen him.  He's big, got great hands, good footwork and he's been a little injury prone.  We worry about that a little.  He didn't play in any games in the final day in Hampton but we just have to be patient with that as he gets his back well.
You guys lost to a couple of really good teams this weekend, but seem to be in good shape to make it to Peach Jam or the NYBL Finals.
As we continue to grow, we'll come together and make it to the Peach Jam.  The Georgia Stars always have and we'll do it again especially when Tony and Alex continue to get accustomed to one another. [/private]