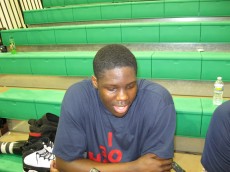 It seems over the last two years there has been an overwhelming amount of Canadian talent pouring into the hoops world. No longer do Canadians have to only point to Steve Nash, there are now talents such as Cory Joseph, Tristan Thompson, and Myck Kabongo representing our friends north of the border. Findlay Prep, a powerhouse basketball program located in Henderson, Nevada, has accumulated much of this Canadian wealth recently. All three of those players have matriculated to college or are now waiting for their dreams to come true - hearing their name be called by NBA commissioner David Stern. The next in line to take over at Findlay prep and represent Canadian players is none other than 6'7 wing forward Anthony Bennett. Built like a freight train, Bennett hails from Brampton, Ontario, Canada, a city roughly 45 minutes west of Toronto, Ontario's capital city. A [private] city more notably known for its hockey players and hilarious comedian Russell Peters, Brampton is now starting to produce some big time basketball talent starting with Tristan Thompson and now Bennett. Bennett has been extremely impressive these past two weekends making scouts certainly rethink where they originally had him slated. BDN got a chance to briefly catch up with the bruising wing forward last weekend at the Nike EYBL in Los Angeles.
BDN: Just to make sure the program has this right, you are from Brampton correct?
AB: Yes sir, I am.
Well that is very interesting as I am originally from Hamilton, not too far from you.
Oh for real? (smiles) Not too far from Brampton.
I spoke to Myck Kabongo about this awhile ago, but I'd like to get your take. What's it like being the Canadian kid moving to the U.S to play?
I mean, they think Canadian players only play hockey and stuff, so they really don't take us seriously at first. But, us as Canadians, we have to show them what's really good. So we just go out and play strong all the time.
What is the biggest difference from playing in Canada to playing out here?
Players in Canada, they are a lot smaller. They aren't really that big in general.
Oh you mean like the 6'2 center? We had one of those on my high school team.
(laughs) Yea yea that's exactly it. But out here in America, it's really great competition. People are bigger and stronger. People are just as good as you so you really have to work on your game to improve.
Tell some of our fans a little bit about your game?
I'm very aggressive, I get rebounds, I try to get my teammates open. I can go down low and play and I can shoot from the outside. In the high post, I get it and turn around and face up and do my thing out there.
Do you have a preference on where you play?
Not really, but I am trying to work my game outside, but right now I feel like my game is a high post, short corner type of game.
What are some of the schools that are interested in you right now?
Well there are a lot of them really. I can't even list them off the top of my head, but I'll try (laughs).
Just a few will do.
UConn, Arizona, Washington, Oregon, Florida, Florida St., UNLV, Xavier, oh man..
That's an impressive list. Anyone else specifically from the ACC?
I had heard from Duke at about mid-season, but I haven't really talked to them that much.
If they were to pursue you, would you be open?
Yea I would.
You've got a teammate on CIA Bounce that is absolutely blowing up. Tell me about Andrew Wiggins a little bit.
He's very young right now. He's very athletic though. He can shoot, he can drive, he's just a really great kid, and in the future he's going to be a great player.
Being at Findlay right now, what are the coaches working on most with you?
They are trying to get me out on the wing more right now. Every time we do ball handling and shooting drills and stuff, they have me with them.
Do you model your game after any players specifically?
Oh naw man. I just do me!
When it comes time to make your decision eventually, who will you look to for guidance?
I would have to say my mom and my AAU coach Mike George.
Do you have any time frame for your decision?
No not yet, but I might go later on in the year.
Thanks for your time.
No problem man, thanks.  [/private]