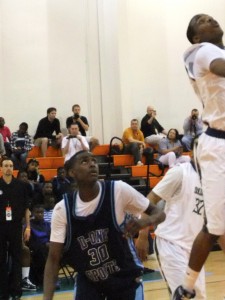 HAMPTON - Duke prospect Quincy Miller [6-9 Winston Salem, N.C., Quality Education, D-One Sports] was a scoring machine during the Nike EYBL Session I AAU event in Hampton, Virginia.  Miller was finding various ways of scoring and he was clearly one of the most talented players at the camp.  Miller showed steady improvement from a year ago and he is a consensus top ten pick in his class.  Currently ranked 6th by Prep Stars, Miller took the time to talk with the Blue Devil Nation in the following interview.  We also chatted with his AAU coach and got his thoughts on the budding star as well.
You look better than you did a year ago on the court and l...
I've just been working on my game, my jump shot and my handle and becoming a team player
Where do you stand on the recruiting front?
I'm [private] not close to making a decision and I don't think I will be until next year.  Not sure of the time period, but next year.
Who will play a big role in your decision?
Really my mom.  She will go on the visits with me and help me make my decision.
And your current list of schools?
Duke, Kentucky, Wake Forest, Memphis, Kansas, Oklahoma, Tennessee, Texas, uh, that's all I can think of.
A lot of people have said you are a Kentucky lean.
[smiling] Everybody thinks so because I took a couple of visits.  You know, they seem to think I'm going thee or something.
Duke is on your list, did you watch them win the title?
Yeah, I was cheering for them
Do you have friends on their team?
Andre Dawkins and Nolan Smith.
What do you think of Coach K?
Greatest coach in the nation right now.
Do you have a relationship with him?
Yeah, were close, me and Coach K are real cool.
What do you feel like you can improve upon with your game?
I still can improve on everything. [said with emphasis]  My game is not nearly where I want it to be.
What is it like to have so many people pulling at you being one of the top rated players inb your class?
I kind of have like a tight circle, so it's not a real problem.
You seem to love social networking?
Yeah, I just have a lot of fun.  I'm a fun kid and just want it to be light.  I'm just having fun and taking advantage of the hour.
Any official or unofficial visits set?
Not that I know of yet.
Will you be making any plans soon?
Yes sir.  I'll probably set some up by the end of summer.
And your list of schools?
Duke, Wake Forest, Kentucky, South Carolina, N.C. State ... that's it.
Will you take all five official visits before deciding on a school?
Yeah, I will take all five. [nodding]
What are you looking for in a school?
A comfort level and if their style of play will fit my style and a coach.  I want a coach that can take my game to a whole new level.
What kind of guys do you want to play with in college?
Team players.  I'm a team player and I want to play with team players.  I like to get up and go [run].
Thanks for your time.
------------------------------------------------------------------------------------------------------
His AAU Coach -
Your thoughts on Quincy Miller ...
With his length size and athleticism he can get a lot done around the basket.  I do think his future is a perimeter face up guy, so I have been working with him.  He has a little more freedom. I have been working off him coming off screens and getting use to the dribble, drive and he should be able to show his strengths a little bit more.
What is it like coaching one of the best prospects in the nation?
It's not a problem, I've been with Tyreke Evans before, so it's nothing new.  Brian Clifton has some years now in D-One sports and he is involved with his recruitment.  When Brian is busy with John Wall now, I'm kind of walking around Quincy to know he's straight.  He will sit down with Brian and his family and they'll make a decision.
Where can Miller improve?
Playing every possession.  Learning to play every possession without taking one off.
How do you see Miller being used in college?
I think he will be a face up power forward.  He's a leader and his teammates love him.  He can be a Kevin Durant type. [/private]